He was dropped from the team after the opening Test itself, but Australian spinner Nathan Lyon says his confidence has only gone up as he has managed to get the wicket of Indian veteran Sachin Tendulkar in the ongoing series.
Lyon was dropped from the second Test in Hyderabad after a 4/244 effort in the opening Test in Chennai.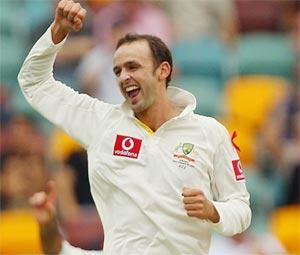 "My confidence has gone up a level rather than down, (after) bowling the best batsman in the world (Tendulkar) through the gate. As an off-spinner growing up, that's what you dream of," Lyon told the Australian journalists travelling with the team.
Lyon also rejected coach Mickey Arthur suggestion that he needs to change his technique.
"To be honest, I thought they came out all right in Chennai. To bowl Sachin Tendulkar through the gate you must be doing something right. I was quite happy with that," he said.
"I went for a few runs here and there, but bowling against the best bats in the world in their conditions, they were obviously going to come hard at me playing one spinner in the side," he added.
Lyon said he can't be faulted too much as he was bowling against best players of spin.
"Yes, I bowled only one maiden but they are the best players of spin. I feel I've grown within myself and learnt a lot about my bowling," he said.
"I've worked hard in the nets and I'm feeling confident in my own bowling. The technical stuff, it's all the same. I haven't changed anything from when I first started bowling for Australia since I was 16," he added.
Lyon said he would continue to work hard in the nets.
"I have to keep putting my hand up for selection and get back in the nets and really keep training hard. As I keep saying, I'm confident in my own skill set to get the job done if I get selected," he said.
"I had a great phone call with Stuart MacGill before this (second) Test match and I really got a lot out of that just from talking to a past Australian spinner, and had that chat with Shane Warne after Chennai, which was fantastic."