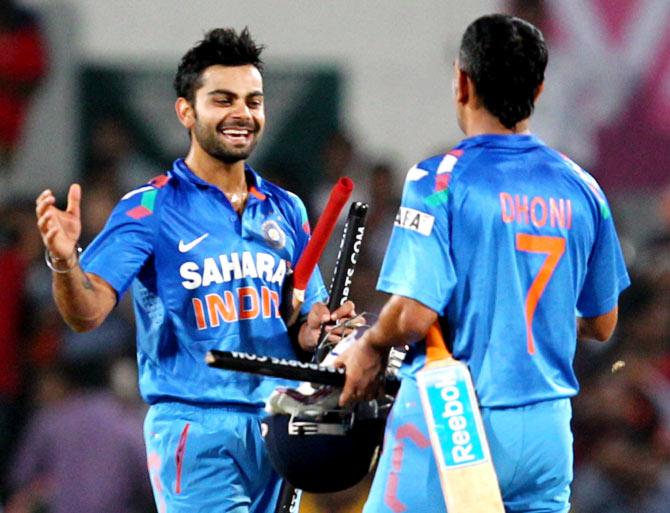 Virat Kohli (left) with Mahendra Singh Dhoni. Photograph: BCCI
Australia and India will have the chance to put daylight between one another at the top of the Intenational Cricket Council ODI team rankings, when they compete alongside England in a tri-series, which starts in Sydney on Friday.
- Meet India's 15-member World Cup squad

Australia will be keen to edge a point clear of India at the top of the One-Day International team rankings when they clash with England in the opening match at the Sydney Cricket Ground on Friday.

It will be a dress rehearsal for the eagerly anticipated Cricket World Cup 2015 opening match, which will see the same sides play each other in exactly 30 days' time in Melbourne.

Following its 5-0 home series victory over Sri Lanka in November, reigning champion India will be bidding to gain further momentum and become only the third side in World Cup history to successfully defend its title after West Indies in 1975 and 1979 and Australia, who won the coveted prize three times in succession between 1999 and 2007.
Meanwhile, South Africa is bidding to lift the 50-over title for the first time after reaching the semi-finals when Australia and New Zealand last hosted the World Cup back in 1992.

The Proteas will welcome West Indies to Durban on Friday in the first of a five-match ODI series, which will feature two of the world's top three batsmen in the ICC Player Rankings for ODI Batsmen.

South Africa captain AB de Villiers is in pole position in the batting rankings on 887 points, a good 25 points clear off second-placed India batsman Virat Kohli, with Hashim Amla one place further back in third.

There are several permutations that could emerge over the coming weeks as New Zealand and Sri Lanka are also battling it out in their seven-match series, with the Black Caps currently holding a 1-0 lead after its three-wicket victory in the first ODI on Sunday.

After this series, New Zealand will complete its World Cup preparations when it plays host to Pakistan – who lifted the trophy back in 1992 - in two ODIs ahead of its opening game of the tournament in Christchurch against Sri Lanka, also on February 14.

Reliance ICC ODI Team Rankings (as on 14 January):
| | | |
| --- | --- | --- |
| 1 | Australia | 117 |
| 2 | India | 117 |
| 3 | South Africa | 112 |
| 4 | Sri Lanka | 109 |
| 5 | England | 104 |
| 6 | New Zealand | 99 |
| 7 | Pakistan | 97 |
| 8 | West Indies | 96 |
| 9 | Bangladesh | 75 |
| 10 | Zimbabwe | 53 |
| 11 | Ireland | 39 |
| 12 | Afghanistan | 38 |
Reliance ICC ODI Player Rankings for Batsmen:
| | | | | | |
| --- | --- | --- | --- | --- | --- |
| Rank | Player | Team | Points | Ave | HS Rating |
| 1 | AB de Villiers | SA | 887 | 51.50 | 891 v Aus at Melbourne 2014 |
| 2 | Virat Kohli | Ind | 862 | 52.61 | 886 v Ban at Fatullah 2014 |
| 3 | Hashim Amla | SA | 828 | 53.18 | 901 v Eng at Trent Bridge 2012 |
| 4 | K. Sangakkara | SL | 801 | 40.53 | 853 v Afg at Mirpur 2014 |
| 5 | Shikhar Dhawan | Ind | 777 | 45.46 | 785 v SL at Hyderabad 2014 |
| 6 | George Bailey | Aus | 771 | 44.20 | 867 v SA at Harare 2014 |
| 7 | Quinton de Kock | SA | 749*! | 43.58 | 749 v Aus at Sydney 2014 |
| 8= | MS Dhoni | Ind | 738 | 52.85 | 836 v Aus at Delhi 2009 |
| 8= | T. Dilshan | SL | 738 | 38.23 | 767 v Pak at Sharjah 2013 |
| 10 | K. Williamson | NZ | 734 | 42.91 | 746 v Pak at Abu Dhabi 2014 |
| 11 | Ross Taylor | NZ | 718 | 41.26 | 722 v Pak at Abu Dhabi 2014 |
| 12 | Joe Root | Eng | 688! | 41.61 | 688 v SL at Colombo 2014 |
| 13 | Angelo Mathews | SL | 680 | 40.32 | 707 v Eng at Colombo 2014 |
| 14 | Misbah-ul-Haq | Pak | 658 | 42.83 | 744 v SL at Fatullah 2014 |
| 15 | F. du Plessis | SA | 657 | 34.40 | 703 v NZ at Bay Oval 2014 |
| 16= | Rohit Sharma | Ind | 651 | 37.89 | 672 v WI at Kochi 2013 |
| 16= | Aaron Finch | Aus | 651*! | 37.25 | 651 v SA at Sydney 2014 |
| 18 | Ahmed Shehzad | Pak | 649 | 34.81 | 670 v Ban at Mirpur 2014 |
| 19 | Shane Watson | Aus | 648 | 40.75 | 773 v SL at Hambantota 2011 |
| 20 | Suresh Raina | Ind | 639 | 35.82 | 669 v Eng at Dharamsala 2013 |
Reliance ICC ODI Player Rankings for Bowlers:
| | | | | | | |
| --- | --- | --- | --- | --- | --- | --- |
| Rank | Player | Team | Points | Ave | Econ | HS Rating |
| 1 | Sunil Narine | WI | 753 | 26.49 | 4.10 | 791 v SL at Jamaica 2013 |
| 2 | Saeed Ajmal | Pak | 751 | 22.18 | 4.13 | 810 v SA at Centurion 2013 |
| 3 | Dale Steyn | SA | 699 | 25.65 | 4.83 | 746 v Ind at Durban 2013 |
| 4= | Shakib Al Hasan | Ban | 680 | 27.92 | 4.26 | 717 v Zim at Chittagong 2009 |
| 4= | M. Johnson | Aus | 680 | 25.72 | 4.82 | 724 v Ban at Darwin 2008 |
| 6 | James Anderson | Eng | 666 | 29.10 | 4.94 | 719 v SA at The Oval 2013 |
| 7 | S. Senanayake | SL | 656! | 32.00 | 4.56 | 656 v NZ at Christchurch 2015 |
| 8 | B. Kumar | Ind | 641 | 36.59 | 4.60 | 657 v WI at Dharamsala 2014 |
| 9 | Ravindra Jadeja | Ind | 638 | 32.29 | 4.79 | 738 v Zim at Bulawayo 2013 |
| 10 | M. Hafeez | Pak | 634 | 35.01 | 4.06 | 769 v Ind at Kolkata 2013 |
| 11 | Morne Morkel | SA | 632 | 24.27 | 4.94 | 717 v SL at East London 2012 |
| 12 | James Tredwell | Eng | 629 | 27.81 | 4.77 | 646 v SL at Pallekele 2014 |
| 13 | Clint McKay | Aus | 624 | 24.37 | 4.78 | 709 v Eng at Cardiff 2013 |
| 14= | Rangana Herath | SL | 617 | 31.13 | 4.42 | 703 v SA at Pallekele 2013 |
| 14= | R. Ashwin | Ind | 617 | 32.46 | 4.89 | 691 v SL at Hambantota 2012 |
| 16 | M. Irfan | Pak | 616 | 29.51 | 4.85 | 621 v NZ at Abu Dhabi 2014 |
| 17 | L. Tsotsobe | SA | 613 | 24.96 | 4.75 | 743 v NZ at Auckland 2012 |
| 18 | Shahid Afridi | Pak | 611 | 33.89 | 4.62 | 673 v Ban at Mirpur 2011 |
| 19 | M. Shami | Ind | 609 | 26.08 | 5.74 | 636 v WI at Delhi 2014 |
| 20 | Kemar Roach | WI | 608 | 26.85 | 4.90 | 650 v Pak at St Lucia 2013 |
Reliance ICC ODI Player Rankings for All-rounders:
| | | | | |
| --- | --- | --- | --- | --- |
| Rank | Player | Team | Points | HS Rating |
| 1 | Shakib Al Hasan | Ban | 403 | 453 v Zim at Chittagong 2009 |
| 2 | M Hafeez | Pak | 397 | 438 v Ind at Kolkata 2013 |
| 3 | Angelo Mathews | SL | 395 | 427 v Eng at Colombo (RPS) 2014 |
| 4 | T Dilshan | SL | 390! | 390 v NZ at Christchurch 2015 |
| 5 | Shahid Afridi | Pak | 340 | 383 v Ban at Mirpur 2011 |