'There is no point saying we bowled too many short balls. At one stage it was too much'
Pacer Umesh Yadav admits that India's plans to rattle Australia's tail-enders went awry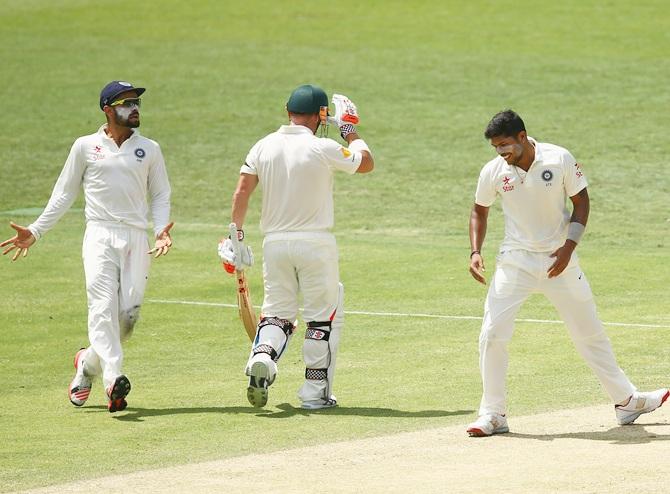 Umesh Yadav celebrates after picking a wicket. Photograph: Cameron Spencer/Getty Images
Pacer Umesh Yadav conceded that the Indian bowlers' plans went awry as they sent down too many short balls, allowing the Australian tail-enders to stage a comeback and put up imposing 505 in the first innings of the second Test in Brisbane on Friday.
PHOTOS, Day 3: Smith, tail-enders inspire Australia's fightback
Smith pats his 'tail' after handsome lead over India
Johnson again proves he is not just a tail-ender!
The hosts were reduced to 247 for 6 before they recovered to score 505 and take a 97-run first-innings lead.
"In the morning session we were in a good position, but after that we started leaking runs. Mitchell Johnson and Mitchell Starc got runs and they had a good partnership with Steve Smith. I feel we conceded 50 runs more than we should have," Yadav said.
'There is no point saying we bowled too many short balls'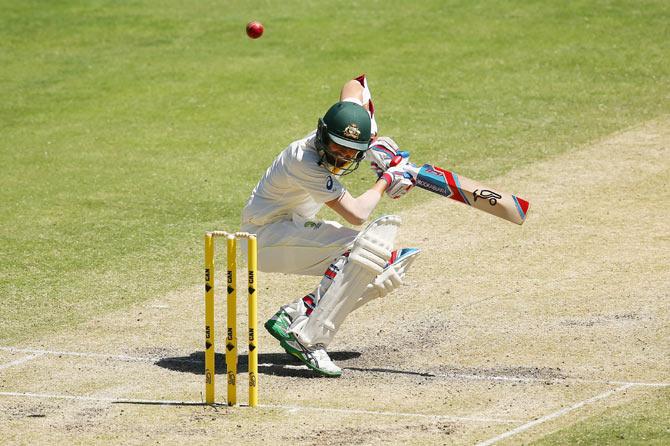 Nathan Lyon takes evasive action against a bouncer on Day 3. Photograph: Cameron Spencer/Getty Images
Elaborating on how India's plans went haywire, Yadav said, "In the morning session the ball had gone soft and we thought we will stick to line and length. We did that and got two wickets too. But when the tail-enders came we thought we will bowl bouncers because of some difficulty they had against the bouncers.
"On Australian wickets if there is bounce then fast bowlers tend to bowl short balls and bouncers. We just did that. There is no point saying we bowled too many short balls. At one stage it was too much you can say. But that was our plan and we worked on that," he explained.
'Sometimes you get a little bit aggressive'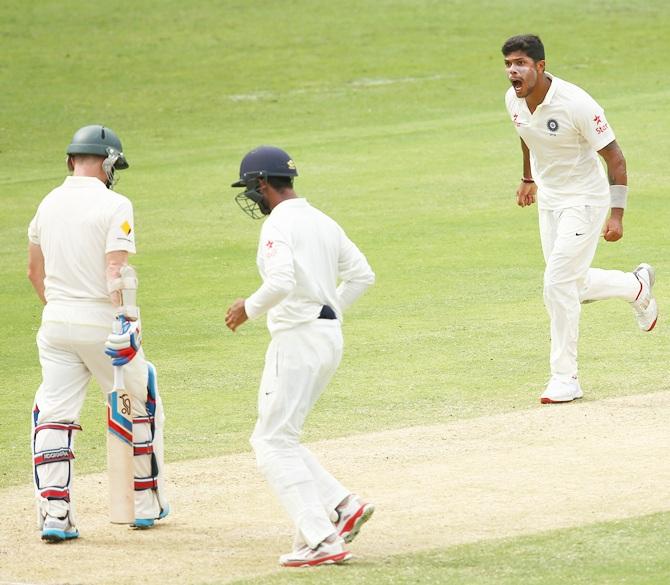 Umesh Yadav celebrates a dismissal. Photograph: Cameron Spencer/Getty Images
Both Johnson (88) and Starc (52) hit fifties and with Smith put on important partnerships after Brad Haddin got out.
Yadav admitted that plans to rattle the tail-enders, especially Johnson, did not work as the bowlers got a little too aggressive.
"Sometimes you get a little bit aggressive. Sometimes it can be right and it can be wrong too. Sometimes batsmen score runs in that aggressive phase and sometimes it can be effective and you end up picking wickets.
"It normally happens when a new batsman comes in and we try to make him uncomfortable. Obviously, they tried to hit back and connected a few; so it evened out."
India reached 71 for one at close of play, cutting the deficit to 26 runs.
"It is only the third day so the wicket is a little bit slow. But there is something for the bowlers still. We will have to bat well tomorrow and see what kind of lead we can take. We have to bat the whole day at least, or try to, and then, depending on the condition of the pitch, we can see how the game shapes up."