- 'We will continue to target Haddin with short-pitched deliveries in the next innings and the next Test as well'
- 'I have been really disciplined in my skills'
- 'Against anybody in such form you hope you have some luck and get them early'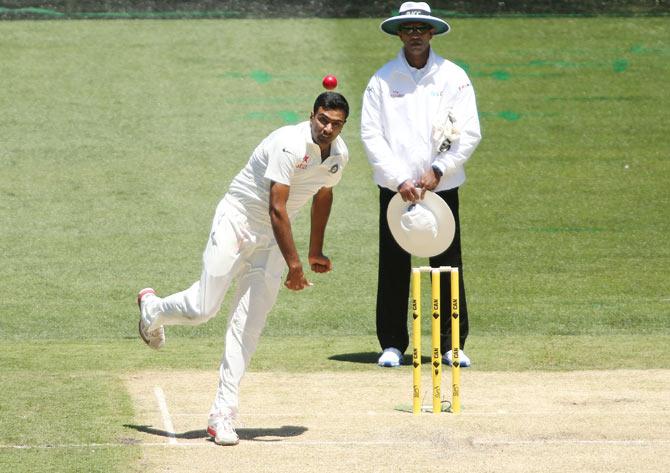 R Ashwin. Photograph: Patrick Scala/Getty Images
Disappointed they might be after conceding "too many runs" to the Australians, but Indian off-spinner R Ashwin said on Saturday the tourists will pile the runs on Day 3.
India had pushed Australia on the backfoot on Friday by reducing them to 259 for five but let the advantage slip and the hosts ended up with 530 on the board on Day 2 on Saturday. In reply, the
Indians were 108 for one when stumps were drawn on the second day.
"We wanted to get them out pretty early. That was the plan. Unfortunately Steve Smith batted very well," said Ashwin.
"They got a bit too many runs for our liking. But if you look at the overall game, the score is pretty par for this pitch. The wicket seems slow and it is pretty flat. We'll take 108 for 1 and we'll like to pile on the runs tomorrow."
Australia finished their first innings just ahead of tea with Smith scoring his third successive hundred of the series. The young skipper was last man out for 192 runs, and he got fine support from Brad Haddin (55) and Ryan Harris (74).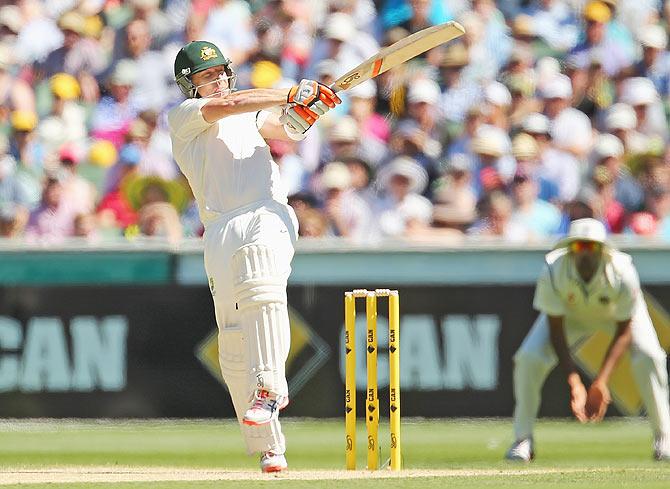 Brad Haddin. Photograph: Scott Barbour/Getty Images
"We really thought Haddin had a genuine weakness over there," said Ashwin explaining the Indian bowlers' continuous approach of using the short-ball plan.
"We continue to think he has a weakness over there. We will continue to target him in the next innings and the next Test match as well. He doesn't quite look that comfortable to us."
"We were delaying the run-scoring (against the tail-enders) and we were pretty much ready for it. But it wasn't until the last 30 or 40 minutes when Smith teed off a bit. There was not a lot of lateral movement for us to exploit. We had plans in place to make sure Smith didn't get away, but as it turned out he batted really well and towards the end he teed off," Ashwin added.
While all the prime bowlers gave away more than 100 runs, Ashwin was still happy with his performance, particularly on the first day. He finished with figures of 3-134.
"The last two days have been hard work. I have put a real honest effort, put in whatever I have worked on in practice. I have been really disciplined in my skills. I have bowled better spells in patches in the past, but this is probably the best overall performance," Ashwin said.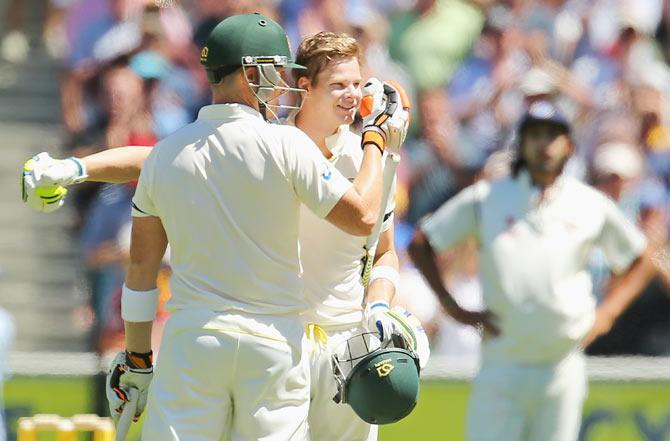 Steven Smith is congratulated by Brad Haddin after completing his century. Photograph: Scott Barbour/Getty Images
Talking about Smith in particular, he added, "Against anybody in such form you hope you have some luck and get them early. But he has been batting really well. We have not managed to find his edge. If at all we have found it we have put him down. It's one of those spaces. He has batted really well and credit goes to him."
India now have a tough job on their hands, with Australia still ahead by 422 runs. The first obvious target on day three will be saving the follow-on.
"The wicket was really slow yesterday morning. The ball didn't come on much. Drives weren't possible either. As the day went on it became much better. Today it was pretty good and it came on to the bat pretty well. We also batted well today," he signed off.