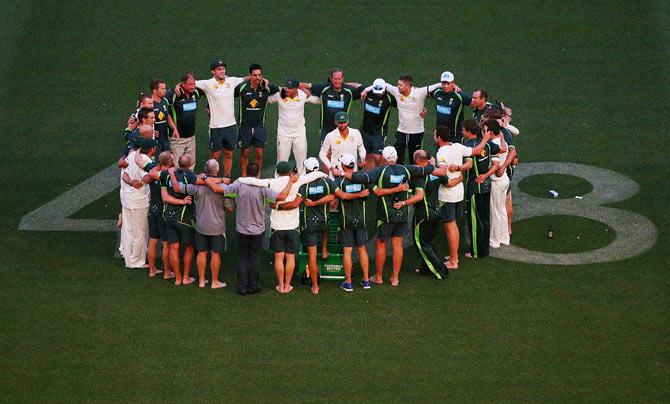 Nathan Lyon stands in the middle of the Australian team huddled over the number 408 which was dedicated to the late Phillip Hughes after their win on Saturday. Photograph: Michael Dodge/Getty Images
Australia captain Michael Clarke termed India captain Kohli's hundred as a great knock and as good as any second innings hundred, while being effusive in his praise for his own team.
"It was fantastic win and there were some unbelievable performances. Virat Kohli. What an innings! That's as good a second innings hundred as I've seen.
"There were some incredible performances. Nathan Lyon, David Warner. And Brad Haddin's captaincy in the final session was outstanding," Clarke said.
"The boys deserve a lot of credit to keep trying to win the game. They were willing to lose in order to win."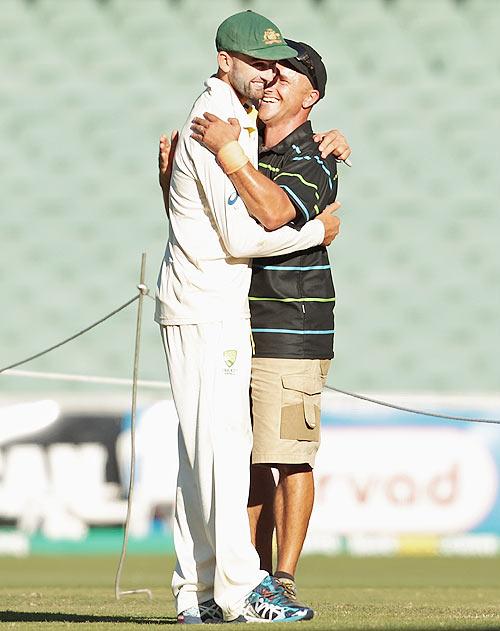 Nathan Lyon of Australia is embraced by Adelaide Oval's head curator Damian Hough. Photograph: Scott Barbour/Getty Images
Clarke said that he had no doubts about the timing of his declaration.
"I thought if India were good enough to make 360, credit to them. But credit to our boys, and our bowlers. We did Phillip (Hughes) proud," he said.
Man of the match Nathan Lyon praised the groundsman for preparing a sporting wicket.
"Credit goes to the groundsman. They produced a great Test wicket. It was Test cricket, always with its twists and turns and we just had to hang in there," Lyon said.