Former India captain Rahul Dravid believes that India's batting is heavily reliant on Virat Kohli in the middle overs.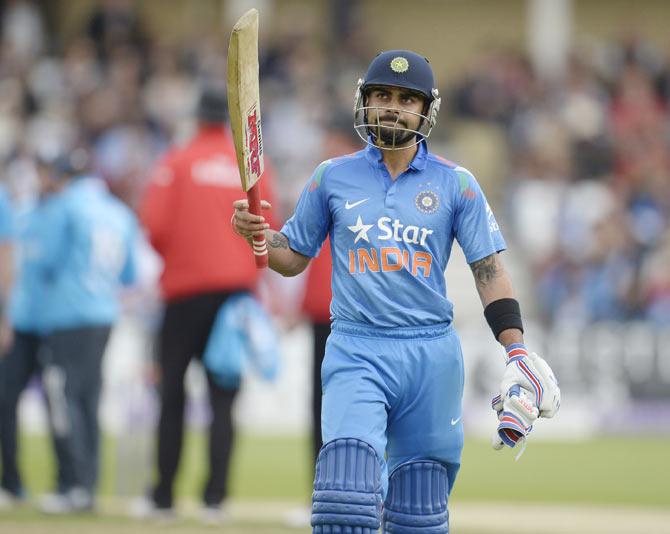 India's Virat Kohli leaves the field. Photograph: Philip Brown/Reuters
Former India captain Rahul Dravid has said that Virat Kohli will need to bat really well in the upcoming Cricket World Cup as the current team is too dependent on him in the middle overs.
"He will need to bat well. He'll need to set the tempo for the side. If you look at the Indian batting line-up, they are in a sense heavily reliant on someone like Virat Kohli to get India through those middle overs which allows the likes of (Suresh) Raina and (Mahendra Singh) Dhoni to come at the back end and finish off games," Dravid told ESPNcricinfo.com.
Kohli's batting also came in for some praise from former South Africa captain Graeme Smith.
"I think he is an outstanding player, he is a great player of spin and pace, that's a huge advantage for him, and once he gets in he has a great conversion rate. He makes it count," said Smith.
Dhoni might have retired from Test cricket, handing over the reigns of captaincy to Kohli, but Dravid feels that the limited-over format suits the veteran wicketkeeper-batsman.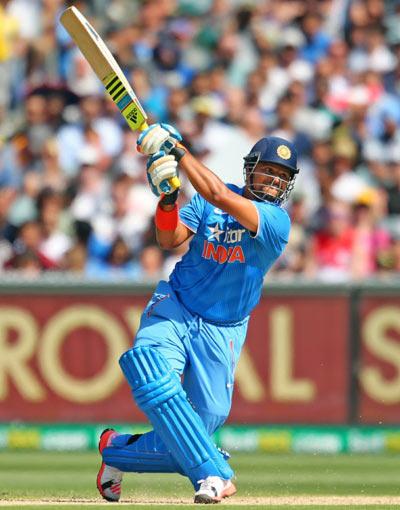 Suresh Raina hits out during the second ODI match against Australia in Melbourne on Sunday. Photograph: Scott Barbour/Getty Images
"He just gets the One-day game in terms of having to make instinctive choices. I think One-day cricket suits him because he doesn't have to plan long term," he said.
The former skipper also said that the presence of four right-hand and three left-hand batsmen in the ranks would prove to be India's strength while chasing.
"They do it well, and I think if you look at their top seven -- the expected top seven to play -- they've got four right-hand batsmen and three left-hand batsmen in that, Dhawan, Raina and (Ravindra) Jadeja in the top seven.
"So it allows them a lot of time to see through the middle overs because they're always batting left-right, left-right combination which is never easy for sides to play against them," he explained.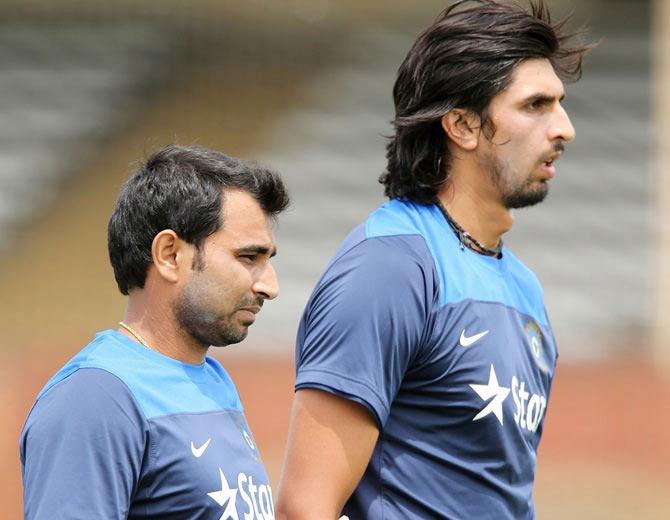 India's Mohammad Shami and Ishant Sharma during a nets session. Photograph: Getty Images
Dravid said he was not too bothered about India's bowling in the death overs despite questions being raised about their quality in recent times.
"Mohammad Shami we've seen has a good yorker, and when he's on song he does well. Ishant Sharma has blown hot and cold in one-day cricket. Bhuvneshwar Kumar is brilliant when the balls swings, but again his death bowling has been good on some days, not been great (on other days); same with Umesh Yadav. So there's no consistency in that," he insisted.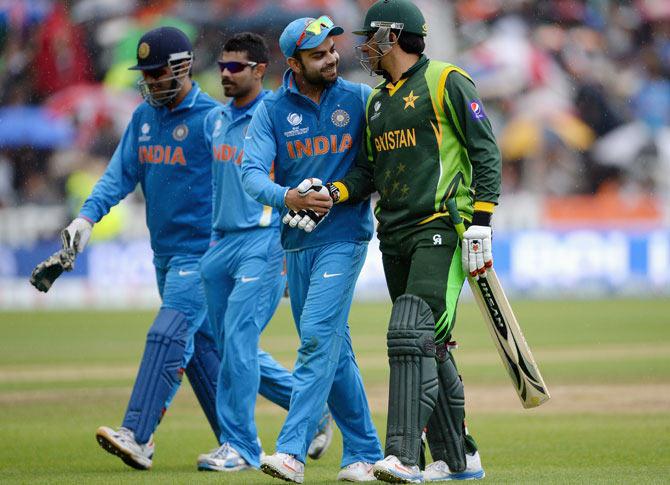 India's Virat Kohli greets Pakistan's Misbah-ul Haq during a match. Photograph: Getty Images
Regarding India's opening match in the upcoming World Cup against arch-rivals Pakistan, Dravid said: "I guess they feel they play under an equal amount of pressure in terms of what the expectations are for the Pakistani team as well but maybe it's just that the Indian players are just used to it a little bit more because of the sheer number of people supporting India."
Smith added: "I think India is also so used to playing under pressure, you guys play under a huge amount of expectations throughout your career and that probably benefits you in these types of tournaments."