- 'I still think that he had 2 or 3 more years of cricket left in him'
- 'India is going to miss Dhoni the player big time'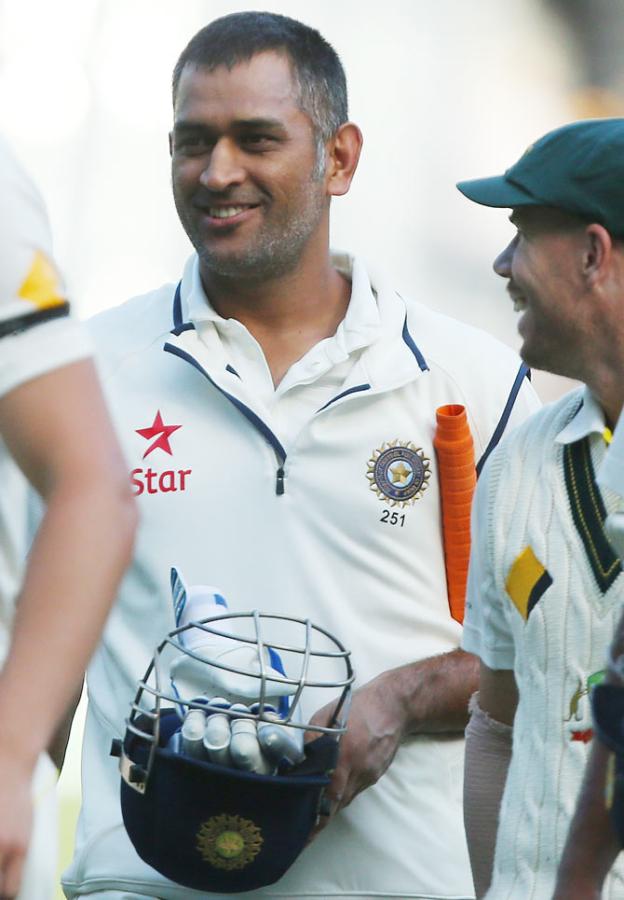 Mahendra Singh Dhoni leaves the field after a draw on Day 5 of the Third Test between Australia and India at Melbourne Cricket Ground on Tuesday. Photograph: Chris Hyde/Getty Images
Former India captain Sunil Gavaskar said that news of Mahendra Singh Dhoni's retirement was as surprising to him as to anybody and he never expected 'Captain Cool' to quit Tests altogether.
"The decision comes as a huge surprise. Though it is not sudden. I was expecting him to step down from captaincy after the Sydney match but did not think he will retire as a player. I still think that he had 2 or 3 more years of cricket left in him," Gavaskar told NDTV.
A spate of overseas Test losses forced the 33-year-old captain to call it a day from the longer format after India's draw at the MCG, which did not save the Border-Gavaskar Trophy from staying with Australia.
Gavaskar said the pressure of captaincy can sometimes get too much.
"In a captain's life sometimes the burden gets too heavy. This Test match (Melbourne game) was like that. There are times when you try everything and nothing works. And probably that time had come for Dhoni," he said.
'We have had enough patience with the bowlers'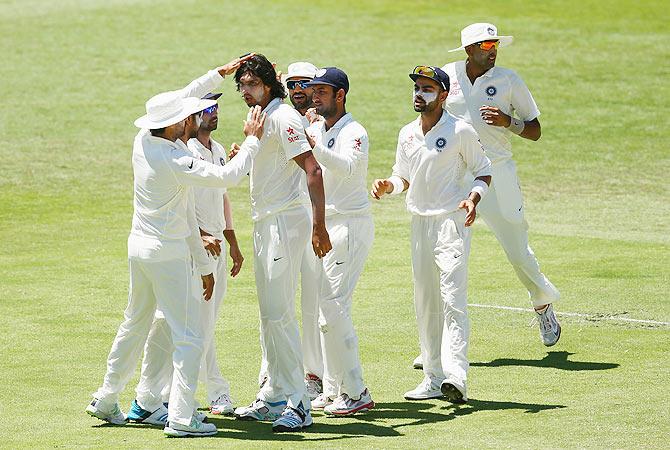 Ishant Sharma celebrates with teammates after taking the wicket of Mitchell Marsh. Photograph: Cameron Spencer/Getty Images
On reacting to Dhoni's post-match comment of allowing this team some more time and the series a "learning curve" for many a young player, Gavaskar said it was a case of pure excuse.
"This is like a student who is failing in Standard I for long. Unable to move into Standard II. It's been a long, long learning curve for the team, especially the bowlers. We have had enough patience with the bowlers.
"The batsmen no doubt have done well. And if the likes of Cheteshwar Pujara, Ajinkya Rahane, Murali Vijay, Shikhar Dhawan, keep going the way they are going, India will certainly do well."
Apart from leading India to two World Cup triumphs, Dhoni is also credited for taking India to the top of Test rankings. The middle-order batsman though has recently seen a big dip in his form, which has also affected his glovework but Gavaskar said that India will miss Dhoni the cricketer "big time".
'Team India will miss Dhoni the cricketer, wicketkeeper and batsman'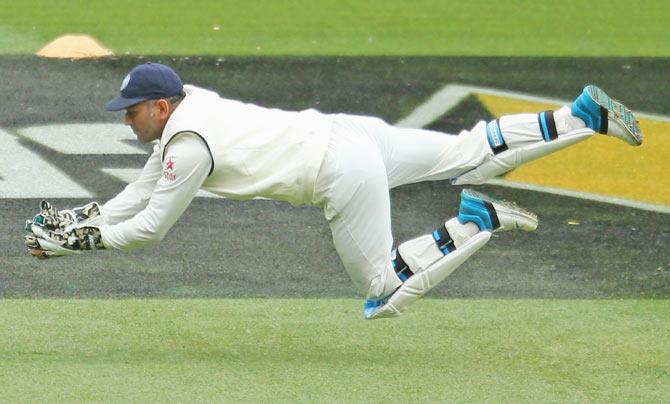 Mahendra Singh Dhoni of India dives to take a catch to dismiss Joe Burns of Australia on Monday. Photograph: Scott Barbour/Getty Images
"India is going to miss 'Dhoni the player' big time. Who can forget his 224 against Australia at Chepauk. But the pressure of captaincy had started affecting his 'keeping skills off late. His concentration levels had dipped. But according to me, Team India will miss Dhoni the cricketer, wicketkeeper and batsman for a period of time," the former opener said.
"Dhoni gave a whole new dimension to Indian cricket. He gave whole new dynamics. He took them to being the No.1 Test team in the world," he added.
Gavaskar though played with a dead bat when came to Virat Kohli's leadership skills and his ability to fill the large shoes of Dhoni.
"He is the annointed skipper. So there is no doubt that selectors have faith in him to lead India and succeed Dhoni. But how well he will fare as captain, only time will tell," Gavaskar concluded.