In Murali Vijay, Team India has rediscovered a technically sound, highly reliable opener who can be both aggressive and defensive, says Haresh Pandya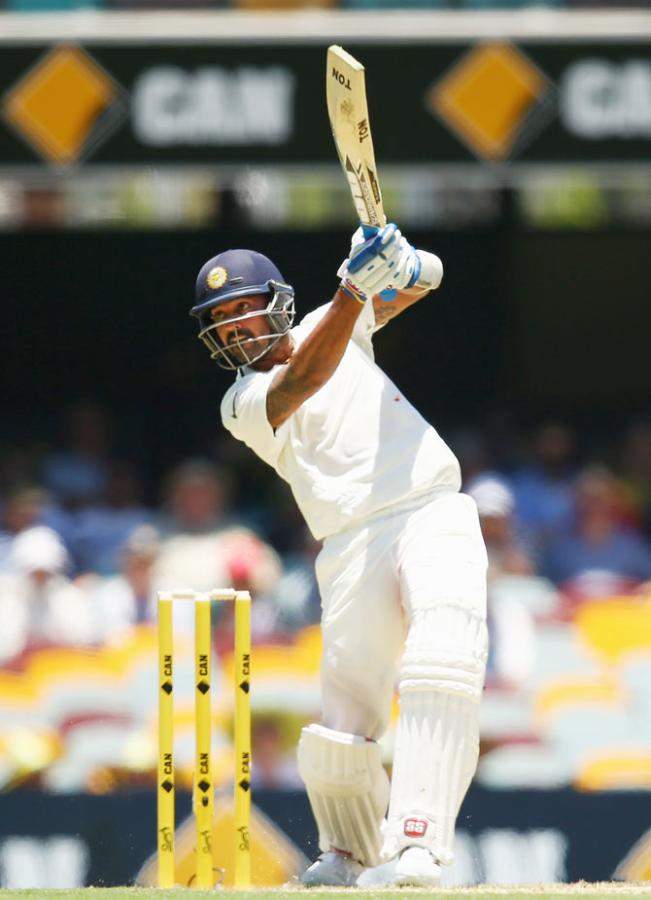 Murali Vijay bats on Day 1 of the second Test at the Gabba in Brisbane on Wednesday. Photograph: Cameron Spencer/Getty Images
The flamboyant Virat Kohli, Shikhar Dhawan and Rohit Sharma, as well as hard-working and philosophical Cheteshwar Pujara, may appear to draw more media attention than most Indian players irrespective of their inconsistent performances in recent times. But, in reality, it is the quiet, much unsung Murali Vijay who deserves a bunch of rich encomiums for the way he has rescued the Indian innings, more often than not, and lent it respectability and solidity in the last couple of series abroad.
- Vijay completes 2, 000 Test runs; Dhoni overtakes Ganguly
Playing in India and plundering runs on the docile pitches against listless, sting-less attacks --rendered more so by our dead tracks -- is one thing; performing overseas on sporting wickets and against the world's finest bowlers is quite another.
Vijay's noticeable success in the last few months, in England as well as Australia, has proved this and made it abundantly clear that he may be keeping a low profile, but he is in no way inferior to any high-profile Indian batsman, both in terms of class and productivity.
His masterly 144 in the first innings of the ongoing second Test in Brisbane has come close on the heels of his 54 and 99 in the first in Adelaide.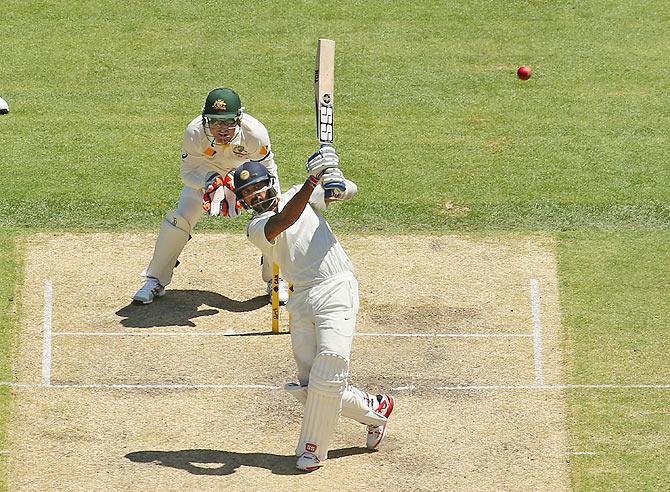 Murali Vijay hits a six off Nathan Lyon in the first Test at Adelaide. Photograph: Scott Barbour/Getty Images
These innings, coming as they did against Australia's world-class bowling spearheaded by the dynamic, hostile Mitchell Johnson, have had even diehard Aussie critics, including Ian Chappell, gasping.
India made a strong bid, thanks to captain Kohli's positive approach, to accept the challenge and try and chase the victory target in Adelaide.
It was Vijay -- accompanied by the mercurial Kohli -- who led the way with his stubborn, scintillating batting regardless of the fall of Dhawan and Pujara pretty early. But for a couple of quick key wickets after the magnificent Vijay-Kohli stand, India would surely have romped home instead of going 0-1 down in the series.
Vijay may have missed by a whisker what would have been a memorable hundred and got his name registered in record books along with his enthusiastic skipper, but he did more than enough to scare the Aussies, who had humiliated the English and won the Ashes 5-0 a year ago.
He and Kohli, both class and confidence personified, blunted Johnson and off-spinner Nathan Lyon, the wrecker-in-chief.
Johnson and Lyon were visibly lacklustre against Vijay in Brisbane as well. Throughout his dominating innings of 144 he gave the impression of batting at his vintage best, timing the ball sweetly and executing his shots elegantly, perfectly. The Aussies know that India is no England. Surely, with Vijay in such roaring form, facing Johnson and company confidently and scoring runs freely, Australia just cannot take the team for granted.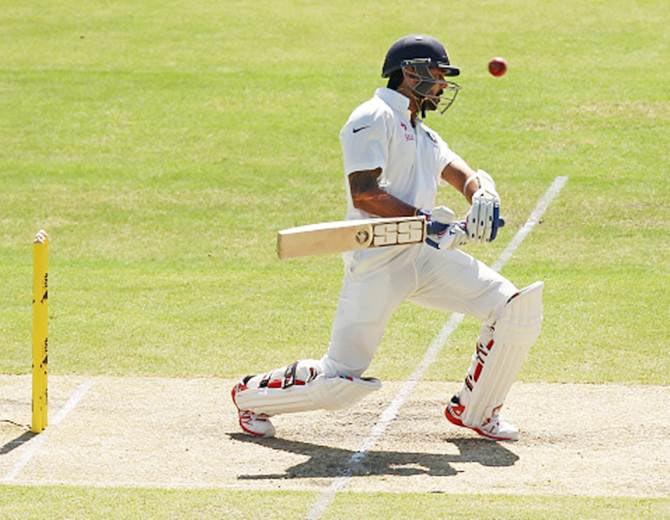 India opener Murali Vijay bats on Day 3 of the first Test against Australia in Adelaide. Photograph: Morne de Klerk/Getty Images
The foundation of Vijay's golden touch was laid on India's last tour of England, where he was one of the few beacons in what was otherwise a dark, disastrous five-Test series.
- 'Getting runs against Australia always helps you gain confidence'
Though highly underrated, he began the tour in a blaze of glory, scoring 146 and 52 in the drawn first Test at Edgbaston, Birmingham, reducing James Anderson and Stuart Broad, the two English lions who were to wreck havoc in the rest of the series, toothless.
In the second Test at Lord's, where India achieved a rare, famous triumph before the catastrophe struck Mahendra Singh Dhoni and company, who went on to scale newer heights of shoddy, pathetic performance and lost the next three Tests, Vijay played a very crucial innings of 95 after being dismissed for 24 in the first essay. Though he failed to maintain his form as India surrendered the series, he proved that Indian batting was not just about Pujara and Kohli, who were two biggest disappointments in England, anyway.
His consistency with the willow even in away Tests, and ability to shoulder the responsibility, are encouraging signs for Team India, which is still in the process of rebuilding. Any doubt about his place in the side as the No. 1 opener vanished after the England tour.
He is now one of the leading, experienced batsmen in the team, one his captain can depend on for a good start and consolidating the innings, too.
Vijay is only 30, perfectly a modern-day batsman, but his approach and style are such that he may appear to be from the old school.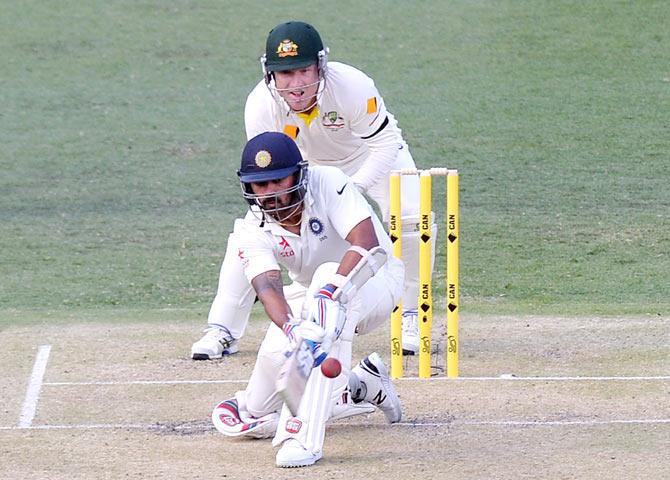 Murali Vijay plays a sweep shot. Photograph: Bradley Kanaris/Getty Images
Doubtless, he bats in true tradition of the heavyweight division of cricket, befitting a Test opener. He takes time, shows no hurry and, as they say in cricketing parlance, builds his as well as the team's innings brick by brick.
- PHOTOS, Day 1: Vijay's century caps India's dominance at Gabba
Though he begins patiently, he does not miss any opportunity to punish loose deliveries. Once he is set, and into his groove, he starts playing his shots more frequently. In more ways than one, there are shades of Sunil Gavaskar in this increasingly confident opener.
He makes judicious use of his height and long arms when executing his shots. Whether against fast bowlers or spinners, he is a delight to watch when he plays his favourite cuts and drives in the off and pulls and flicks off his toes. Interestingly, he often packs a lot of power in his shots. But the same Vijay, all sweet timing and splendid wrist-work, can be effortlessly spectacular. In other words, depending on mood, he can be both brutal and beautiful, much to the chagrin of the bowlers.
He may have been born on April 1, but he makes no fool of himself when armed with the bat. And there are reasons why he is called 'Monk'. For he has all the patience in the world and is not short of concentration and determination either.
To the combination of excellent technique and temperament, as well as solid concentration and determination, are now added voracious appetite for runs and passion for big innings, making Vijay a dangerous customer at the crease.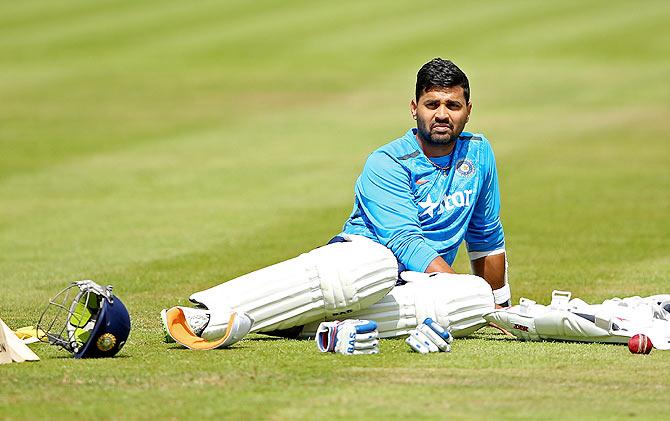 Murali Vijay during an India nets session. Photograph: Scott Heavey/Getty Images
The tall, well-built right-hander may not be part of India's One-day and Twenty20 teams, but he has the game, as well as style, for cricket's shorter versions. He is one of the successes of the Indian Premier League. His impressive run in the current Test series in Australia is likely to pave the way for him to eventually re-enter India's One-day squad. He has been selected as one of the probables for the traditional 50-overs-a-side World Cup, which is to be co-hosted by Australia and New Zealand early next year.
India may have lost experienced openers Virender Sehwag, who was mostly an attacking player, and Gautam Gambhir, who was more cautious and watchful, due to bad form, but in Vijay the team has now rediscovered a technically sound, highly reliable opener, who can be both aggressive and defensive.
If Dhawan, who tends to be flashy out-side the off and gives the impression of being over-confident sometimes even in the serious business of Test cricket, takes a leaf out of Vijay's book and begins to bat more carefully and responsibly, India will have a strong and solid opening pair.