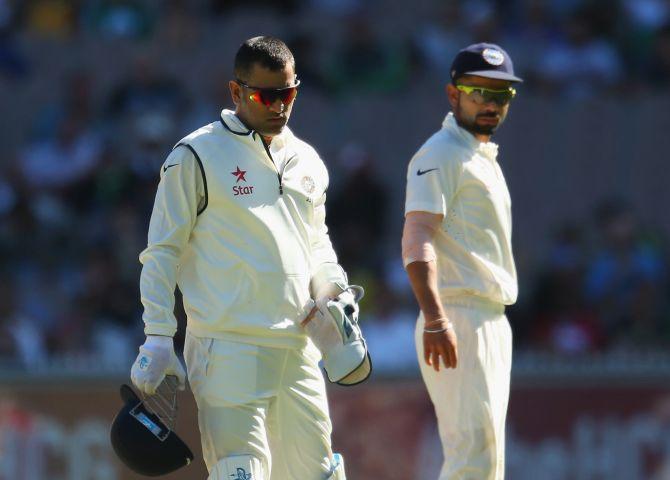 MS Dhoni and Virat Kohli. Photograph: Scott Barbour/Getty Images
The Indian cricket team flew to Sydney and preferred to spent the day indoors even as there was intense speculation over Mahendra Singh Dhoni's decision to quit the Test format with immediate effect, which surprised the cricket fraternity.
A day after the BCCI announced Dhoni's retirement from Test cricket, citing strains of playing in all three formats, the Indian team management chose to remain tight-lipped on the development.
Dhoni, who himself did not speak about his retirement in the post-match press conference and the preceding presentation ceremony, travelled with the team but did not interact with the media.
The 33-year old Dhoni's retirement came as a bolt from the blue as the Indian captain had not given any hint about his impending decision although pressure was mounting on him to give up Test captaincy in view of his poor overseas track record.
'Surprised by the decision'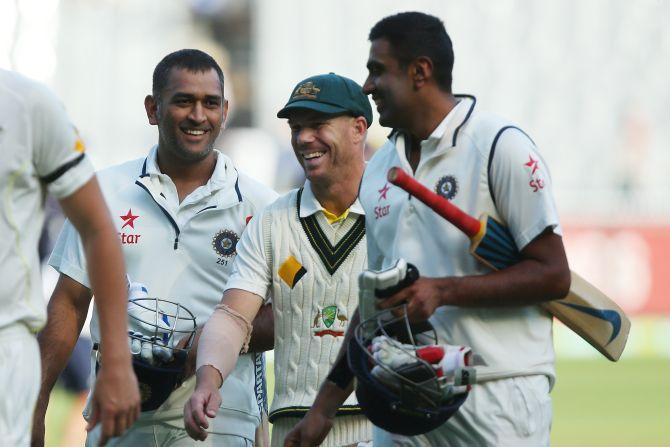 MS Dhoni and Ravichandran Ashwin of India share a joke with David Warner of Australia after a draw on day five of the Third Test match. Photograph: Chris Hyde/Getty Images
The timing of Dhoni's retirement and the manner in which it was announced has triggered widespread speculation over what could have prompted him to take the decision.
There is speculation that all is not well in the Indian dressing room, which led the captain to quit Test cricket.
His decision invited criticism from former Indian skipper Sourav Ganguly, who said, "the decision to give up captaincy was right though the decision not to play Test cricket is an incorrect one."
"I would be brutally honest that I am surprised by the decision in the middle of the series. Three Tests are over and it was a question of one more. He could have finished it off," Ganguly added.
"None of us know whether this decision in the middle of the series could have happened because of an injury, which would have ruled him out of the next Test. He did come into the series with a finger injury and none of us has an idea whether that had become worse," Ganguly said.
'Still think that he had two or three more years of cricket left in him'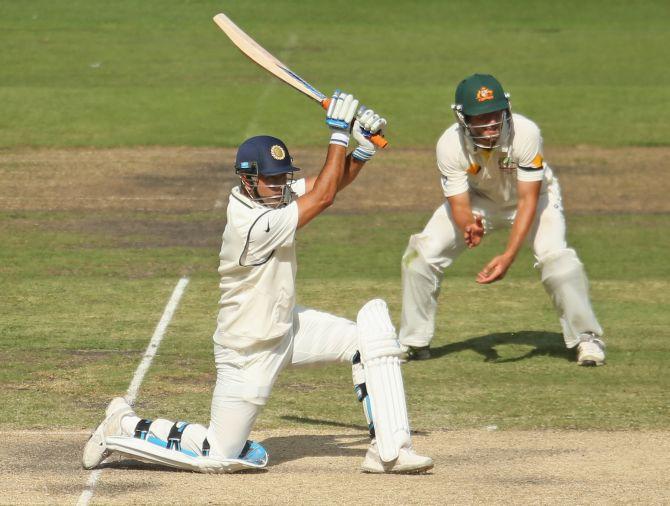 MS Dhoni. Photograph: Scott Barbour/Getty Images
Many former cricketers had expressed surprise at Dhoni's decision to quit Test cricket altogether.
"I was expecting him to step down from captaincy after the Sydney match but did not think he will retire as a player. I still think that he had two or three more years of cricket left in him," former captain Sunil Gavaskar had said.
A spate of overseas Test losses forced the 33-year-old captain to call it a day from the longer format after India's draw at the MCG, which did not save the Border-Gavaskar Trophy from staying with Australia. Gavaskar said the pressure of captaincy can sometimes get too much.
"In a captain's life sometimes the burden gets too heavy. This Test match (Melbourne game) was like that. There are times when you try everything and nothing works. And probably that time had come for Dhoni," Gavaskar said.
Most successful captain ever for India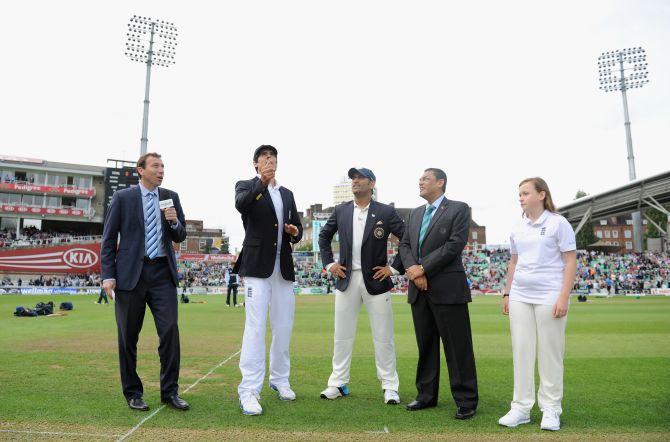 England captain Alastair Cook tosses the coin alongside Mahendra Singh Dhoni of India ahead of day one of 5th Investec Test match. Photograph: Gareth Copley/Getty Images
Among the most embarrassing defeats under Dhoni were the 0-4 whitewashes suffered in England (2011) and Australia (2011-12). Besides the team also suffered defeats in South Africa and New Zealand and had been beaten by England yet again this summer.
Yet the wicketkeeper-batsman remains one of the most successful captains ever for India, having led the side to the top of ICC rankings in Tests in 2009.
The criticism notwithstanding, Dhoni has become the Indian captain to score most runs in Tests, making 3454 runs, going past Gavaskar (3449), Mohammad Azharuddin (2856) and Ganguly (2561).
In 60 matches as captain, Dhoni had a decent 27 wins, 18 losses and 15 draws to show. In the 90 Tests that he was part of, Dhoni scored 4876 runs at an average of 38.09 with six hundreds and 33 50s to his credit.
Dhoni did not play the first Test in the current series against Australia because of a thumb injury. In his absence, Kohli led the team and won accolades for his attacking approach.
Dhoni's rise was nothing short of meteoric and he took over the Test captaincy from Anil Kumble in 2008 in 2013, he became the most successful Indian Test captain when he eclipsed Ganguly's record of 21 victories from 49 Tests.
His record in away Tests may be dismal, but Dhoni proved to be quite successful on home turf, leading the side to 21 wins in 30 Tests.
'A graveyard for the careers of visiting captains'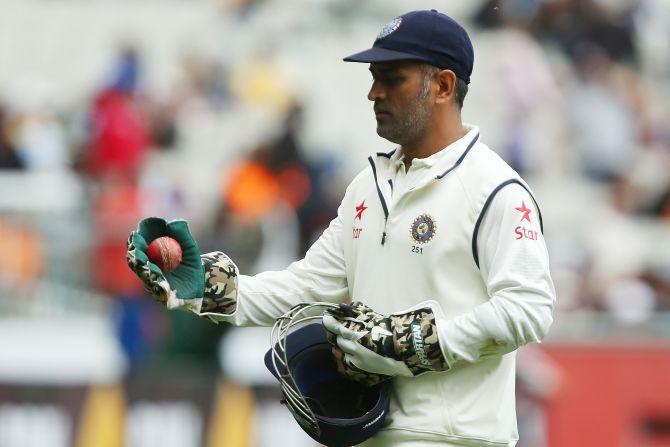 MS Dhoni of India leaves the field on day five of the Third Test match against Australia. Photograph: Chris Hyde/Getty Images
Meanwhile, the Australian media celebrated the fact that their country has become "a graveyard for the careers of visiting captains with Dhoni the latest skipper to end his leadership tenure after a mauling down under".
"The Aussies have long prided themselves on their ability to nullify the opposition captain, believing it is key to gaining a psychological advantage during a Test series," Herald Sun wrote.
The newspaper cited example of England's Andrew Flintoff, Pakistan's Mohammed Yousuf, Sri Lanka's Mahela Jayawardene, India's Anil Kumble and South Africa's Graeme Smith, who all ended their Test leadership after loss in Australia.
Meanwhile, Sydney Morning Herald speculated that Dhoni may not be in Sydney to see the baton formally passed to Virat Kohli with India contemplating sending the former captain home before the fourth Test.
"Dhoni travelled to Sydney with the Indian team a day after shocking the world with his Test retirement, but the Board of Control for Cricket in India are yet to decide if he will remain with the squad," the newspaper wrote.