'We've got to play the way that we've been playing and that's been aggressive'
'You can't let emotions get in the way. You have to go out and play your skills and be switched on'
Hughes was named '13th man' in the squad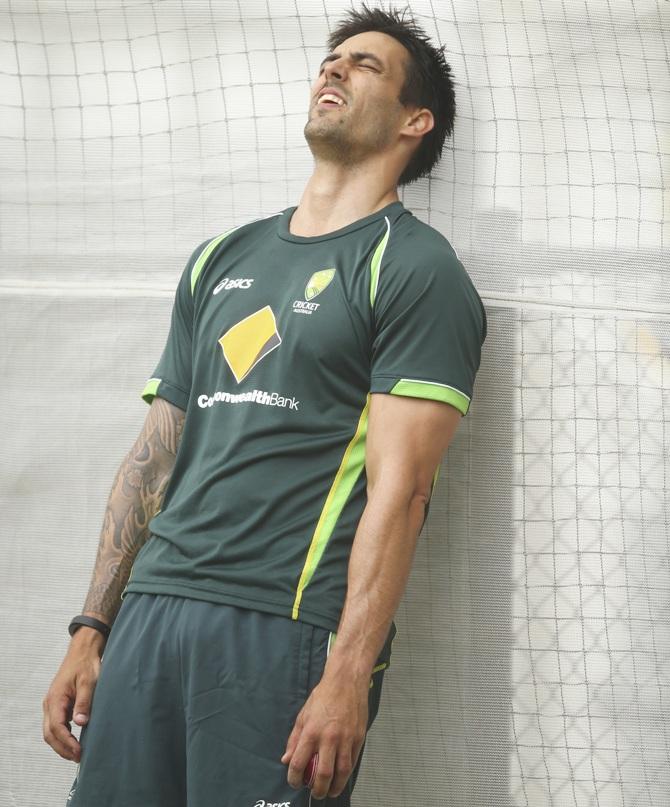 Image: Mitchell Johnson of Australia looks on during an Australian nets session at Adelaide. Photograph: Ryan Pierse/Getty Images
Australia's players are still mourning the tragic death of team mate Phillip Hughes but their bowlers will not shy away from sending down a barrage of short deliveries in the first Test against India, paceman Mitchell Johnson has said.
Kohli to lead India in Adelaide Test
From Amarnath to Dhoni: How India have fared against Australia!
Aus captain Clarke recuperates in time, fit to face India in 1st Test
Australia meet India in the opening day of the first Test at Adelaide Oval on Tuesday, less than a week after batsman Phillip Hughes's funeral.
Hughes died of a serious head injury in hospital, two days after being struck by a bouncer in a domestic match in Sydney.
Johnson, the ICC cricketer of the year, has used the short ball to great effect over the past year, taking bags of wickets and occasionally leaving batsmen bruised, and is at his intimidating best on Australia's fast, bouncy wickets.
"We've got to play the way that we've been playing and that's been aggressive," Johnson told reporters at the Adelaide Oval on Monday.
"That's the way I've always played the game and I know how the boys will be, going out there and playing the best cricket they can.
"If that's bowling the short ball like we have been, then that's how we'll do it.
"We'll assess the conditions obviously, but we're not going to change a thing.
"As a bowling unit, the last probably 18 months for me personally, I've been bowling very aggressive and I'm not going to change that."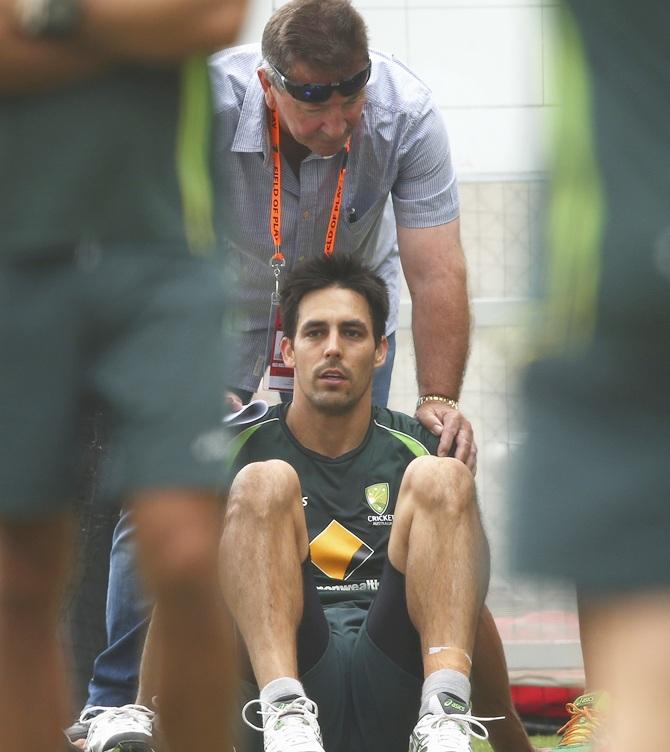 Image: Mitchell Johnson with Australia's chairman of selectors Rod Marsh. Photograph: Ryan Pierse/Getty Images
Adelaide was originally to be the second match of the four-Test series after a December 4 opener in Brisbane, but organisers rejigged the schedule to give players time to mourn Hughes.
Tuesday's opening day will be emotional, with a raft of tributes planned. Hughes was named '13th man' in the squad Johnson announced on Monday, which Michael Clarke will lead.
"Obviously you grieve and everyone's different as to how long it takes, but as soon as I got that ball in my hand I probably took a little bit more time to get into it, but I've been through a fair bit in my career," said Johnson, who has suffered crushing crises of confidence in his career.
"You can't let emotions get in the way. You have to go out and play your skills and be switched on.
"I know our guys will be. It probably will be tough at first, but everyone does handle it differently," he added.