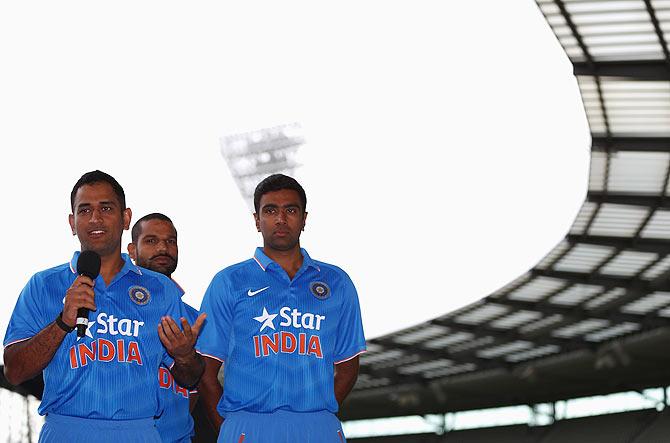 Mahendra Singh Dhoni speaks to the media during the unveiling of Team India's One-Day International kit at the Melbourne Cricket Ground on Thursday. Photograph: Robert Cianflone/Getty Images
Back at the helm after retiring from Tests, India One-day skipper Mahendra Singh Dhoni said his team will look for an encore when they start their title defence at next month's World Cup.
India's first tri-series match is on Sunday at the Melbourne Cricket Ground against Australia, while Dhoni's men start their World Cup campaign on February 15 in Adelaide against arch-rivals Pakistan in Pool B.
"I am rested," he said, with his trademark grin, after Virat Kohli captained India in the drawn fourth Test.
"Irrespective of what sport you play, it is always a blessing to represent India on the international stage. Cricket is a little tougher back home and only a few people get to wear these colours. So it is good to be here and donning this jersey again," he said, at the launch of the team's new ODI kit, designed by team-sponsor Nike for the upcoming season, on Thursday.
The bugle for the ODI season in Australia has been sounded and for the next two-plus months, fifty-over cricket will take precedence over everything, starting with the tri-series, involving Australia, India and England, followed by the 2015 World Cup.
"We would definitely like to repeat our performance from 2011. But the change in conditions will be a factor and we will have to play accordingly," Dhoni said.
"The Melbourne Cricket Ground is one of the best venues in world cricket, irrespective of the format. We will aim to do better than we have done in the ODI format over the last couple of years and hopefully we will be back to play the World Cup final on March 29," he added.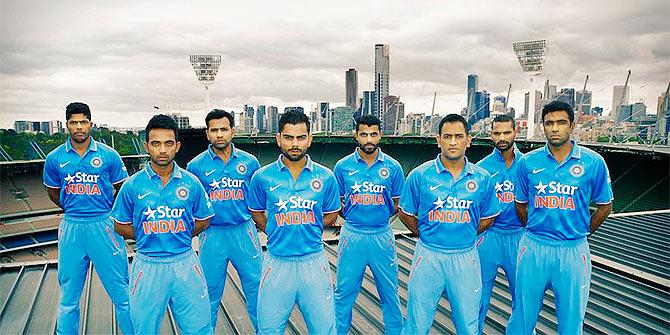 Umesh Yadav, Ajinkya Rahane, Rohit Sharma, Virat Kohli, Ravindra Jadeja, captain Mahendra Singh Dhoni, Shikhar Dhawan and Ravichandran Ashwin pose with their new kits at the MCG on Thursday. Photograph: BCCI/Twitter
Kohli, who was in ominous form in the recent Test series against Australia, said he is looking forward to a good outing at the tri-series and World Cup.
"The mindset doesn't change whether we are playing in whites or blue. Every game is important for me when I am representing the country," said Kohli.
"I have enjoyed the challenge of playing in Australian conditions and have enjoyed the response from the crowds as well. It was a good Test series for us. Now I am eagerly looking forward to the tri-series and then the World Cup.
"Back-to-back World Cup wins will be a nice milestone for this young team. It will do nicely for the new colours that have been unveiled today. That's what we are aiming for as a team, that's what we want to achieve and we have the vision for it."
The Indian team reached Melbourne on Thursday, and, after enjoying a five-day rest post the Test series, the players were back in training. The day was used in limbering up and getting some fielding drills after which the customary game of football was played.
Ravindra Jadeja joined the other players selected for the tri-series and World Cup squads. He didn't field but bowled gingerly in the nets, testing his shoulder.
But it is still too early to predict his estimated time of full recovery.
Meanwhile, the tri-series will get underway in Sydney on Friday with Australia taking on England.