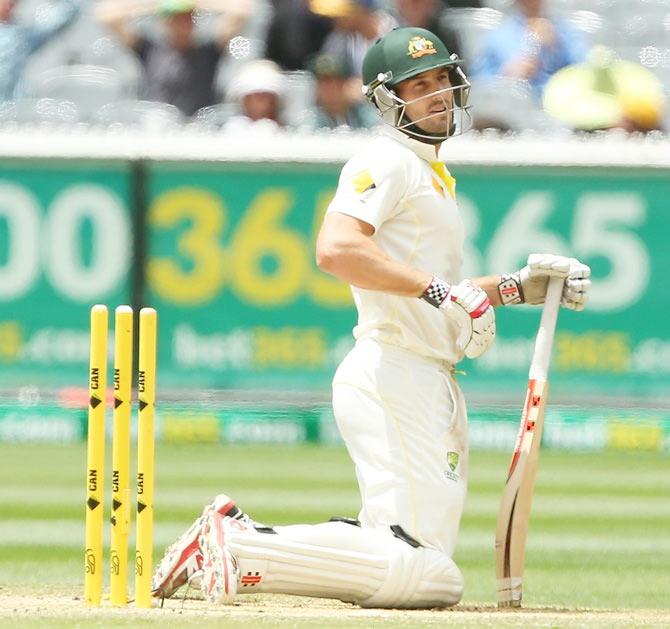 Shaun Marsh of Australia looks on after being run out by Virat Kohli of India on 99 runs. Photograph: Chris Hyde/Getty Images
A Test match that ended in a forgettable draw between Australia and India on Tuesday will be memorable for all the wrong reasons for batsman Shaun Marsh who was run out for 99 in a desperate bid to raise his first century on home soil.
The 31-year-old, on the fringes of the side for years, came unstuck attempting a rash single to bring up the milestone before lunch on day five at the Melbourne Cricket Ground under pressure of a looming declaration from his captain.
- Aus captain Smith blames India for drawn Melbourne Test
As Steven Smith debated with his coach and senior players about the best time to declare, Marsh dutifully batted for time with partner Ryan Harris, the pair slowly accumulating rather than hitting out at India's bowlers.
The plan had been to declare 10 or 15 overs into the morning session, Smith told reporters, but claimed that had been dashed by the grudging flow of runs, which he blamed in part on India captain Mahendra Singh Dhoni's defensive tactics in the field.
After finally deciding, Smith gave Marsh 20 minutes' notice of his intention to declare and the middle order batsman wasted no time going for his ton.
On 86, he smashed spinner Ravichandran for a six, a four and a two in consecutive balls to reach 98, and moments later added a single to be one shy of his third Test century.
India paceman Umesh Yadav could see Marsh was in a hurry and banged in five quality balls that the agitated batsman could only parry to fielders in close.
On the sixth, Marsh snapped, charging through for a single that was never on, and India's Virat Kohli gleefully swooped on a straight dab down the pitch to fling down the stumps from only a few metres away. Marsh was half a foot short of his ground.
Having guided his team to safety and effectively batted India out of the game, the batsman was given a standing ovation by the MCG crowd but trudged off with head bowed.
His 99 will remain a footnote in a match that would end with Smith jeered by spectators for forgoing four overs to get the final four wickets needed for victory and the shock resignation of Dhoni from Test cricket.
For Marsh, the number may burn in his head for a long time.
"It was obviously very disappointing for him," Smith said.
"He played very well, which is a very positive sign for us."