Emotions are set to run high at the venue where late Australian opener Phillip Hughes died last month after being struck by a bouncer during a Sheffield Shield match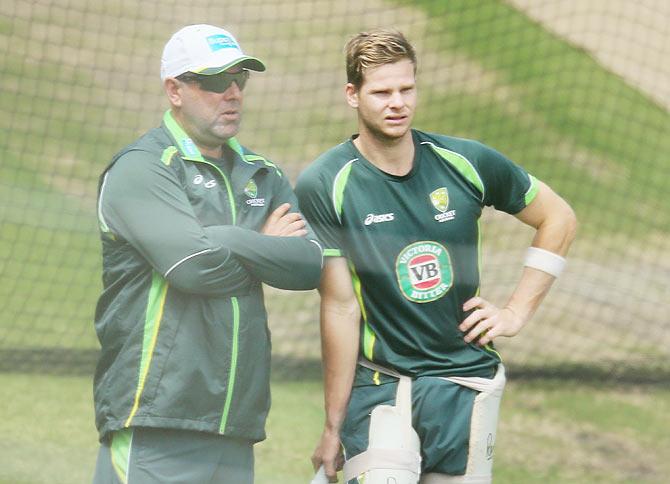 Australia coach Darren Lehmann with captain Steven Smith. Photograph: Scott Barbour/Getty Images
Australia may have sealed the four-Test series against India but the final match in Sydney could prove the most emotionally taxing for the hosts as they return to the venue where Phillip Hughes was fatally struck by a bouncer last month.
Brad Haddin, Nathan Lyon, Shane Watson and David Warner were fielding at the Sydney Cricket Ground when Hughes sustained the sickening blow to his neck, never regaining consciousness and eventually passing away three days before his 26th birthday.
Australia coped well with the tragedy to take an unassailable 2-0 lead against India and coach Darren Lehmann is in no doubt that emotion will run high as they return to Sydney for the fourth Test starting on Tuesday.
"I'm sure it's in the back of their minds and everyone's minds around Australia," Lehmann said.
"For us we've just got to get on with playing the game as best we can.
"I actually don't know how they'll react, we have to see how we react.
"We've got to have a couple days off now and try to get through that over the next few days."
'Every time I sit at home and I'm thinking about nothing but that'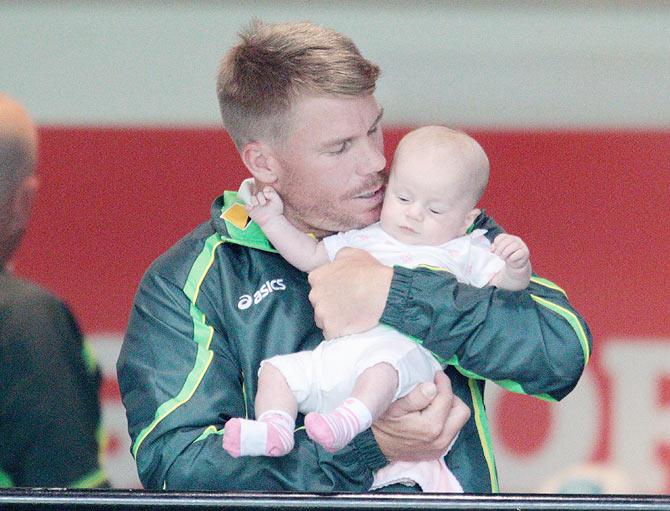 David Warner of Australia plays with his baby daughter Ivy Mae Warner. Photograph: Scott Barbour/Getty Images
Warner said Hughes's passing continued to impact his life.
"It's going to be in the back of my mind every time I play," the hard-hitting opener said.
"Every time I sit at home and I'm thinking about nothing but that. We've got to keep pushing on. He'd want us to do that."
Apart from being in control of their emotions, Lehmann also wants his team to improve their fielding, especially catching, in Sydney.
The butter-fingered hosts dropped both Virat Kohli and Ajinkya Rahane in India's first innings in Melbourne, allowing them to post career-best scores in a 262-run partnership.
"(The fielding was) shoddy at best. We've done a lot of work and I can't complain about the work ethic from the lads, but the big one's that cost us were the first innings," Lehmann said.
"It's not volume or practice, they're very good at that. It's probably more confidence to be honest."