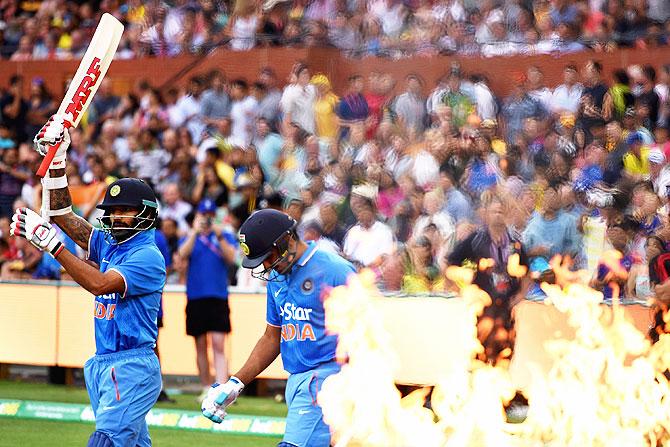 IMAGE: Rohit Sharma and Shikhar Dhawan walk out onto the field to bat in the 1st Twenty20 International match against Australia at Adelaide Oval on Tuesday. Photograph: Daniel Kalisz/Getty Images
India registered a resounding victory in the T20 series-opener against Australia, and following their clinical performance Sunil Gavaskar feels the Mahendra Singh Dhoni-led side will start as favourites at the upcoming World Twenty20 at home.
India outplayed Australia by 37 runs at the Adelaide Oval on Tuesday, and the win drew a tweet from former Sri Lankan cricketer Russell Arnold, who wrote on his Twitter handle: "India looking like serious contenders #World T20".
- Dhoni relieved and impressed by team effort
- PHOTOS: Kohli, spinners secure India's T20 win against Australia
- Kohli's unbeaten 90 propels India to victory in 1st T20I
Arnold's views were backed by former India captain Gavaskar, who was left impressed by India's effort.
"The way the Indian team has played and the way Russell Arnold has said, it looks like they are the favourites. The top of the order, Virat Kohli is in splendid form, Rohit (Sharma) is in great touch as well.
"Shikhar (Dhawan) might not have scored enough runs, but I think that's a great sign for the Indian team because when they head back home in familiar conditions, with the ball also helping the spinners, then I think India certainly will be the team to watch out for," Gavaskar told NDTV.
"Batting-wise they are clicking massively and in bowling they have discovered the right line and length.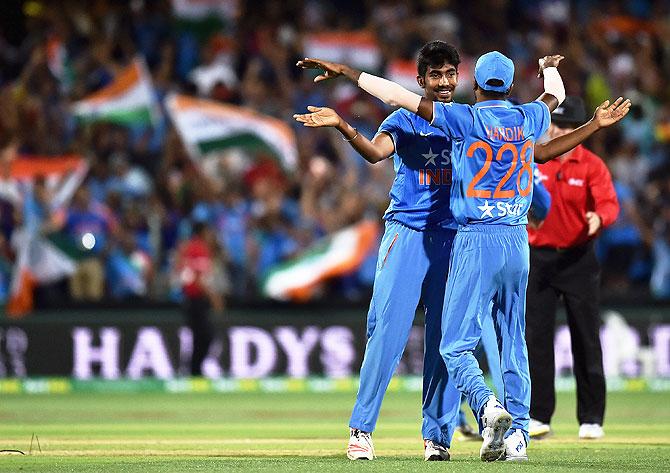 IMAGE: Jasprit Bumrah celebrates with Hardik Pandya after the wicket of Cameron Boyce. Photograph: Daniel Kalisz/Getty Images
The Indian team is shaping up well, particularly after the inclusion of Jasprit Bumrah, Ashish Nehra and Yuvraj Singh," the cricketer-turned-analyst added.
Kohli set up the win with his unbeaten 55-ball 90 that drove India to a challenging 188 for three. Gavaskar was all praise for the star batsman.
"He is at the moment from a different planet. He is making it look so simple. The beauty about his batting is the top hand when needed to play shots on the on side and the same delivery, same line, same length the bottom hand comes into play and he whips it to mid-wicket. So what does a bowler do? How does any bowler stop a man in such tremendous touch?" he asked.
The bowlers then made it count with debutant medium-pacer Jasprit Bumrah leading the charge with three wickets.
His unconventional slingy action, in Gavaskar's opinion, is what could be a starting point of trouble for opposition batsmen.
"The action is a help. The batsmen will take a little time to get used to the action. But length is good, he is bowling yorkers, he is bowling those fuller-length under-the-bat deliveries, which the other bowlers haven't bowled.
"I think, that is what that the other experienced bowlers, who have been to Australia keep on making the same mistake over and over again, had done then they would have got results. So my honest advice to these experienced bowlers would be to watch Jasprit Bumrah bowl, see the length he is bowling and that is what you need to do when the batsmen are looking to slog you," he said.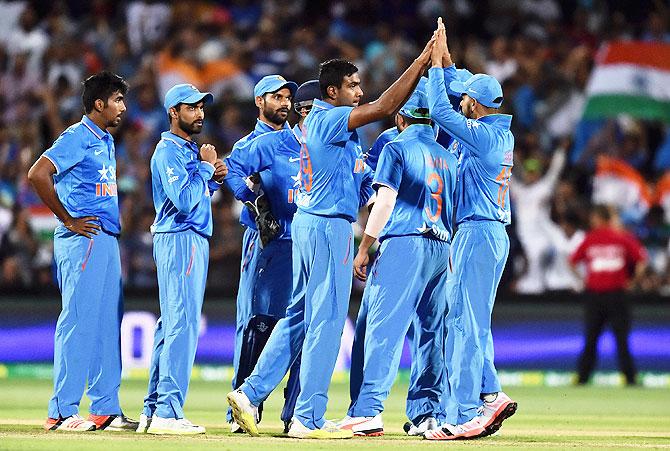 IMAGE: Ravichandran Ashwin celebrates after taking the wicket of Shane Watson. Photograph: Daniel Kalisz/Getty Images
Gavaskar praised Ravichandran Ashwin and company for the turnaround. After a lackluster ODI series, the spinners also came into their own with Ashwin, Ravindra Jadeja and Hardik Pandya bagging two wickets each.
"The difference that you could see is the angles that they were bowling, while they make little bit of adjustment to the length again, where they bowled a much fuller length, which can be driven. That is the little adjustment of foot-and-a-half that you need to make.
"Also the line that they bowled, like Ashwin going round the wicket and bowling just a little across toward the off-stump and making it difficult for the batsman to connect. They must have thought long and hard about it, and you have got to compliment the support staff. The bowling coach, who I am sure, would have worked very hard in the last few days to bring Ashwin back to his best," he said.
On a day of double delight for Indian cricket, the women's team also gave the fans a perfect Republic Day gift after chasing down a record total to upstage world champions Australia in their T20 opener.
"Delightful present that both the teams, women and men's team has given to the fans," said Gavaskar.
© Copyright 2019 PTI. All rights reserved. Republication or redistribution of PTI content, including by framing or similar means, is expressly prohibited without the prior written consent.