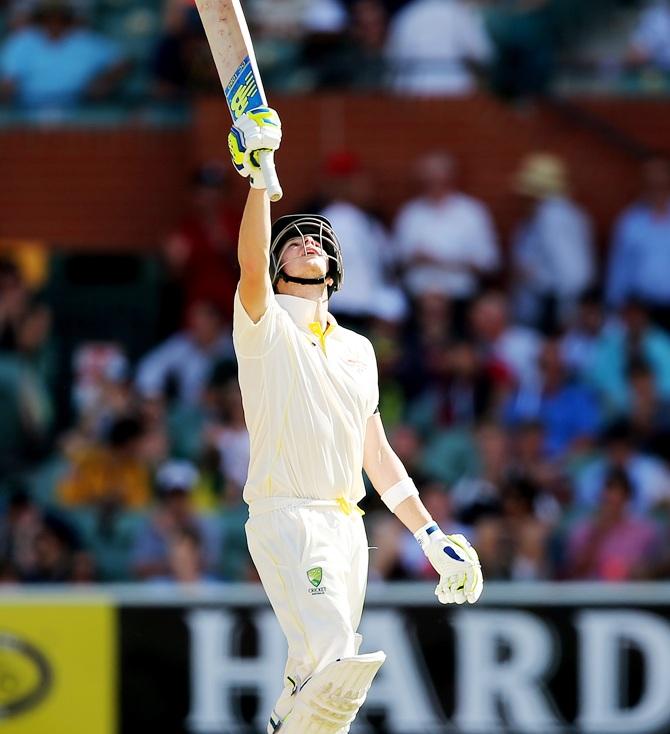 Image: Image: Steven Smith of Australia looks to the sky after reaching 63 runs. Photograph: Morne de Klerk/Getty Images
In a poignant tribute to Phillip Hughes, cricketers David Warner and Steven Smith on Tuesday looked heaven-wards and raised their bats on reaching 63, score from where their deceased teammate could proceed no further after being hit by a bouncer that proved so fatal that his life was cut short at 25.
PHOTOS, Day 1: India strike late after Warner slams century
Australian cricketer Hughes' death following a head injury sustained during a Sheffield Shield game a little more than two weeks ago, dominated headlines in the run-up to the Test series against India, prompting the organisers to reschedule the fixtures.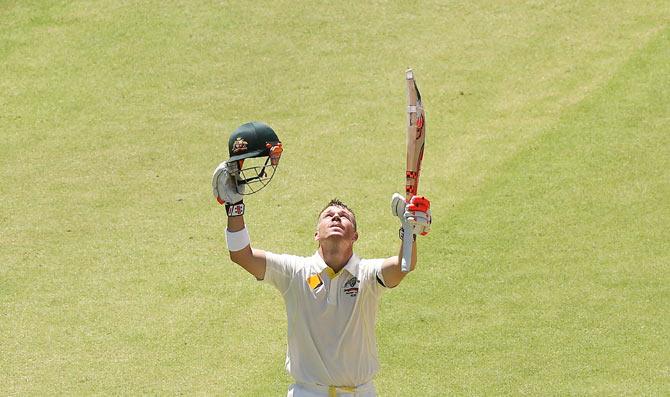 Image: Image: David Warner celebrates his century. Photograph: Michael Dodge/Getty Images
On what expectedly proved to be an emotionally-charged opening day's play in the first cricket Test against India at Adelaide, Warner and Smith both looked towards the sky and raised their bats after reaching 63, and the crowd at Adelaide Oval stood up to give a standing ovation.
Hughes was batting on 63 for South Australia when a sharp bouncer from young New South Wales pacer Sean Abbott hit him on the neck head rendering him unconscious.
The left-handed opener, who had scored three Tests hundreds and two ODI tons for Australia, never regained consciousness and passed away at a young age on November 27, leaving the cricketing world shocked and in a state of utter despair.
While Hughes will remain as '63 not out forever' in the minds of cricket lovers, the Australian team named the departed player as the national team's '13th Man' for the first Test.
The morning saw an emotional outpouring as tributes were paid to Hughes before play began. Both teams lined up behind his number 408 (painted on the turf).