'We will have to try and give batting to players who have not batted so far; but people who are batting close to 6, 7 or 8, they will have to play big shots because that is going to be certainly very important for us.'
'It's something that will always trouble us till we are certain that these are the set of bowlers who will bowl in death for us.'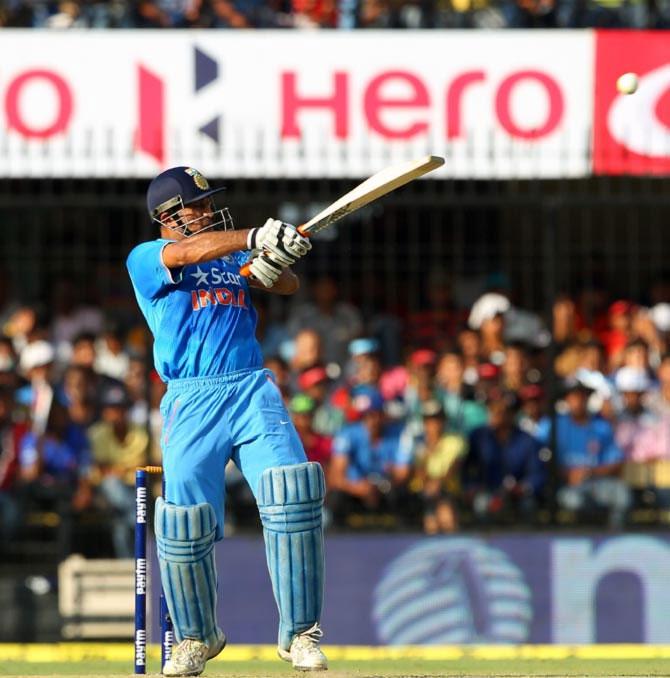 IMAGE: India captain Mahendra Singh Dhoni. Photograph: BCCI
India's build-up to the World T20 Championship couldn't have been more perfect after the hosts beat Sri Lanka on Sunday to register a 2-1 series win.
Captain Mahendra Singh Dhoni considers his team as one of the top contenders at the ICC's showpiece event, though some top batsmen are yet to get enough time in the middle.
With India batting deep, not all the batsmen have got enough runs under their belt in the last six T20 matches.
Dhoni and comeback-man Yuvraj Singh have hardly spent time in the middle.
"Everybody has not got the chance to bat. But you will keep facing this problem because our batting line-up is deep.
"We will have to try and give batting to players who have not batted so far; but people who are batting close to 6, 7 or 8, they will have to play big shots because that is going to be certainly very important for us," Dhoni said, after the series-clinching nine-wicket victory over Sri Lanka in Visakhapatnam.
"It's not how many runs you have scored at that time; but may be if you are facing only 3-4 balls and you can get 10-15 runs, that will be a real benefit," he said.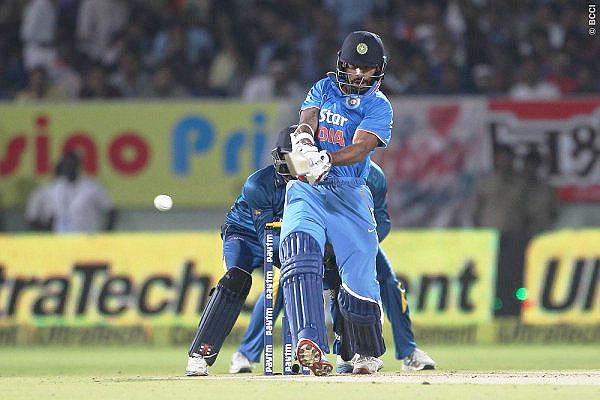 IMAGE: Shikhar Dhawan bats during his innings against Sri Lanka on Sunday. Photograph: BCCI/Twitter
Dhoni said familiar conditions at home are also a comforting factor for the World Twenty20, starting March 8.
"We are always a top contender when it comes to the shorter format. Also the World Cup being held in India, the spinners will come into action and that gives us added benefit, and also the exposure of playing IPL over here. Out of eight seasons we have played seven here and all of that will count," he said.
He said the key will be getting the dangerous batsmen in the opposition out early.
"What the shortest format does is that it narrows down the difference between two teams. You have to keep the big hitters (of the rival team) out of the game. Also, in a knock-out game you have to be at your best; you can't have an off day because once the knock-out stage starts, it's more like lottery cricket. I feel more consistent to be important (sic)."
Dhoni said it was helpful to have someone like Jasprit Bumrah, who can bowl yorkers in the death overs, in the side as it gives the team the option of handing the ball to someone like Ravichandran Ashwin early.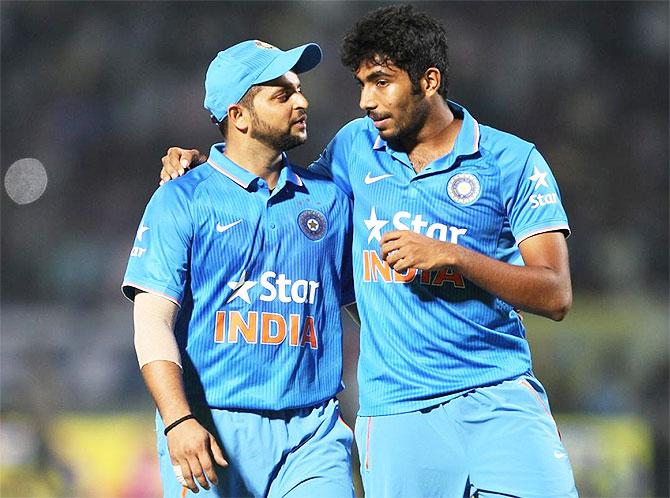 IMAGE: Suresh Raina and Jasprit Bumrah chat between overs. Photograph: BCCI
"It does, but usually you would keep two overs of someone like Bumrah or Ashish Nehra for the death overs. In 50 overs you have to be more careful; you have to keep 2-3 overs of the spinner; if the death over bowler is not bowling well, you have to bring him in. What it does, you end up not using a bowler or spinner.
"It's something that will always trouble us till we are certain that these are the set of bowlers who will bowl in death for us. In this format it is matter of one bowler. In 50 overs, if you have certain bowlers who are your death bowlers, it gives you the liberty to use other people in between the overs," Dhoni said.
He was pleased with the fact that all his bowlers have got a chance to bowl going into the World Twenty20.
"Overall, everyone has got to bowl, which is a good thing. In the last games here everyone has gone for runs a bit, be it spinners or fast bowlers, which means they were under pressure at some point of time; that's a good thing. Overall, we are looking good."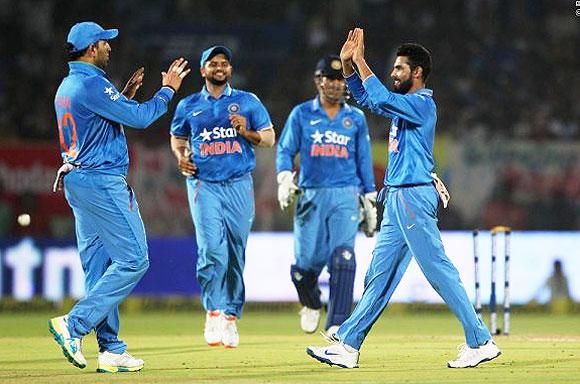 IMAGE: Ravindra Jadeja and Yuvraj Singh celebrate a wicket. Photograph: BCCI/Twitter
Talking about Ashwin, whose four-wicket haul while opening the attack set up India's victory on Sunday, Dhoni said: "When it comes to giving him the new ball, he flights the ball and asks the batsman to step out and play the big shot. In this format it is crucial. At times you tend to bowl flat, but he is somebody who mixes it well. He gives us that liberty to use fast bowlers in the middle especially when we have just two fast bowlers.
Dhoni said it is not something the team will keep doing throughout.
"In the coming games we will see the conditions. Also, what gives me that option is having Suresh Raina in the mix. You have literally two proper off-spinners, especially when it is turning, and you have two left-arm spinners in (Ravindra) Jadeja and Yuvraj Singh in the eleven so even if one of them has to bowl upfront it doesn't really matter because the others can do the job."
He added that, more or less, he knows what India's playing eleven would be in the World T20, saying "it is not difficult" to see who Virat Kohli will replace when he comes back in the side.