'If we were mentally bogged down we wouldn't be able to compete at all.'
'If the results were different, there would be different questions and different debates.'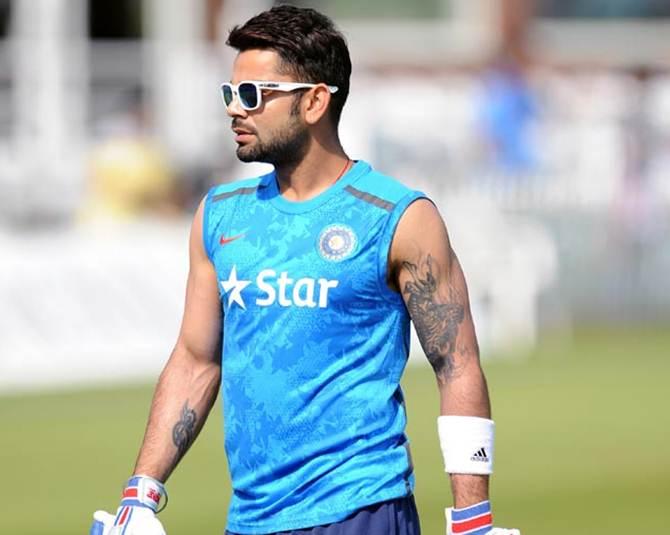 IMAGE: Virat Kohli, who has scored two centuries, feels the team failed to capitalise on important moments in the ODIs against Australia. Photograph: Clint Hughes/Getty Images
Unfazed despite four successive defeats, a defiant Virat Kohli insisted that the Indian cricket team is "not mentally bogged down" and would like to win the next four matches, including Saturday's fifth and final One-day international against Australia.
The star batsman said despite trailing 0-4 in the series, the team's morale is still up going into the concluding ODI and the three-match T20 series that follows.
"If we were mentally bogged down we wouldn't be able to compete at all. We just have to be smarter about chasing down totals. If the results were different, there would be different questions and different debates. But we have to respect this result and Australia are a tough side, and they know these conditions better," Kohli said, at the pre-match press conference on Friday.
"They are on a streak of winning 18 games at home. So we need some extra bit of experience in such conditions. We would like to learn because we have to keep coming back here and we want to do well here.
"Morale is the same as we came here two weeks ago. Everyone is still trying and working hard. We have believed in the four games that we can cross the line at any stage. We always knew that but we haven't been able to execute that. We have a game tomorrow and still have three T20Is. We would like to finish strongly, and win all these games left. So we are looking at these four games rather than two series separately because we will feel much better about ourselves, if we do well from here on."
Kohli, who has scored two centuries on the tour, felt the team failed to capitalise on important moments.
"We have played good cricket so far, but we have not capitalised on important moments. Still I feel we have been very competitive on the field. In international cricket it is all about capitalising on those moments which Australia has done better than us. If you see the four matches so far, results could have gone either way.
"That is something we have really lacked. We haven't been able to close the games off and we need to learn this in international cricket. Next time I am certain this happens, guys will have learnt to do so because no one wants to tour abroad and lose games after playing well. It hurts even more.
If you are not playing well it is a different story but when you are playing good cricket, it hurts more that you are not able to cross the finish line."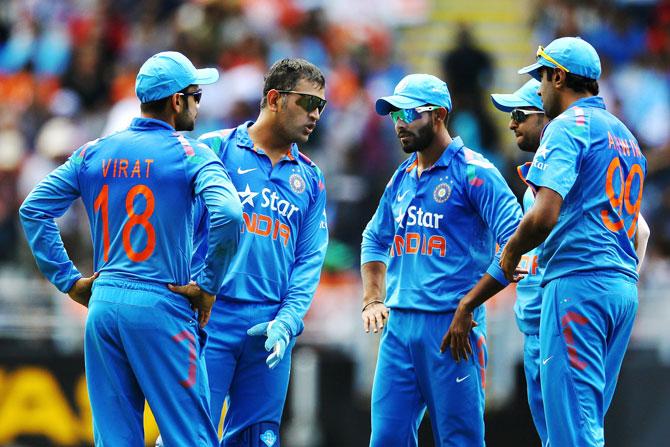 IMAGE: India captain Mahendra Singh Dhoni discusses strategy with teammates. Photograph: Getty Images
The Indian top-order has done well, with Rohit Sharma and Kohli himself scoring two hundreds each. Shikhar Dhawan scored a hundred too while Ajinkya Rahane contributed with two half-centuries. Due to their contributions, India posted 300-plus scores in almost every game, but it wasn't enough.
"Obviously, coming to Australia and getting 300-plus every time you play it has never been done before in a series when a team has so consistently come close to this score every time. It obviously is not a good feeling to lose ever, but we need to give Aussie batsmen credit because they know ground angles, their wickets, their conditions very well and worked out how to chase down scores and set us a big total like last game.
"Combination of both. We could have executed plans better, as I said, in crunch moments. They have played well, World champions and record streak of 18 games unbeaten at home."
Even so, the bowling and fielding haven't lived up to expectations, and are the two primary factors why India hasn't been able to turn tables on the hosts so far on this tour.
"It is important to give feedback to the bowlers. I have discussed this with MS (Dhoni) and now it is a conscious decision for me to stand at mid-off from where I can constantly talk to the bowlers. Our thinking is quite similar so I know when he sets a particular field where he wants the bowler to bowl.
"I compliment them when they bowl well but also remind them where to bowl when they don't do so. A fast bowler's job isn't easy because it is tough on the body and sometimes the mind will do different things and he can be distracted.
"At the same time we have to accept that they haven't done well in the crunch moments of the first three matches. But for the last match I think the batsmen have to share the blame. Had Shikhar (Dhawan) and I carried on, we could have finished the game in the 46th over, but this time the batsmen failed in pressure situations. So we have to take that responsibility and improve."