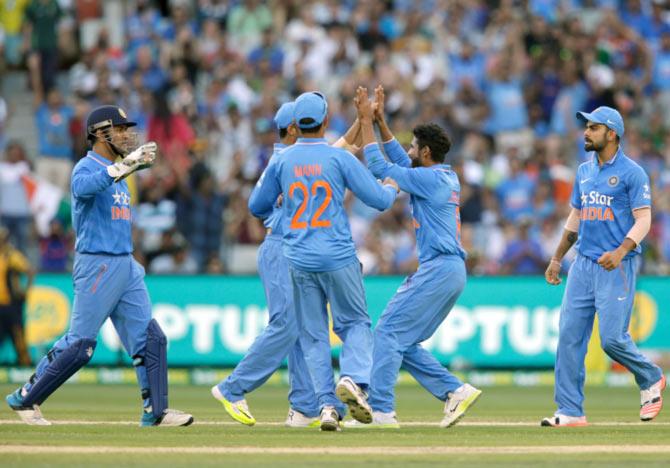 IMAGE: Ravindra Jadeja of India celebrates with team mates after taking a wicket during the ODI series in Australia. Photograph: Darrian Traynor/Getty Images
Former Australia batsman-turned-commentator Dean Jones is convinced that the Indian team, during their ongoing tour Down Under, has been solely concentrating on the Twenty20 series with the World T20 just eight weeks away.
"The bottomline is what India, and MS Dhoni, want out of this tour. I am sure they wanted to win the ODI series but they were also giving a lot of youngsters chances in the ODIs. I think India will be more worried about winning the T20 series. That's the priority," Jones said.
"It doesn't matter whether they win or lose ODIs in Australia. What matters is playing T20s against Australia, who have a half decent team and that too without Mitchell Starc but are still doing well," he added.
After this series, starting in Adelaide on January 26, India will play two more Twenty20 series -- first against Sri Lanka at home and then the Asia Cup in Bangladesh -- that will give them enough opportunities to evaluate their options.