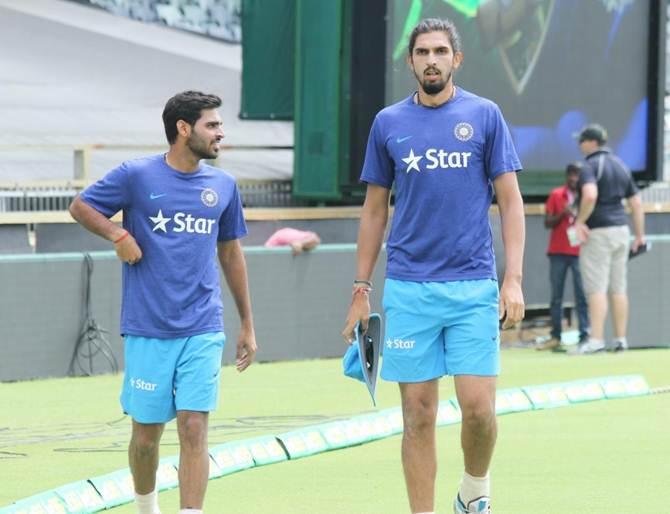 IMAGE: Indian bowlers Bhuvneshwar Kumar and Ishant Sharma (right) during a practice session. Photograph: BCCI
Their bowling frailties thoroughly exposed in the first two ODIs, India are left with no option but to bank heavily on their batsmen to steer the side and upstage the rampaging Australians in the must-win third one-dayer in Melbourne.
The Indians lost the first two ODIs despite setting targets of more than 300 for the Aussies, the sort of debacle which prompted under-fire skipper Mahendra Singh Dhoni to admit that his batsmen will have to take more pressure given that the bowlers have been a huge letdown.
Sunday is effectively India's last chance to salvage any hopes of turning the tables in this ongoing five-match series.
Barring the token win in Zimbabwe, the Men in Blue have lost their previous two challenging ODI contests played since the World Cup here last year, against Bangladesh (away) and South Africa (home). They are now on the brink of losing a third successive series.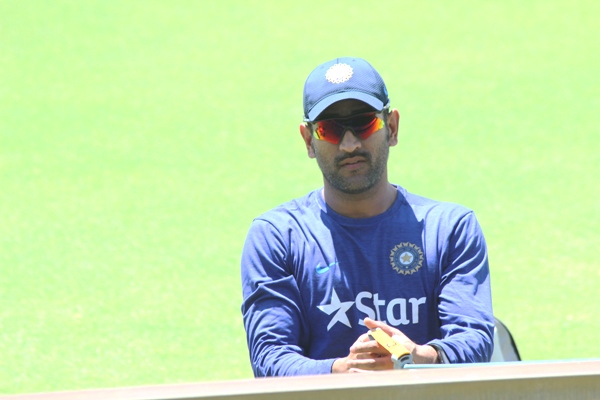 IMAGE: Mahendra Singh Dhoni goes through a fitness drill during the team's training session. Photograph: BCCI
It is not a comfortable position for Dhoni to be in. The calls for moving beyond his reign had grown louder with each passing defeat last year.
So much so, the BCCI had to check the situation and announce him as the limited-overs' captain at least until the 2016 World T20. Dhoni was absent from that summer tour to Zimbabwe, and as such now has back-to-back defeats. At this juncture, with his team staring down the barrel, he needs to show why he is still the man to do the job.
Of course, it will be easier said than done as the resources at his disposal don't paint a pretty picture. He was on target in the post-match press conference in Brisbane, highlighting that his batsmen have scored 300-plus in consecutive games in Australia.
Yet, he must also be fully aware that the score doesn't really matter unless his bowlers can defend it and the harsh truth is they have failed twice in a row. When the Indian skipper talked about asking his batsmen to score 330-340 from here onwards, he wasn't joking.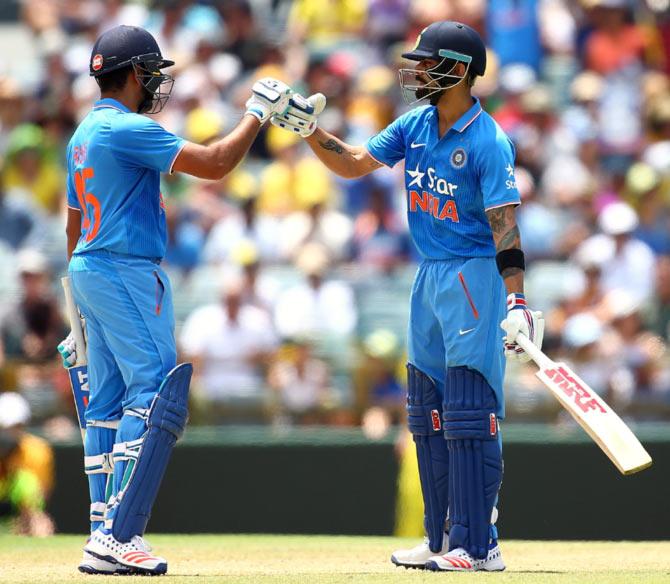 IMAGE: India's Rohit Sharma congratulates teammate Virat Kohli. Photograph: Paul Kane/Getty Images
Rohit Sharma and Virat Kohli are going great guns at the moment and need to shoulder even more responsibility. Their partnership strike-rate at Brisbane was markedly better than at Perth, a concern obviously addressed in the turn-around time between the two games, and yet the death overs bore a similar look.
Ajinkya Rahane played a handsome hand but it wasn't enough to power through to the finish. Dhoni admired the way the no.4 batsman performed, but also mentioned his lack of power hitting.
It cannot be yet ascertained how well Manish Pandey played his role and still Dhoni ought to have a re-think regarding his selection.
Could giving Gurkeerat Mann a chance help find a solution? Whatever Pandey can do, given his lack of experience, perhaps Mann could do the same.
And at the same time he could also bowl a few overs, thus sharing the load of the five-pronged bowling attack. The question to ask here is, will this be India's best-available batting line-up?