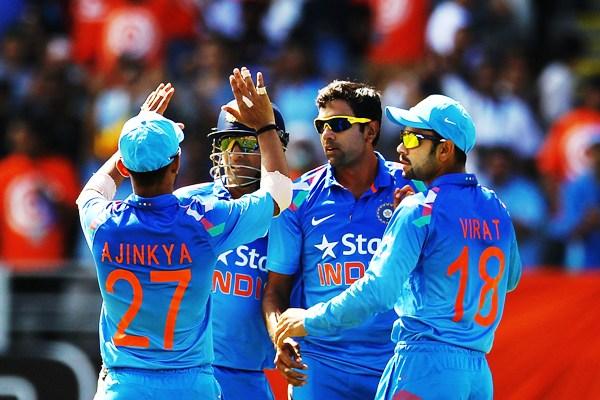 IMAGE: MS Dhoni of India celebrates the fall of a wicket with teammates Ravichandran Ashwin, Virat Kohli and Ajinkya Rahane. Photograph: Getty Images
Ajinkya Rahane has said it is always a challenge to play against Australia.
The world champions are rebuilding after a spate of retirements, and even that process has been marred by injuries.
If Mitchell Johnson called time on his international career late last year, Mitchell Starc suffered a stress fracture on his ankle during the Day-Night Adelaide Test against New Zealand.
Rahane, though, still believed that Australia have wicket-takers like James Pattinson to trouble the Indian batsmen in their upcoming tour.
"It's a challenge always to play against Australia. Yes, they will miss Mitchell Johnson and Mitchell Starc, but they have got other bowlers. We are going to focus first on ODIs and then think about T20 series. By then we would have got used to the conditions. I am confident we will do well on tour," Rahane said.
"They (Johsnson and Starc) have been top performers for Australia. Australia will definitely miss them. But they have other good bowlers. As a batting unit we have to play on the merit of the ball," he added.
'I always try to improve my game'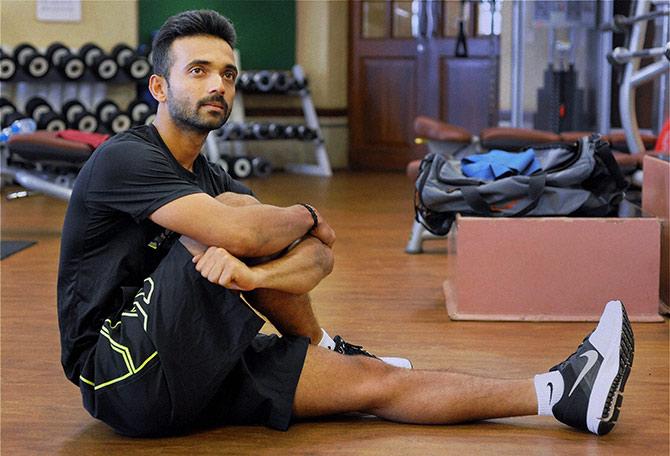 IMAGE: India's Ajinkya Rahane during a training session. Photograph: PTI
India will play Australia in five ODIs and three T20s starting January 12 and Rahane is focussed on his game.
"I always try to improve my game (when asked about rotating the strike in ODIs). I am confident about myself. I am a team man and would be happy to do whatever team management wants me to do," he said.
Rahane is in red hot form after the Mumbai batsman struck two centuries in the final Test against South Africa in Delhi and he is ready to face the bouncy Australian pitches.
"Two Test hundreds againt South Africa in last Test were very special as they were made at the place where I made my debut and we won the series too.
"For this tour have made normal preparations to face bouncy conditions in Australia. We will play in challenging conditions but we want to return with a win," said the confident batsman.