'You cannot expect him to do it every single time, and he has done well for India for such an amazingly long period of time.'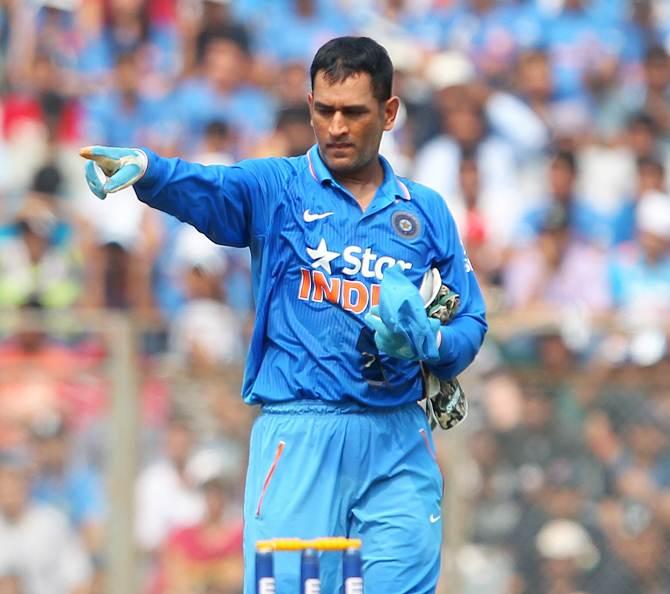 IMAGE: India's limited-overs captain Mahendra Singh Dhoni. Photograph: Getty Images
Beleaguered Mahendra Singh Dhoni found backing from former Australia cricketer Mike Hussey, who says India's captain is the most suitable leader as he still has a lot of fire in his batting.
In yet another poor showing, Dhoni was out without scoring in the fourth ODI against Australia in Canberra on Wednesday as India crashed to a 25-run defeat from a very strong position.
Dhoni, of late, has come under flak for not being able perform the role of a finisher, something he was known for.
"I would back MS to do the job and he has been doing it for so long now. He is best suited to handle most situations out there. People forget that it is not easy job to do.
"You cannot just come in and smash 60 off 30 balls every single time. You have got good bowlers, and they have gotten smarter, and they know what Dhoni's strengths are, so things will not always happen the same way," Hussey said.
'I actually rate the Indian bowlers highly'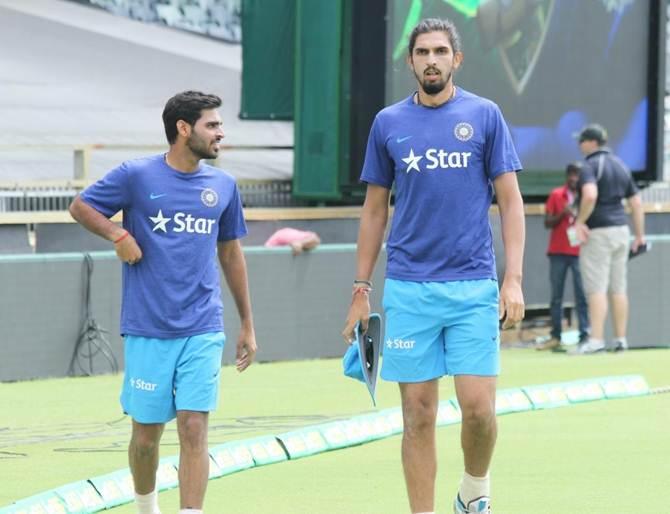 IMAGE: India bowlers Bhuvneshwar Kumar and Ishant Sharma, right, during a practice session. Photograph: BCCI
The Australian, known as Mr Cricket, said India's young batsmen need to bat around him to learn how to finish close games.
"You cannot expect him to do it every single time, and he has done well for India for such an amazingly long period of time. I would keep back him to do this job for as long as he feels he can do the job.
"At the same time, India will be looking at their youngsters. In that situation, it would be ideal if they can bat with and around MS, and learn from him how to get through such situations."
India lost fourth matches in a row in the ongoing ODI series, but Hussey said the visitors have actually played good cricket.
"I think India have actually played some really good cricket. Look at all the four matches so far. They have consistently scored 300 runs every time, which is a very good effort. And Australia is a tough place to defend. especially when the pitches are helping batsmen, and rest assured these are very good pitches to bat on.
"The outfields here are fast and the big grounds also make it tough on visiting teams," said Hussey.
"But by scoring 300 runs consistently they have given themselves a good chance to beat Australia. Unfortunately, they have been too good chasing them down earlier in the series, but if India keeps on doing this, they will eventually win."
Hussey also found merit in India's bowlers despite the fact that they have been treated by the Australian batsmen with utter disdain in this series.
"I actually rate the Indian bowlers highly. I like Ishant Sharma and, in particular, I like Umesh Yadav; he is a very good bowler. The thing is it takes time to get used to the conditions here in Australia, even when you have been here before. It happened last year with them, and they had a wonderful World Cup outing after that.
'It takes a bit of time getting used to in Australia'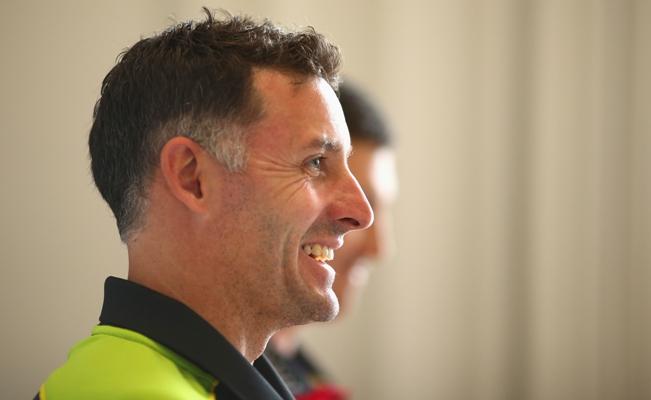 IMAGE: Australia's Mike Hussey speaks to the media. Photograph: Ryan Pierse/Getty Images
"And we have seen it with batsmen too. Someone like Shikhar Dhawan also struggled during the Australian tour and then had an outstanding World Cup. So it is a bit like that in Australia, for both batsmen and bowlers.
"It takes a bit of time getting used to but when that happens you really prosper."
Talking about the newcomers in the Indian side, he said, "It is a great opportunity for them to come out here and play. You never know how a player is going to react unless you give them that opportunity in the middle when the game is really on the line. We can really find out a lot about someone's character then, even if the result does not go in your favour."
Hussey, who will be with the Australian team as consultant during the first couple weeks of the World T20 in India, has seen most of Rishi Dhawan previously and was easily impressed with the youngster in the last two ODIs.
"I have seen a fair bit of him in the IPL. He is a good competitor and these pitches suit his style of bowling. He has that change of pace which comes in handy during the middle overs, especially with the rule changes. From India's point of view, I hope he does well, as they have been searching for an all-rounder."
© Copyright 2021 PTI. All rights reserved. Republication or redistribution of PTI content, including by framing or similar means, is expressly prohibited without the prior written consent.