'DRS in its current form is not foolproof. But if we leave aside the leg before part, we can deliberate on the conditional usage of technology.'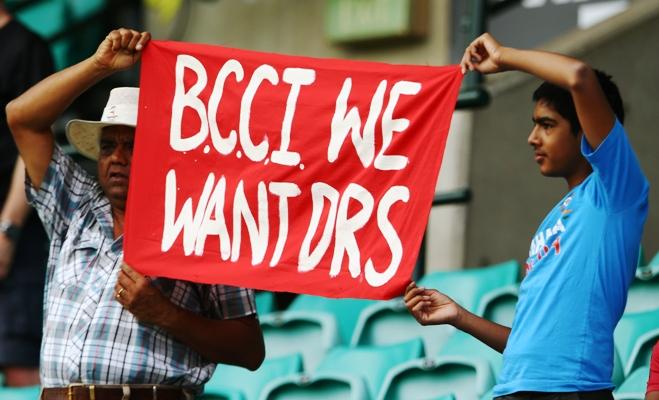 IMAGE: Indian supporters in the crowd hold up a sign about the DRS during a match against Australia. Photograph: Mark Kolbe/Getty Images
With the contentious Decision Review System in focus again following some umpiring howlers in the ongoing ODI series between India and Australia, BCCI secretary Anurag Thakur said "we can deliberate" on its conditional use once the team is back.
India were hurt during the first ODI when George Bailey clearly nicked one off Barinder Sran to Mahendra Singh Dhoni off the first ball and was adjudged not out.
Australia were 21 for two then and Bailey went on to score a century.
In the third match also, Bailey was adjudged not out due to lack of DRS. Thakur said the BCCI may give it a shot if the ball tracking technology to determine leg before decision is taken out of the equation.
Asked about it at an ICC promotional event in Delhi, on Monday, he replied: "I maintain that DRS in its current form is not foolproof. But if we leave aside the leg before part, we can deliberate on the conditional usage of technology. Once the players are back from Australia we will discuss the issue with them."
Thakur's viewpoint is in sync with president Shashank Manohar's.
'Actually, telling truth, BCCI was never against DRS, right from my earlier tenure. Only issue was with lbw being decided by DRS. For everything else, we accepted but ICC told us that either we accept it in full or not. We are not even willing to accept it for lbw,' Manohar told fans during a live interaction on the BCCI's official Facebook page.
While Test captain Virat Kohli is not averse to discussions on usage of the technology, it is a strict 'no-no' for limited-overs captain Mahendra Singh Dhoni.
'We need to push the umpires to make the right decisions. You have to see how many 50-50 decisions don't go in our favour. It always happens, then you have to take it. But I am still not convinced about DRS,' Dhoni had said after India's defeat in the first match Down Under.