'The balance (between bat and ball) probably hasn't been as good as we'd like this year'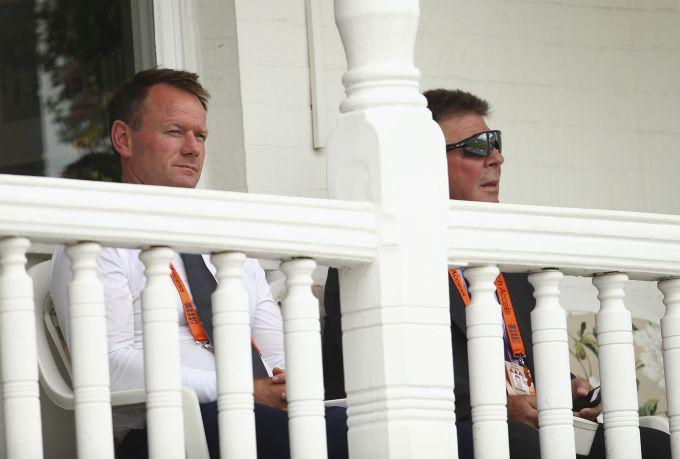 IMAGE: Australian high performance manager Pat Howard (left) with chairman of selectors Rod Marsh. Photograph: Ryan Pierse/Getty Images.
The eight innings in the ongoing Australia versus India has produced an unprecedented 2498 runs and Cricket Australia bosses have admitted that they are trying to ring in change to make all the pitches batting friendly.

In all the four ODI matches, batsmen have had the upper hand with 671 runs being scored in the Canberra game – third most in an ODI played in Australia.

"In an ideal world we've got some of the best fast bowlers in the world who like it hard, fast and bouncy and we're not getting that at the moment," CA's general manager of team performance Pat Howard was quoted as saying by the Sydney Morning Herald.

"We're after the old fair balance between bat and ball and the unique characteristics (of each ground). And we do try and get the domestic cricket to try and mirror the Test stuff so we'll have to sit down and do that at the end of the year and make sure we get those better aligned.
"The balance probably hasn't been as good as we'd like this year," Howard admitted about the general take that the wickets have primarily been batting-friendly.

Howard was also sympathetic towards the new fast bowlers like Scott Boland and Joel Paris, who got a chance to play in the series.

"Let's not get lost. The ODIs have been great games. Great chases. But I think it's been a very hard introduction for a few of these blokes to international cricket.
"On two things: the pitches, but also the talent. The Indian batsmen are absolutely wonderful players."