'He really loves Indian bowling; he does not seem to get out to Indian bowlers.'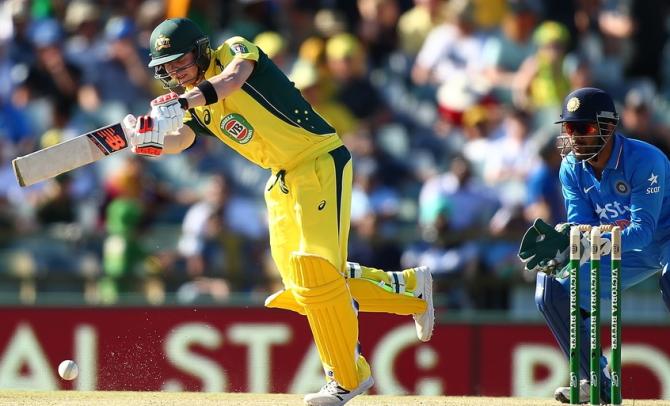 IMAGE: Steven Smith scored a match-winning century against India in the first ODI at WACA, Perth, Photograph: Paul Kane/Getty Images
Former captain Sunil Gavaskar says if India wants to win the ongoing five-match ODI series in Australia they need to find a way to dismiss home team skipper Steven Smith early.
Chasing an imposing 310-run target, Australia rode on captain Smith's fluent 149 to script a comfortable five-wicket victory over India in a high-scoring first ne-dayer in Perth to take a 1-0 lead in the series.
Smith was again India's nemesis, pacing his innings to perfection.
His sequence of scores against the 'Men In Blue' across formats now reads: 162 not out, 52 not out, 133, 28, 192, 14, 117, 71, 47, 105.
"309 was never an easy score to chase because you are required to chase more than six runs an over and they also lost two wickets pretty early," Gavaskar said.
"India really need to find a way to get rid of Australian skipper Steven Smith. They have not found out an way to dismiss him last year and the first match of the new series suggests they are still struggling to find a way to get the Australian skipper out cheaply. Unless they do that the Australians are going to score big runs," he added.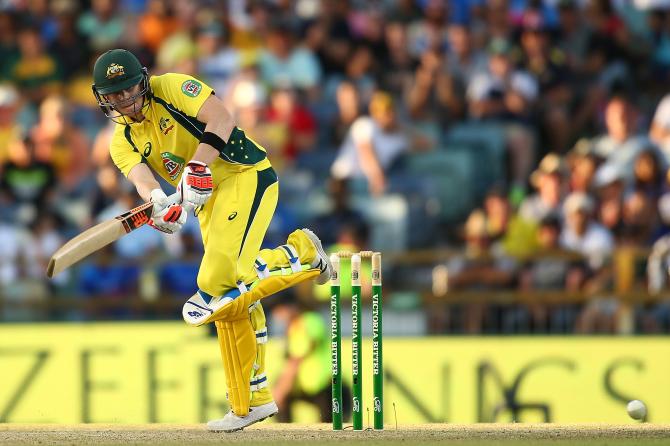 "He (Smith) really loves Indian bowling, he does not seem to get out to Indian bowlers. He is going to be very crucial to containing Australia," he told NDTV.
Gavaskar lauded debutant Barinder Sran (3-56), who made an impression with early breakthroughs, saying the left-arm pacer can create trouble for Smith if he can add the late in-swinging delivery to his armoury.
He advised Sran to take legendary Wasim Akram and Ashish Nehra's advise to further hone his skills.
"It does not matter how quick you are, you must be able to pick wickets and he (Sran) is getting wickets. I think if you can develop the ball that comes into the right-hander it would be great.
"Speak to Wasim (Akram) and try to pick his brains because I feel that is one ball which will create problems for Smith because he shuffles so much towards his off stump. The ball coming in late can trap him leg before or bowl him behind his legs. So that's something he needs to develop.
"Maybe talk to Ashish Nehra because he has a terrific incoming delivery," said the legendary batsman.
Gavaskar said the notion of the WACA wicket being one of the quickest is turning out to be a myth and the ongoing series between India and Australia would be a battle of batsmen.
"Perth pitch is little overrated at times being fast, bouncy. So clearly the pitches in Australia are now very good for batting.
"It's going to be a battle of batsmen because pitches in Australia are now very good for batting. Once you negotiate the new ball in Australia and South Africa, the pitches turn out to be terrific to bat. So my honest advice to the Indian batsmen would be to try and capitalise on these pitches, score as many as they can. Clearly, you need to look at 350 as the minimum to score."
He, however, credited Australia's batting unit for setting up their run chase to perfection.
"309 was a good total. When you lose you always tend to say may be another 20 runs because the match finished in the last over. But that's always in hindsight. I do believe the straight boundaries at Perth are very short so a little disadvantage for the Indian spinners in particular.
"But you need to give credit to the Australians. They batted very well. And you also need to give credit to Rohit (Sharma) and Virat (Kohli)."
Rohit's 163-ball 171 not out was the best by an Indian on Tuesday while vice-captain Kohli also impressed with a 91-run effort as the duo added 207 runs for the second wicket to set the foundation for India's total.
Asked if India were short of runs, Gavaskar refused to put the blame for the loss on the batsmen.
"If you lose wickets early then it puts pressure on the batsmen to follow. The kind of form Rohit and Virat are in I think India need to keep same kind of momentum. I don't think you can't blame the batsmen for the way they batted, they batted really well.
"It would be interesting to see if India are chasing against the inexperienced Australian bowling because the kind of bowling India have in these kind of pitches even a 350 score may be gettable for Australia."
He also advocated the idea of using pink balls in limited-over matches to bring balance between bat and ball.
"The white does nothing for bowlers. I actually call it a 'nothing doing ball'. What could be interesting is that with the success of pink ball it may used in limited-over cricket to even the balance between bat and ball. It might be interesting to try pink ball in limited-over cricket.
"It needs to be experimented at domestic level. Maybe the IPL can have a few matches where they can experiment with the pink ball in the initial stages and see how it goes."
Image: Steven Smith flicks a ball during his 149-run knock against India at Perth
Photo: Paul Kane/Getty Images