Pakistan great Imran Khan has confirmed that banned Test captain Salman Butt used to call him up from England to discuss strategies on the 2010 cricket tour.
Butt, who is facing a trial on charges of cheating and corruption in London, told the jury on Wednesday, that he used to call up Khan to take advice from him.
"Yes, Salman called me up a couple of times from England last year to discuss cricket issues and strategies for the matches. I remember telling him all the time that he must give priority to getting Younis Khan into the team," Khan said.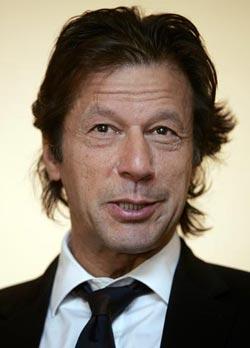 Butt had informed the court that he was on the phone with Khan on the day and time when it is alleged that Pakistani agent and bookmaker Mazhar Majeed handed over £10,000 in cash, concealed in a jacket, to pacer Wahab Riaz outside a restaurant in London.
Butt told the jury he didn't know anything about the alleged cash transaction since he was busy talking to Khan at that time.
Khan also expressed dismay over the state of affairs in the PCB and said Pakistan cricket could only move forward if the PCB was turned into an institution.
"There is a dire need to convert the Board into a proper institution where the Chairman and other officials are accountable and answerable for their actions," he said.
Khan said there had always been chaos in the Board and the situation had only gotten worse.
Khan also criticised the move to appoint chief selector Mohsin Khan as the interim coach of the national team as the PCB continues its search for a new head coach to take over the spot left vacant with the resignation of Waqar Younis after the Zimbabwe tour.
"It's pointless how you're spending so much on the coach. You need to have a proper structure in place before moving onto other things. The board is reflecting the current state of our society.
"You need someone to fix the structure, then have free and fair elections and form a genuine elected body. That's how the whole cricketing world works and that's what we need as well," he said.
© Copyright 2023 PTI. All rights reserved. Republication or redistribution of PTI content, including by framing or similar means, is expressly prohibited without the prior written consent.