'It is not just about one skill anymore, so everyone needs to contribute with whatever they can.'
'It certainly puts the opposition on the defensive when you know that all eleven can bat.'
Rediff.com's Harish Kotian listens to Anil Kumble assess the Indian team's performance so far.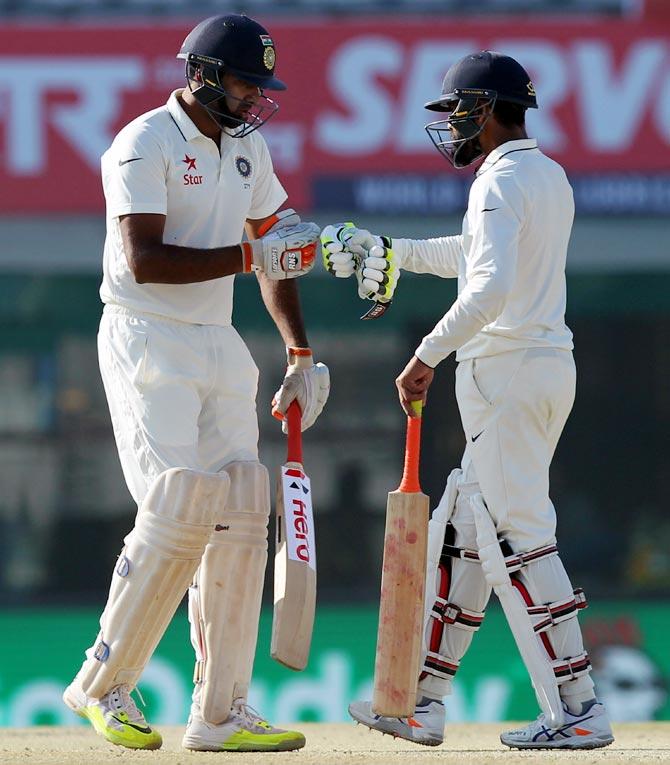 IMAGE: Ravichandran Ashwin, left, and Ravindra Jadeja have come good for India thus far, especially in the third Test in Mohali, where they struck impressive half centuries to give India a 134 run first innings lead which effectively took the match away from England. Photographs: BCCI
Coach Anil Kumble, on Tuesday, hailed the contribution of India's lower order batsmen and called upon all the players in the team to stand up and be counted if India are to continue their reign as the No 1 Test team.
"The contribution from every player in the batting line-up is extremely critical for the success of the team. If you look at all good teams, and if you want to be number one, and if you want to stay number one, it is important that every player in the playing eleven contributes and keeps setting or raising the benchmark," Kumble told the media in Mumbai.
The Indian team had a practice session in Mumbai on Tuesday, in the lead up to the fourth Test against England, which begins at the Wankhede Stadium on Thursday.
India lead the five Test series 2-0 following victories in the second and third Tests in Visakhapatnam and Mohali after the first match in Rajkot ended in a draw.
The gritty batting by India's tailenders has been one of the talking points of the series -- their contributions were instrumental in India's victories in Vizag and Mohali.
In the first Test in Rajkot, India's last four wickets put on 127 runs, while in the second innings Ravichandran Ashwin and Ravindra Jadeja batted nearly 15 overs to help the hosts escape with a draw.
In the second Test in Vizag, the lower order once again came to the party, as the last 4 wickets added 92 runs to take India past the 450 run mark in the first innings, which eventually proved vital in the 246 run win.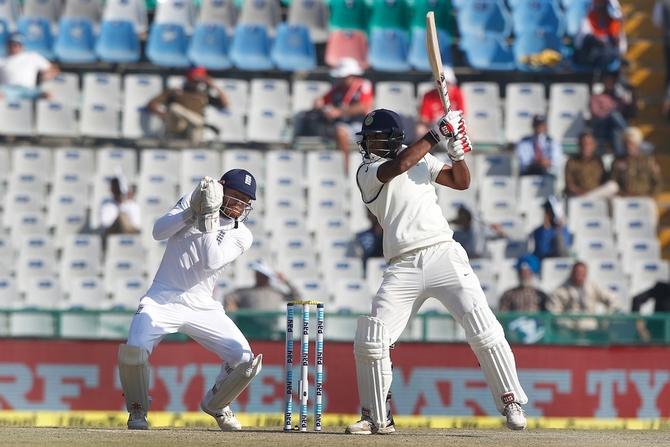 IMAGE: Taking a cue from Ashwin and Jadeja, Jayant Yadav scored his maiden 50 in just his 2nd Test in Mohali.
The most telling contribution from the Indian tail came in the Mohali Test.
Replying to England's 283, India looked in a spot of bother at 204/6 after Captain Virat Kohli's wicket, but the hosts bounced back to post a healthy 417.
England could not cross 300 in both innings.
Jadeja led the way with a sparkling 90, while Ashwin continued his good run with the bat as he scored 72, his third half century in a row.
Young Jayant Yadav showed great maturity to score his maiden 50 in only his second Test.
"I was really pleased with the three spinners in the last Test," India's greatest leg-spinner said, "where they went in and got those fifties when we were under pressure. We were 150/5 and scoring 400-plus from there was really pleasing".
Ashwin has been India's third most consistent batsman in the series, behind Virat Kohli and Cheteshwar Pujara. He has scored 239 runs at an average of 47. Jadeja and Jayant have made 148 and 117 runs respectively.
The three spinners have scored more than 500 runs combined in addition to the 33 wickets they have taken in the three games so far.
In comparison, Murali Vijay (192 in 6 innings), Ajinkya Rahane (63 in 5 innings), K L Rahul (10 in 2 innings) and Gautam Gambhir (29 runs in 2 innings) have a meagre 294 runs between them.
Kohli with 405 runs at an average of 101 and Pujara with 338 runs at an average of 56 have been the saving grace for India's much talked about batting line-up.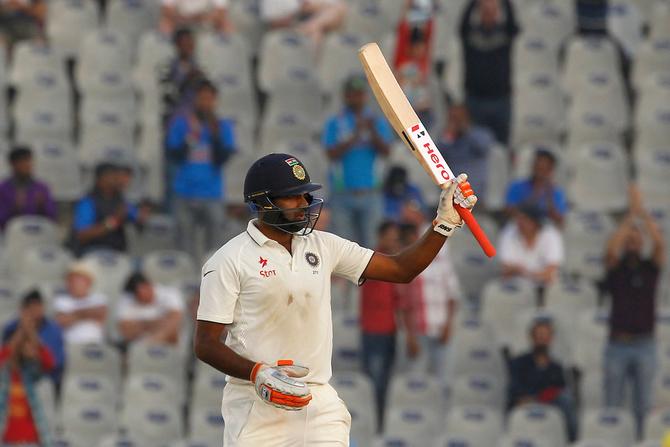 IMAGE: Ashwin's promotion to No 6 has brought out his potential.
Kumble pointed out that the move to promote Ashwin to No 6 has worked to perfection. His form with the bat has given the Indians a lot of flexibility.
"Ashwin has led the way of trying to help the lower order realise their potential. Obviously, Ashwin has shown what he is capable of, especially after he started batting at No 6," Kumble pointed out.
"I was really pleased for Jadeja as well. He is someone who is probably really capable of scoring those big runs, he has shown that in the domestic competition," Kumble added. "So for him to get to that 90 for the first time, and if you do that once, you have the confidence to go there and do it again."
"And Jayant is someone, if you look at him you don't realise he is playing only his second Test. It is really nice that all of them have contributed and so have the fast bowlers, (Mohammed) Shami and Umesh (Yadav) and even Bhuvi (Bhuvneshwar Kumar) earlier on," the coach said.
Kumble, who scored a century and 5 50s in his 142 Test career, says when a team can bat from No 1 to No 11 it puts the opposition on the backfoot.
"All of them practised and contributed. It is not just about one skill anymore, so everyone needs to contribute with whatever they can. It certainly puts the opposition on the defensive when you know that all eleven can bat," he said.
Kumble also highlighted the contribution of the Indian spin trio, saying they had done well to adjust their bowling on different pitches in the first three games.
"We have seen only one fifer (a 5 wicket haul) in this series and it goes to show that all the bowlers have contributed really well. It is certainly a tribute to the way we are bowling and we hope to continue that irrespective of the surfaces," India's highest wicket-taker said.
"All three surfaces have been different -- Rajkot was very different to Vizag and so was Mohali -- so we changed those lengths and adjusted well and bowled accordingly and very aggressively as well," he added.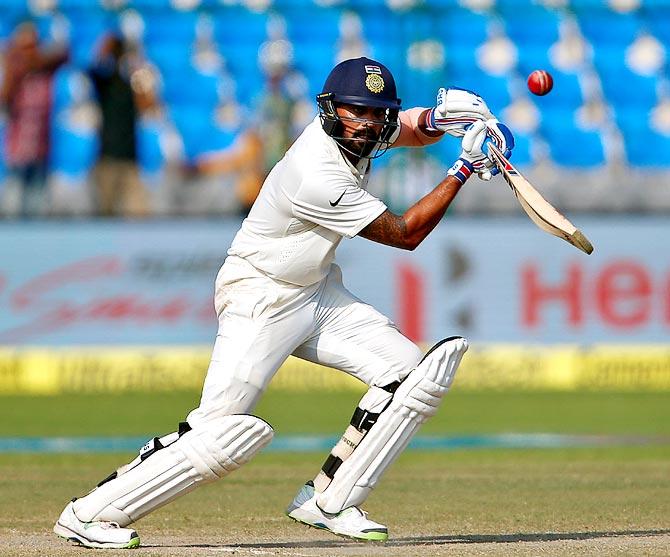 IMAGE: Opener Murali Vijay has been suspect against the short delivery.
While the lower order has shone in the series thus far, opener Murli Vijay's form has been a concern for the Indians.
After scoring 126 in the first innings in Rajkot, he has scored just 66 runs in the five innings since. The England pacers have exposed his weakness against short deliveries.
It was no surprise to see the opener put in extra time in the nets after the team had finished their practice session on Tuesday. He was particularly working on tackling the short balls along with batting coach Sanjay Bangar at the Wankhede stadium.
Kumble is confident Vijay will bounce back in the Mumbai Test.
"Vijay has been the most consistent batsman over the last couple of years for us. He started off the series very well, with a hundred in Rajkot, and he has got out to similar kind of deliveries which is something probably you can pinpoint as his weakness. But I don't think that's fair," the coach said.
"He is someone who we certainly believe that it is just round the corner for him to get a big score. He did that in the first innings of this series," Kumble added.
"We certainly have that with us when we go out in the nets and try and help him with that particular delivery, but I don't really think we need to go too deep into why he is getting out that way," Kumble felt.
"It is just a matter of time when he will start scoring runs. He has been most consistent, so we certainly believe that it (a big knock) is just round the corner," he added.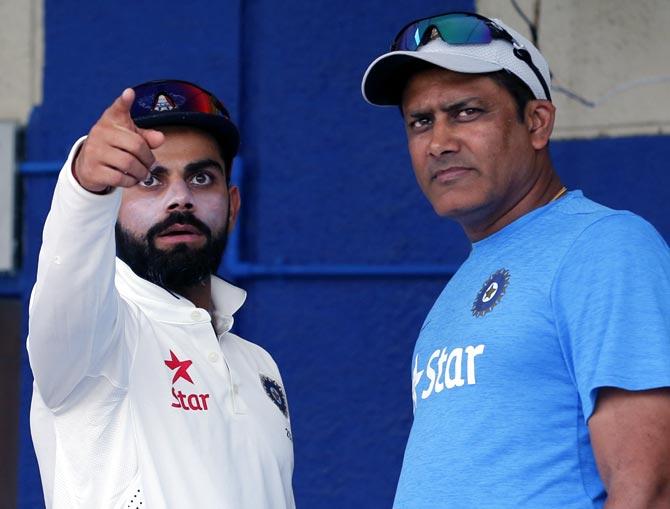 IMAGE: Virat Kohli's astute captaincy has impressed Kumble.
Kumble praised Virat Kohli's captaincy, saying he has not only handled the spinners well, but also set good fields to put pressure on the English batsmen.
"It is a tribute to our bowling attack and the field placing that Virat has set as the captain. I think it is a tribute to the way that we have been able to set fields and also bowl accordingly in partnerships and not one particular bowler. If you look at the last three Test matches, all the five bowlers have had a significant role in all the matches, whether it was giving the one breakthrough or picking up a fifer, Ashwin did that."
Kumble also gave a thumbs up to the Decision Review System which has been deployed for the first time in a Test series in India, saying the Indian team is satisfied with the outcome.
"It has been really good," the coach said. "It has been an experiment in the series, but overall the players are very satisfied with the outcome. I don't think it is a matter of scorekeeping or saying which team has got it better. I think what is important is that whether the decision at that point in time, did we take the right call?"
"I think we have done that in the last three Test matches and it has certainly added to the balance that you expect in international cricket."