'We have defeated India in 50-over format last year and there is no reason we can't repeat that in 20-over format.'
'It's not only Bumrah but every Indian player is important for us.'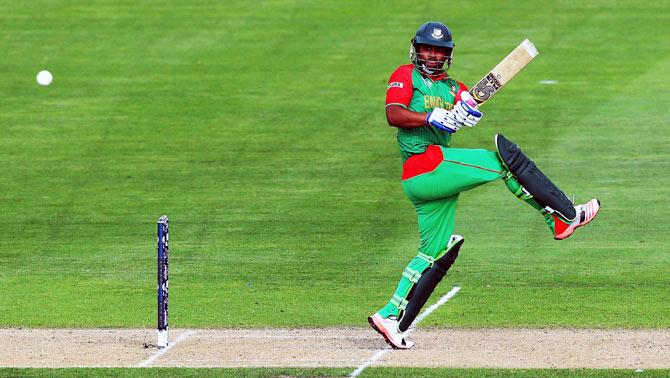 IMAGE: Tamim Iqbal of Bangladesh pulls the ball for a four. Photograph: Hannah Peters/Getty Images.
Senior Bangladesh opener Tamim Iqbal says his side is good enough to upstage formidable India and lift the Asia Cup trophy when the two teams clash on Sunday.
Tamim has fond memories of matches against India and no one can forget the six that he hit off Zaheer Khan during their upset victory during the 2007 50-over World Cup in Port of Spain.
"I have forgotten about that match but you guys always make me remember. Yes, we have had some memorable matches against India. I believe if we play to our potential, there is every possibility of beating India. We have defeated them in 50-over format last year and there is no reason we can't repeat that in 20-over format," Tamim told reporters after practice session.
Tamim is also confident that he and his teammates can tackle India's new speedster Jasprit Bumrah, who bowls with an unusual action.
"We have had discussions in our team meeting about Jasprit Bumrah. We have seen footages of his bowling. I have done my homework on him and let's see how it goes.
"But it's not only Bumrah but every Indian player is important for us. But we would like to focus on our strength. If we get a good ball, we will respect the ball and if it needs to be punished, we will do it."
He agreed that some good knocks in the Pakistan Super League (PSL) has increased his confidence but it will not have a bearing on the final match.
"Any good knock gives you confidence and my performance in the PSL is no different. But Sunday, it will be a different game and I will have to take fresh guard. But definitely aim will be to translate my good form in T20 leagues into a good performance for national team."
For Tamim, T20 is a "game of two overs" which actually makes a lot of difference.
"It's not the entire 20 overs that decide the fate of the match. It is those two overs somewhere, which changes the course of the match. It could be two overs, where 30 runs are scored and it becomes the difference. It can also happen in bowling where one loses four wickets in a space of two overs, which can change the game."
© Copyright 2021 PTI. All rights reserved. Republication or redistribution of PTI content, including by framing or similar means, is expressly prohibited without the prior written consent.