Perhaps Sachin understood what was coming because at the time of the next meeting, he called and said was retiring: Patil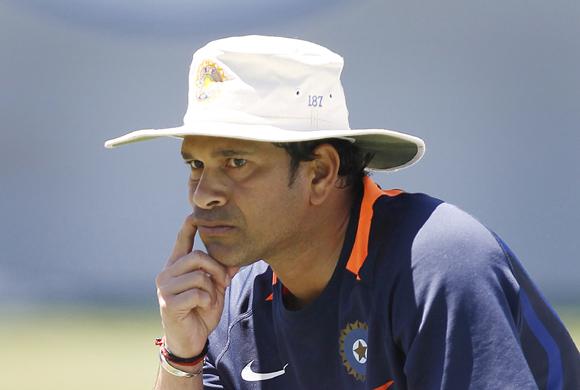 IMAGE: Cricket legend Sachin Tendulkar in a pensive mood. Photograph: Reuters.
Legendary batsman Sachin Tendulkar would have been dropped from India's ODI team in 2012, had he not announced his retirement, former chief selector Sandeep Patil revealed in an interview ABP Majha on Wednesday.
Patil, who has been succeeded by former India wicketkeeper MSK Prasad, said the then selectors had met Tendulkar in December, 2012 in Nagpur during India's Test against England to ask him about his plans.
"On December 12, 2012, we met Sachin and asked him about his future plans. He said he did not have retirement on his mind.
"But the selection committee had reached a consensus on Sachin and had informed the board too about it. Perhaps Sachin understood what was coming because at the time of the next meeting, Sachin called and said he was retiring (from ODIs).
"If he had not announced his decision to quit then, we would have definitely dropped him," Patil made this sensational revelation.
On December 23, 2012, Tendulkar announced his decision to retire from ODIs. But he however continued to play the game in Tests and bid adieu to international cricket in November 2013, ending his illustrious 24-year journey.
Tendulkar was 39 when he retired from ODIs.
While announcing his decision to call it quits in the shorter format, He had said, "I have decided to retire from the One Day format of the game. I feel blessed to have fulfilled the dream of being part of a World Cup winning Indian team.
"The preparatory process to defend the World Cup in 2015 should begin early and in right earnest. I would like to wish the team all the very best for the future. I am eternally grateful to all my well wishers for their unconditional support and love over the years."
The Mumbai-based batsman played 463 ODIs, scored 18,426 runs and made 49 centuries - all three world records.