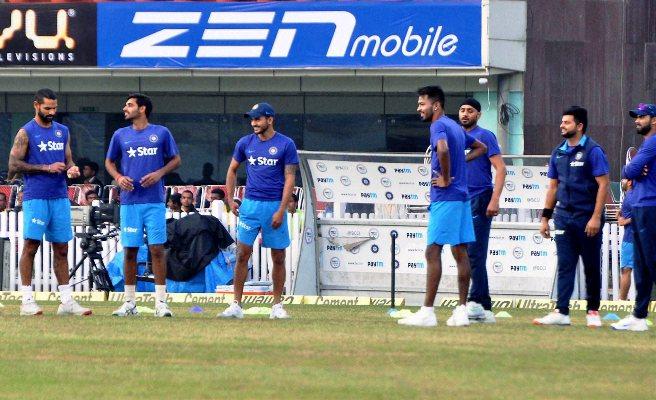 IMAGE: Indian players during a practice session ahead of their T20 match against Sri Lanka in Ranchi. Photograph: PTI
Not too affected by India's surprise loss to Sri Lanka in the first T20, Team Director Ravi Shastri has said the "endeavour" is to try out various combinations by giving everyone opportunities ahead of the big-ticket World Twenty20 next month.
Shocked by an inexperienced Sri Lankan side on a green wicket in the first match at Pune, India would aim to regain their winning touch and keep the three-match series alive when they take on the island nation in the second Twenty20 International.
"Ideal scenario would be to give most of the guys who are part of the World Cup squad a run.
"That will be the endeavour but you will have to see what the conditions are, what the state of the series is and accordingly decide," Shastri said at the pre-match press conference in Ranchi.
'My job is to take care of the Indian team'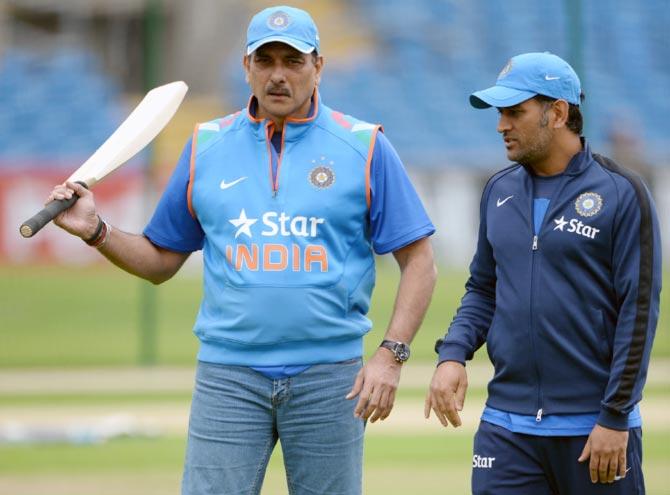 IMAGE: Indian Team Director Ravi Shastri (left) with captain Mahendra Singh Dhoni. Photograph: Gareth Copley/Getty Images
The former captain said he is focussed on the World T20 and not thinking about the possibility of becoming a full time coach of the Indian team.
"I don't know. We have time till World Cup we will see after that," Shastri said when he was asked about the full time coaching job, adding, "As I had said time and time again we live in the present. Focus should be till the World Cup. We are employed by BCCI and they will judge the performance. My job is to take care of the Indian team."
Asked about the criticism of the pitch following the first game, he said, "If the pitch is good we say it's good. If the pitch does a lot we will say, it does a lot. Why should we be scared of saying what we feel? It's very clear that it did a little too much but we should have adapted well.
"No excuses for losing the match but we should have scored 140, it would have been a good competitive score on that surface."
'It's a confident side'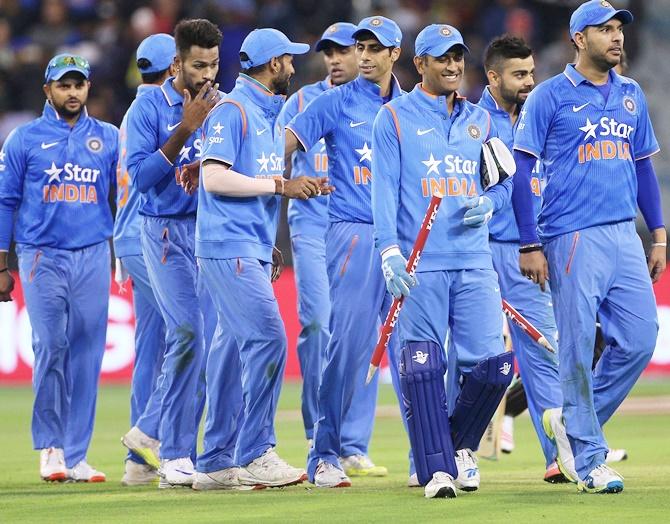 IMAGE: Indian players celebrate a win. Photograph: Hamish Blair/Reuters
He felt consistency is not a problem with the current team.
"It's a confident side, they played some very good cricket in the last 18 months or two years, they played excellent cricket and that's why you see the results. If we lack consistency we wouldn't have become number 1 in Tests, number 2 in T20," Shastri said. He said it was not easy to get used to the conditions straight after the tour of Australia.
"The cricket we played in Australia and then we came straight here and there were only 4-5 days gap. The pitch in the first T20 was different from what we get in the sub-continent.
"There was a little bit for the bowlers, it turned, it seamed, there was bounce, it was two-paced. So it wasn't easy because when you come with the flow of Australia, you could see, the batsmen faltered. But no excuses and as I said instead of 180, 160, 140 might have been just good enough."
He added, "They will have to adapt, it's again practice. They will have to get the bodies behind the ball, ground fielding might not be that easy there (in Ranchi), some uneven bounce, but you should use this practice to see what can be done."