Destiny had this written for him: Hardik on Dhoni leading CSK to fifth IPL title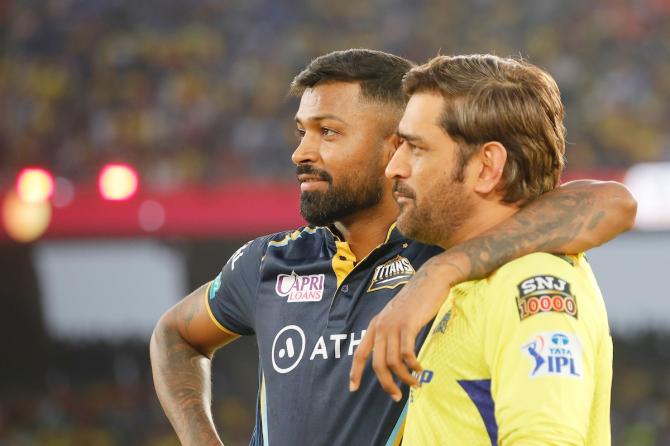 Gujarat Titans skipper Hardik Pandya paid rich tributes to his mentor and rival captain MS Dhoni, saying "destiny had this written for him" to lead Chennai Super Kings to a record-equalling fifth IPL title in what could be his last season in the lucrative league.
CSK beat GT by five wickets in a thrilling rain-affected summit showdown with Ravindra Jadeja smashing a six and a four off the last two balls to chase down a revised target of 171 in 15 overs here on Monday.
"I'm very happy for him (Dhoni). Destiny had this written for him," Pandya said after the heartbreaking loss.
"If I had to lose, I don't mind losing to him. Good things happen to good people and he's been one of the best people I know. God has been kind, God has been kind to me as well but today was his night," added the India white-ball all-rounder who led GT to title triumph in 2022.
Dhoni himself has not yet ruled out playing in the IPL next year but said for that to happen, his body will have to hold up.
Jadeja, who remained not out on 15 off just six balls, dedicated the title win to his skipper Dhoni.
"I would like to dedicate this win to a special member of the CSK side, MS Dhoni," Jadeja said.
"Feels amazing, winning my fifth title in front of my home crowd. I'm from Gujarat, and it's a special feeling. This crowd has been amazing. They were waiting for rain to stop till late night, I'd like to say a big congratulations to the CSK fans who came to support us."
On his six and four off the last two balls, Jadeja said, "I was just thinking I need to swing hard, as much as I can. Where the ball will go, I was not thinking about that, just looking to swing hard.
"I was backing myself and looking to hit straight, because I know Mohit can bowl those slower balls."
GT failed to defend their title but Pandya said he would not have asked more from the team.
"We tick a lot of boxes and played with our heart. We've always been a team that has stood together and no one gave up. We win together and we lose together. Maybe one of those games today. I'm not one of those guys who makes excuses. CSK played better cricket."
"Special mention to Sai as well. He is going to do wonders in his life. I'm really happy for the guys. We've been backing them and their success has been their success. Mohit, Shami, Rashid everyone, the way they put their hand up. Special mention to the coaching staff as well. I can't ask anything more from them."
CSK middle-order batter Ambati Rayudu, who had announced his decision to stop playing IPL just before the final, said he can afford to smile for the rest of his life after a "fairytale finish" to his cricketing career.
"It's a fairytale finish. I couldn't have asked for more. I'm fortunate to have played in really great sides. I can smile for the rest of my life. All the hard work I've done in the last 30 years, I'm happy I got to finish on this note," he said after CSK's title win.
© Copyright 2023 PTI. All rights reserved. Republication or redistribution of PTI content, including by framing or similar means, is expressly prohibited without the prior written consent.