Kevin Pietersen has not given up hope of a return to Test cricket and the chance to avenge the humiliating 5-0 defeat at the hands of Australia in the last Ashes series, the former England batsman said on Monday.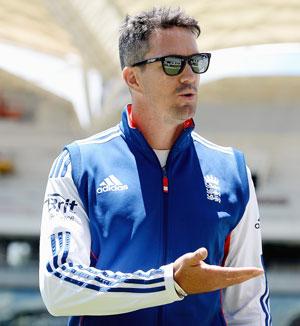 The South African-born maverick was sacked by England in the wake of that tour and made reconciliation unlikely by releasing a book in October which contained attacks on the national cricket board and several of his former team mates.
In Australia to play for the Melbourne Stars in the Big Bash Twenty20 league, however, Pietersen said he foresaw "a lot of changes" in the England set-up over the next six months which could just offer him a route back to Test cricket.
"I have 8,300 runs, I'd love to get 10,000 Test runs," the 34-year-old told reporters.
"I'd love to beat Australia again... last time, we got hammered. That doesn't sit well. I'm not a player who likes being hammered, I'm a player who plays to win."
Pietersen's final Test was the 281-run defeat in Sydney in January and he has largely been restricted to playing Twenty20 matches since then.
While that has done little for his hopes of playing red ball cricket for England again, it has allowed him to recuperate from the knee problem that dogged him throughout his last trip to Australia.
"I should have had a microfracture (surgery) before the double Ashes last year," he added.
"But I was flying around this country getting injected by every single doctor to try to get myself through.
"Having not played Test cricket since January, my body has felt a hell of a lot better.
"I'm feeling good, ready to go."
Image: Kevin Pietersen
Photo: Getty Images