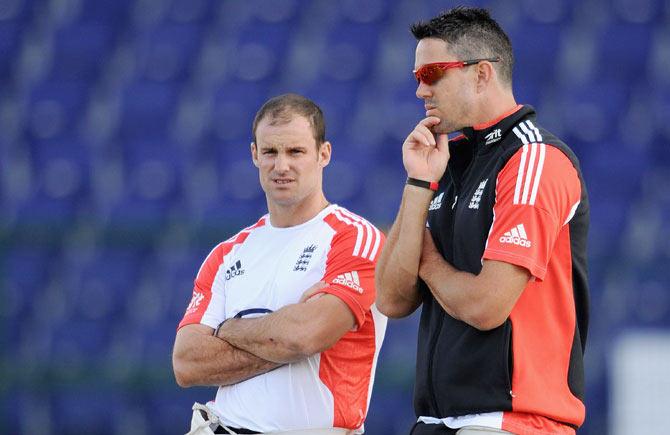 Kevin Pietersen (right) with Andrew Strauss. Photograph: Getty Images
Kevin Pietersen wants to hug Andrew Strauss and resolve his differences with his former captain, the controversial ex-England batsman said on Thursday.
Amid the furore that has followed this week's release of his new book, Pietersen's biggest regret is the fallout from his row with the retired Strauss.
"I made lots of mistakes," the swashbuckling batsman told Talksport Radio.
"I've been crucified publicly for them and I've apologised for them but my biggest regret is getting involved in all that messaging stuff at a time when Andrew Strauss was just about to finish his career."
The South African-born duo featured in one of England's most successful teams but the pair have endured a frosty relationship in recent years.
In 2012 Pietersen sent disparaging texts about his then-captain to members of the South African team during a Test series between the two nations.
Strauss later wrote in his book that his former teammate had "crossed the line" with his messages.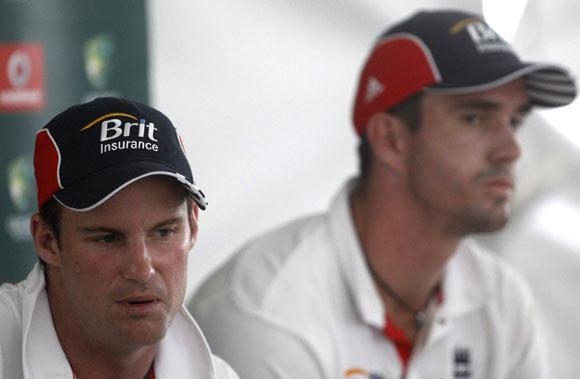 Andrew Strauss and Kevin Pietersen at a press conference. Photograph: Mick Tsikas/Reuters
Earlier this year Strauss, now a Sky Sports television commentator, was recorded making an offensive comment about Pietersen when he believed he was off-air.
"Straussy and I were incredibly good friends, we've got a patchy relationship at the moment, and I just wish I could give him a hug and say, 'man, can we just put this behind us'?
"I like Straussy and I like [his wife] Ruth and I definitely hurt his final Test match which I'm not proud of at all."
Strauss, who captained England between 2009 and 2012, believes the debacle surrounding Pietersen's book is having a detrimental effect on the squad.
"All this tit-for-tat stuff doesn't help the England cricket team," Strauss told Sky.
"The victim here isn't Pietersen, (former coach Andy) Flower or (former wicketkeeper Matt) Prior – it's the England cricket team, (skipper) Alastair Cook and (coach) Peter Moores who have got to take the side forward.
"That, from my point of view, is the disappointing thing about this whole episode."
Pietersen was sacked following the 5-0 Ashes defeat in Australia at the start of the year, with England saying Cook needed to be able to trust and rely on the backing of all his players.