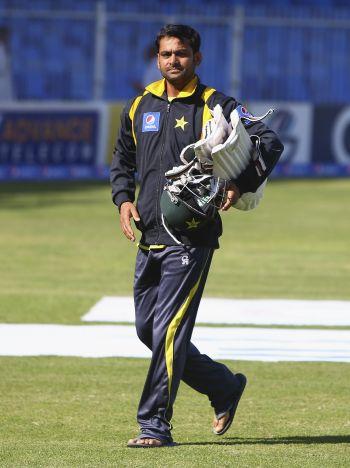 Injured Pakistan's all-rounder Mohammad Hafeez Muhammad Hafeez gave credence to speculation that he was sent back home from the World Cup against his wishes after a disagreement with the team management as he said that he could have recovered from his injury in time for the showpiece event beginning on Saturday.
Hafeez, who returned to Lahore this week, told reporters that he would have recovered from an ankle injury in a week or 10 days to be available for the World Cup.
"The team management felt differently and ruled me out of the tournament for me it is the management's decision; it's for the best," Hafeez said.
Hafeez was injured during the second ODI against New Zealand in Napier on February 3. He was recently suspended by the ICC from bowling due to a suspect action but was selected in the World Cup squad as a batsman only to be sent back home later after the injury.
The senior player made it clear that he had always given his 100 per cent for Pakistan in every role and so it was an unfortunate scenario to be not able to take part in the World Cup.
"I am sad to miss the World Cup," Hafeez said.
Hafeez further said that now he would first want to recover from his injury and then try to get his bowling action cleared.
Speculation has been rife that Hafeez had some disagreement with the team management when he asked them to rest him for the warm-up matches in New Zealand.
"Apparently Hafeez wanted to focus on getting his bowling action cleared by working out in the nets prior to the ICC bowling assessment test but head coach Waqar Younis and bowling coach Mushtaq Ahmed felt otherwise," a source informed.
"In this background, Hafeez suffered his ankle injury in the second one-dayer against New Zealand. But the doctors said he would recover in 10 to 15 days but the team management felt they could not take further risk with his fitness and decided to ask for a replacement," the source said.
Image: Mohammad Hafeez
Photograph: Francois Nel/Getty Images