'I'm the first person to put my hand up and say I'm no saint, no angel'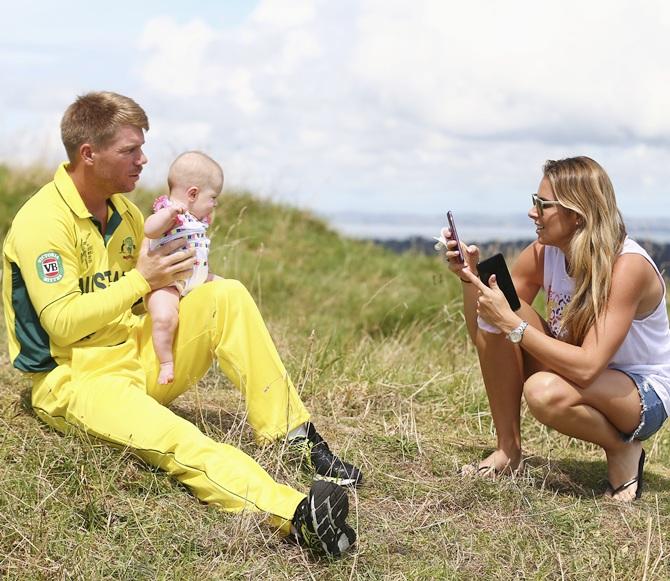 David Warner of Australia, his fiance Candice Falzon and their daughter Ivy, take photos during a portrait session at Mount Eden. Photograph: Ryan Pierse/Getty Images
Out of form and out of control, David Warner was a 'volcano' ready to blow when he punched England cricketer Joe Root at a Birmingham bar in 2013, the Australia opening batsman has said.
- VOTE: Who will win the 2015 World Cup?
- Don't Miss! The Rediff Cricket Show
- The World Cup, as never before on Rediff.com
The 28-year-old opened up about the incident in a candid interview with Channel Nine's current affairs show 60 minutes, saying it had forced him to question his career.
"I was just down on myself because we weren't playing our best cricket, I wasn't playing my best cricket at the time. It all just led into this big volcano ready to erupt," he said.
"I had doubts in my mind to say, 'Do you deserve to have another opportunity to go out there and represent Australia?' It was really, really tough."
Warner was dropped from Australia's team for the Champions Trophy tournament in England and missed part of the Ashes series which England won 3-0.
He returned home to freshen up for the Ashes on home soil and cemented his place in the side with an outstanding series with the bat as Australia romped to a 5-0 clean sweep.
Warner has since dominated in the test arena and is averaging 66 at the World Cup, highlighted by a big century against Afghanistan in Perth.
Nicknamed 'Bull' and one of the cleanest hitters in the game, Warner, when on song, can take a game away from opponents with his own bat and looms as a big threat for Pakistan when the teams play their quarter-final in Adelaide on Friday.
Warner also relishes a verbal battle out in the middle and his sledging has drawn multiple code of conduct violations.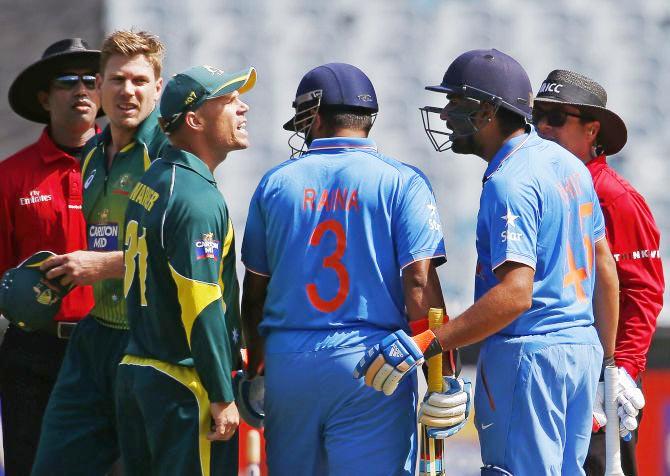 Australia's David Warner argues with India's Rohit Sharma during the recently concluded ODI tri-series. Photograph: David Gray/Reuters
Most recently, he came under fierce criticism for telling India batsman Rohit Sharma to "speak English" during a one-day international warmup for the World Cup.
"I'm the first person to put my hand up and say I'm no saint, no angel," he said. "I do nudge that line all the time. I do live on the edge.
"It was aggressive the way that I said it, in the manner that I said it. Racist? No way in the world. I was asking him to translate it because what he was saying in his language, I understood.
"The umpire wouldn't have understood. But if I was to say what he said in English, the umpire would understand and I would get into trouble. It's as simple as that."
Are you watching the World Cup? Please share your videos, photos and comments here