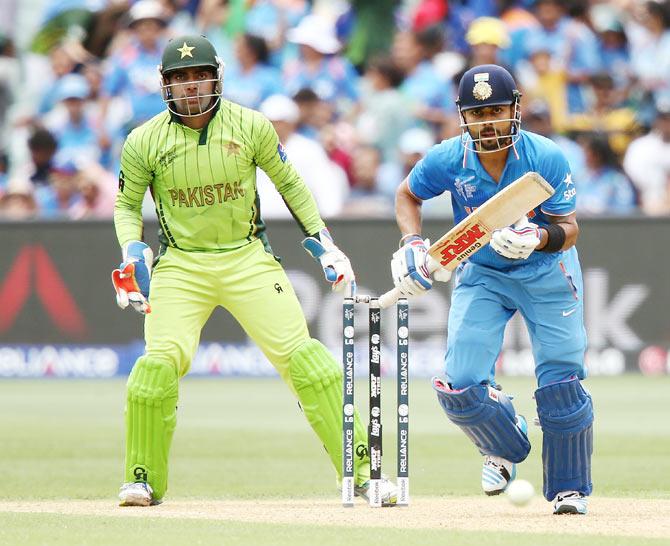 Virat Kohli of India bats as Pakistan 'keeper Umar Akmal looks on. Photograph: Morne de Klerk/Getty Images
Whenever traditional rivals India and Pakistan play each other, it's difficult to pick favourites. What is even tougher is for both teams to ensure that they have a match-winning playing XI.
But after the match is played, the dissection begins.
- Turning Point: Kohli makes most of early 'lives'
- India extend World Cup supremacy over Pakistan after Kohli ton
Like, in Sunday's match at the Adelaide Oval, a lot of reasons will be apparent for Pakistan's loss, all that in hindsight, of course.
So, after watching the match, that India won by 75 runs, former Pakistan captain Imran Khan analysed Pakistan's performance and drew up reasons for their loss.
The legendary all-rounder reckoned that the move to play part-time wicketkeeper Umar Akmal in the match against India was a mistake.
"I always believed in having specialist players and I think playing Umar as a 'keeper was a mistake and it cost us," he said.
Akmal dropped Kohli to allow the Indian to race to his 22nd ODI hundred and set up a big total for India.
"I watched a cricket game after a long time today and my sons were also with me. I think Virat Kohli was the key for India and batted very sensibly while the way our fast bowlers delivered in the end was very satisfying," Imran said on a local television channel.
'Even on flat tracks we have to search for wickets'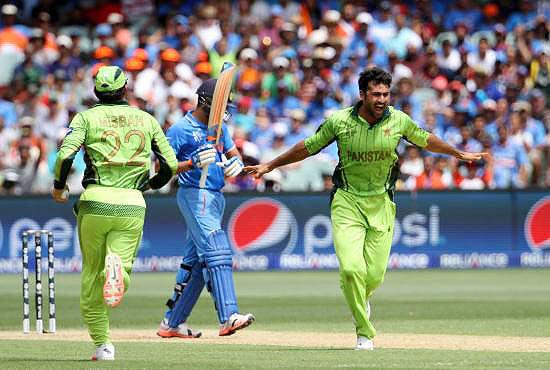 Pakistan player Sohail Khan celebrates the wicket of India's Rohit Sharma on Sunday. Photograph: Vipin Pawar/Solaris Images
Imran stated that he had not watched some of the new players in the team but stressed the need for consistency in selection.
"Today's pitch was very good for batting but chasing 300 even than is always a psychological pressure," he said.
Imran said that Misbah had again shown he had a good cricket brain as a captain and a batsman.
"He has a big role to play in this World Cup because he is batting very well and he is a very sensible and stable captain but at times I think he needs to push for wickets," the former great noted.
Imran insisted that even in one-day cricket Pakistan would have to focus on taking wickets.
"Even on flat tracks we have to search for wickets because if you take wickets it brings the batting side under pressure," he added.
"Misbah has emerged as a very sensible captain who had brought stability to the national team. He is in very good form and that is good for Pakistan because at times a captain in form can spur his team to perform beyond their capabilities," Imran said.
'Younis should not have been sent in to open the innings'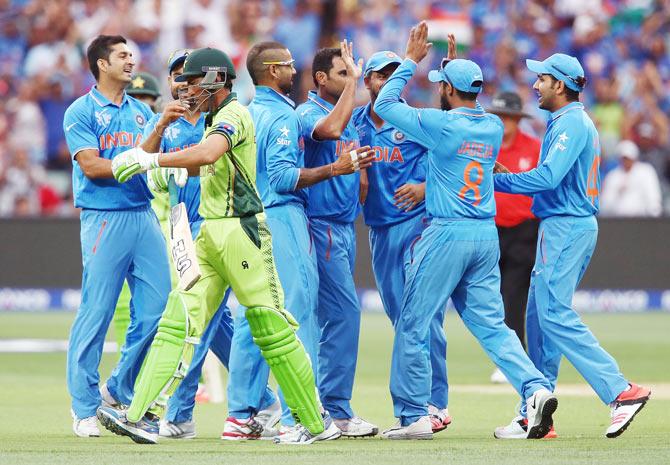 Mohammed Shami is congratulated by teammates after scalping the wicket of Younis Khan. Photograph: Morne de Klerk/Getty Images
Pakistan batting great Zaheer Abbas pointed out that Pakistan committed too many mistakes on the field.
"Pakistan committed too many mistakes. Younis Khan should not have been sent as an opener and they should not have dropped Sarfraz Ahmed and made Umar Akmal keep wickets," he said.
"There was no proper planning. We made so many mistakes. Our captain did blunders. Sending Younis to open the innings was a big blunder and using Umar as a wicketkeeper was another. Moreover, we dropped so many catches.
"Last World also we dropped so many catches. When do we learn?," asked Abbas during a panel discussion in CNN-IBN.
They are playing cricket throughout the year, what is stopping them from learning," he added.
Abbas also felt that Pakistani batsmen did not do their job well.
"Pakistani batsmen couldn't score. Under pressure, they simply played bad shots," he insisted.
Spin great Saqlain Mushtaq said Pakistan team lacked genuine openers and a wicketkeeper.
"Our strategy was not right. Although I agree that sending Younis Khan as an opener was country's requirement but we surely lack a genuine opener and a genuine wicket-keeper," said Saqlain.
Meanwhile, another former Pakistan cricketer Mohsin Khan came down heavily on the country's Cricket Board, saying that the management is responsible for team's dismal showing.
"Because of lack of sincerity in our nation's cricket board, we are suffering today. The team management is a total failure and it is also destroying the team. So many changes time again at the administrative level is hampering the team," he stressed.
"India today played professional cricket and look at the way we performed," Mohsin, who has been a chief selector in the past, said.