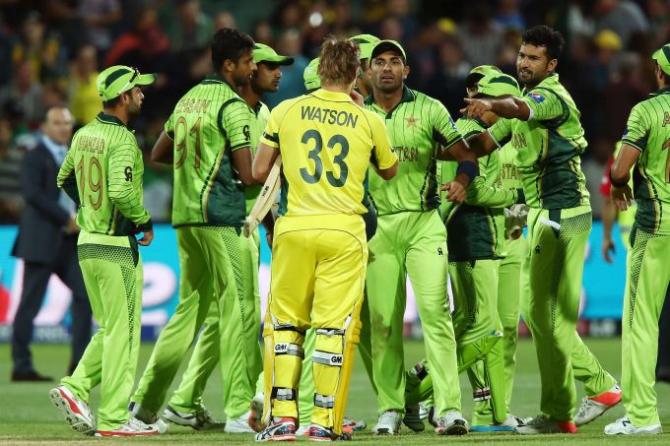 Pakistan players shake hands with Australian players after their World Cup quarter-final match at Adelaide Oval. Photograph: Morne de Klerk/Getty Images
For a team that started off disastrously, entering the quarter-finals of the World Cup is quite an achievement.
Pakistan's campaign in the ICC's 50-overs-a-side showpiece event began with a 76-run defeat to arch-rivals India at the Adelaide Oval.
The West Indies then handed them an even bigger thrashing, bundling them out for 160 while chasing 311, and wining by 150 runs.
A 20-run victory over Zimbabwe in their third outing sparked a revival, which saw them beat the UAE by 219 runs, fancied South Africa by 29 runs (D/L) and Ireland by seven wickets.
However, against Australia in the quarter-finals, their batting crumbled, fielding was awry and they exited after a six-wkt loss.
While skipper Misbah-ul Haq did well with the bat, his captaincy left much to be desired. One wonders how things would have been had the great Imran Khan, who gave Pakistan the World Cup in 1992, would have done to make this side a champion outfit.
Rediff.com analyses what could have been the case:
Get the line-up right
Pakistan has always been known to be a team in crisis.
From confusion over Saeed Ajmal's participation to Younis Khan's inclusion, the team did not tick their boxes come the World Cup.
If Imran was in charge, he would have made sure he took a strong team to the tournament, with every player having an assigned role.
A strong captain projects a strong team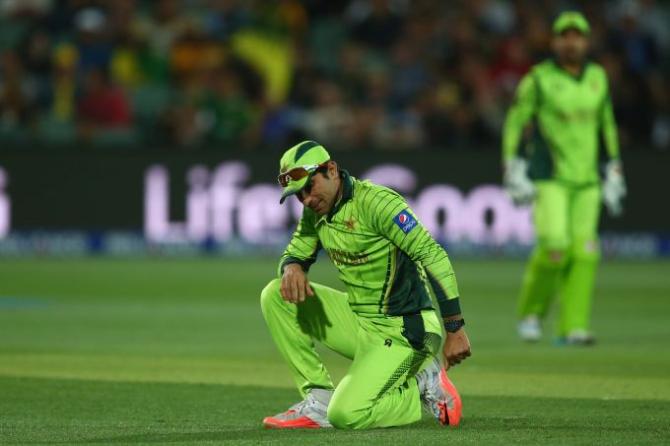 Misbah-ul-Haq of Pakistan looks dejected during the World Cup match. Photograph: Mark Kolbe/Getty Images
They say a captain is as good as his team. Misbah's captaincy was a bit loose; at times it appeared that he allowed the game drift.
However, his captaincy changed when Pakistan had their backs to the wall.
Imran was a strong captain and it rubbed on to his team. Setting attacking fields and making quick bowling changes was his forte.
Take their catches
Sohail Khan of Pakistan drops a catch from Glenn Maxwell of Australia during the World Cup match in Adelaide. Photograph: Mark Kolbe/Getty Images
Dropping catches let Pakistan down big time in this tournament. Umar Akmal dropped Kohli in the opening game, while Rahat Ali and Shoail Khan dropped Shane Watson and Glenn Maxwell respectively inthe quarter-finals.
Moreover, the ground fielding too was pretty sloppy. Amongst the sub-continent nations, Pakistan's fielding was the worst.
Imran was a hard taskmaster; he believed in the adage perform or perish.
Specialist for every position
With Imran there were no half measures. You wouldn't see Umar Akmal keeping wickets or a Haris Sohail bowling his left-arm spin.
He would go the whole way; have a regular who knows what it takes to face the new ball, or a wicketkeeper who does not floor crucial catches.
Moreover, the need for an experienced No 3 batsman who would give the team solidity. Pakistan missed that in their entire campaign. It was much later that they drafter Sarfaraz Ahmed, but failed to find a place for Younis Khan.
If not specialists, have genuine all-rounders in the side.
Mentor young pacers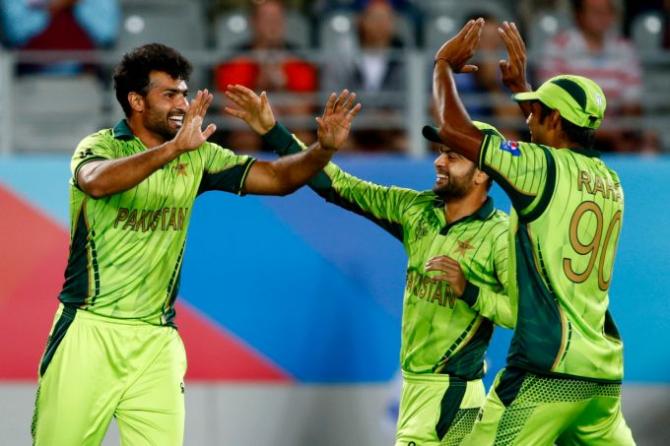 Sohail Khan of Pakistan (left) celebrates after taking the wicket with Rahat Ali. Photograph: Phil Walter/Getty Images
Perhaps the biggest disadvantage for Pakistan was their pacers' inexperience and no one to mentor them.
In 1992, when the Wasim Akram and Aaquib Javed took the field they had Imran Khan to look up to.
In the current World Cup side, Wahab Riaz was the most experienced, having played 54 ODIs. Young Rahat Ali and Sohail Khan looked out of sorts when they were under the pump and had no one to look up to.
Though Waqar Younis was the coach, they couldn't run to him for answers all the time. Imran would have boosted the bowlers' morale.