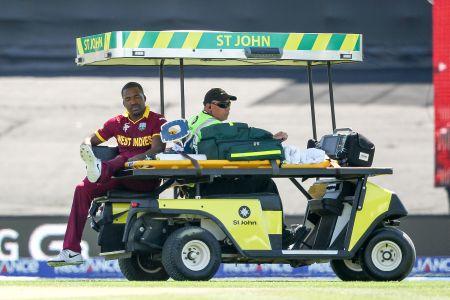 West Indies batsman Darren Bravo will be sent home from the World Cup after failing to recover from a hamstring injury sustained in the second match of the campaign, a team spokesman said on Friday.
The 26-year-old left-handed batsman missed the victory over Zimbabwe on Tuesday and the humbling loss to South Africa on Friday because of the injury he suffered running for a single against Pakistan in Christchurch.
A replacement will be announced by tournament officials over the next couple of days, the spokesman added. St Lucian batsman Johnson Charles, who has scored 869 runs in 30 one-day internationals, looks likely to get the call.
Bravo's brother Dwayne, a former West Indies captain, also missed out after being left out of the squad.
Dwayne was the players' spokesman during a mutiny over payment and contracts which curtailed West Indies' tour of India last year.
Image: Darren Bravo
Photograph: Martin Hunter/Getty Images