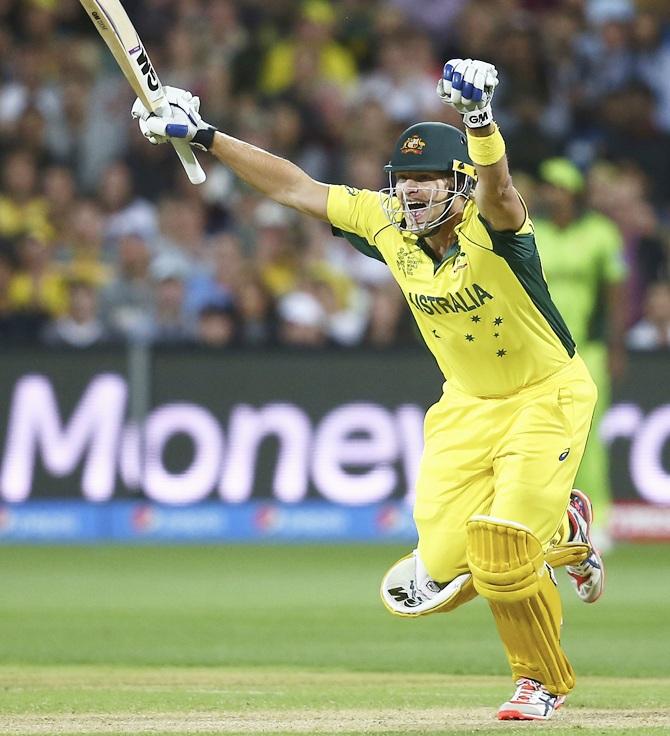 Shane Watson of Australia celebrates against Pakistan. Photograph: Ryan Pierse/Getty Images
Shane Watson, who was struggling to find form, has roared back to his classy best in the ongoing World Cup, and was given a hero's welcome in the dressing room after playing a match winning innings against Pakistan in their quarterfinal tie in Adelaide.
Make way Aussie fans as 'Swami Army' is all set to dominate SCG
The doosra: Dhawan can help Team India reach the Shikhar
Will 'big' player Kohli stand up against Aussies in semis?
Watson battled past Riaz's ferocious spell and scored an unbeaten 64 runs to guide his team to a six wicket over Misbah-ul-Haq's team.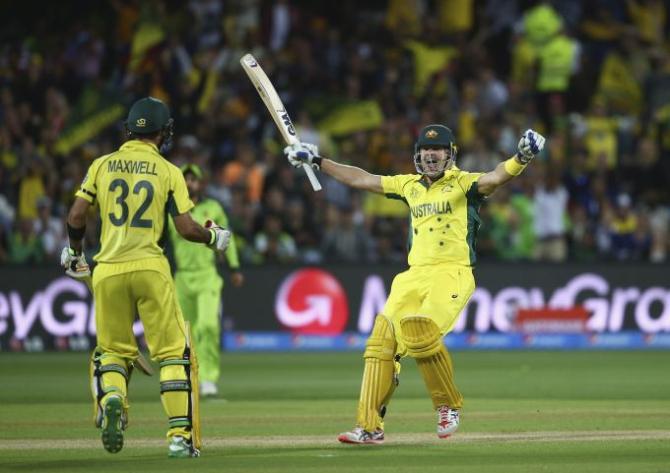 Australia's Shane Watson and Glenn Maxwell celebrate victory over Pakistan in the World Cup quarter-final at the Adelaide Oval on Friday. Photograph: Ryan Pierse/Getty Images
Reflecting on Watson's 'high-class' performance, Glenn Maxwell said that the boys got right around him as soon as he got to the change rooms and there was plenty of celebration.
Maxwell added that people were doing Watson's impersonation-which is just screaming.
Australia will meet defending champions India on Thursday in Sydney in the World Cup semifinal.
Pitch perfect? Team India coach, Atkinson inspect SCG strip
Intensity high as bitter rivals India-Australia set for semis faceoff