Pakistan fast bowler Wahab Riaz has apologised to the nation for the team's failure in the World Cup quarter-final against Australia.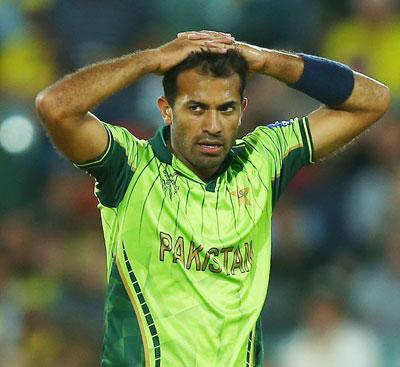 Riaz, who turned in one of the most enduring and blistering spells of pace bowling against Australia, said he was heart-broken with the defeat.
"I am sad and I apologize to the people for the defeat because they had so many expectations from us," the left arm pacer said on Geo News channel.
"I think more than ever we need the support of our fans now. I am sad because we could have won the match," he said. Riaz emerged as Pakistan's most successful bowler with 16 wickets and his spell on Friday had even the Australians and international cricket community all praise for him.
Explaining his war of words with Australia's Shane Watson, Riaz said when he came into bat, Watson and others had exchanged words with him.
"So when he came into bat I settled the score with him." Watson and Riaz were both penalised by the ICC on Saturday for their spat.
He also made it clear he had no complaints with teammate Rahat Ali who dropped a simple catch to give Watson a life when he was on four.
"I have no complaints because these things happen in a high pressure match."
Riaz also said that he valued the wicket of Hashim Amla the most in the World Cup.
Image: Wahab Riaz of Pakistan shows his frustration during the World Cup match against Australia at Adelaide Oval.
Photo: Mark Kolbe/Getty Images