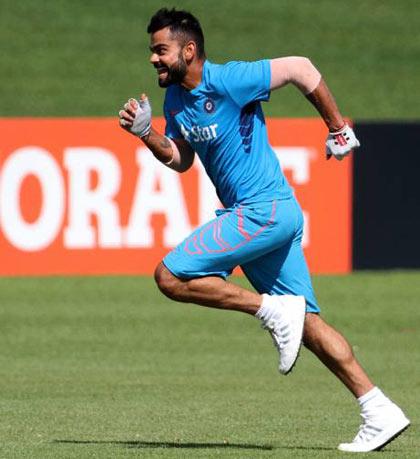 The Hindustan Times, whose reporter was the target of a foul-mouthed tirade by Virat Kohli in Perth on Tuesday, has filed complaints with the International Cricket Council and Board of Control for Cricket in India.
"I have written a letter to the BCCI president, Jagmohan Dalmiya, after consulting our Editor-in-Chief. I have asked Dalmiya to look into the incident. The reporter in question, Jasvinder Sidhu, also informed the ICC about the incident," its Sports Editor, Sukhwant Basra, said.
- 'People thought I was too arrogant with my spiky hair, tattoos and all'
- Don't Miss! The Rediff Cricket Show
- The World Cup, as never before on Rediff.com
The newspaper is examining whether Kohli violated any law applicable in Australia and said it may consider the option of legal action against India's star cricketer.
Kohli allegedly lost his cool after the team's training session in Perth, ahead of the side's group league game against the West Indies at the WACA on Friday, and hurled expletives at a journalist.
Once he was done with his training and returning to the dressing room, India's premier batsman confronted a scribe of a national daily. To the horror of that journalist, Kohli used filthy language for some time before storming off. Some members of the Indian team who were nearby, as also the journalist, were stunned, wondering what exactly had happened.
Once Kohli cooled down he told someone about an article that had appeared about him and his girlfriend Anushka Sharma in a national daily and said he thought it was that particular journalist who had written the story.
When he was told that he had mistaken this particular reporter for someone else, Kohli called one of the journalists and through him apologised for the incident.
- Should BCCI censure Virat Kohli?
Image: Virat Kohli
Photograph: Solaris Images