'Virat is a class player but he is still on a learning curve'
'I don't think Indian pacers have been consistent enough'
'Sachin, Lara and Kallis were the three best batsmen I have ever bowled to'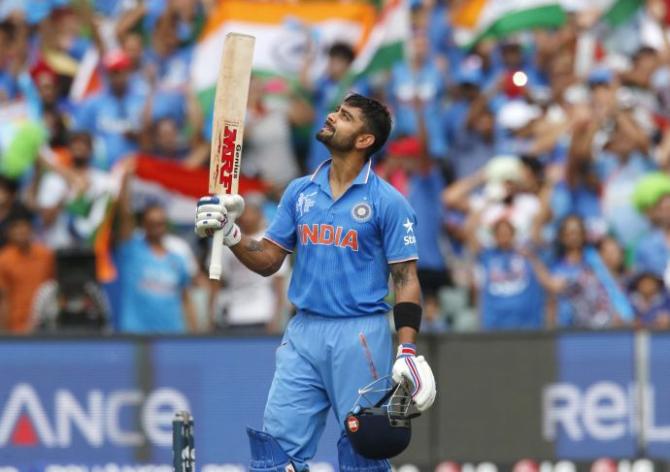 Virat Kohli looks to the sky after scoring a century during the World Cup match against Pakistan in Adelaide. Photograph: David Gray/Reuters
Virat Kohli may have scored a match-winning century against Pakistan in their opening game of the World Cup, but ask former Australian fast bowling great Brett Lee and he would tell you that the Indian ace should try and curb his natural affinity for aggressive strokeplay.
An admirer of Kohli's batting, Lee said the feisty batsman would do well not to assert himself too much and explained the difference he felt in the youngster's game from the iconic Sachin Tendulkar.
"Sachin knew his game better as you would expect with his wealth of experience. He used to play within himself. For me, Virat is a class player but he is still on a learning curve. He has to learn the art of not trying to over-dominate opposition," the 38-year-old said.
When quizzed about India's chances of making it to the semi-finals Lee said, "Indian team could be semi-final contenders, if they can get their act together. My other picks are Australia, New Zealand and South Africa."
'Umesh Yadav has the pace and the temperament'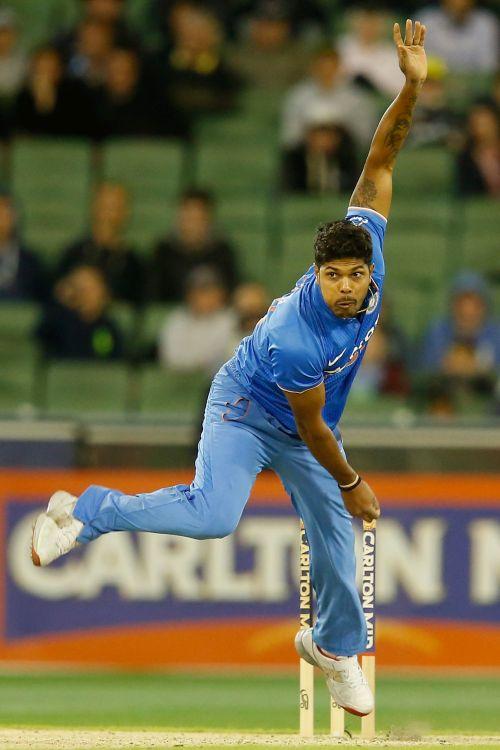 Umesh Yadav. Photograph: Darrian Traynor/Getty Images
While there are many fast bowlers at display during the World Cup, but the lanky pacer leaned towards Australian pacers as the ones to watch out for. "For me the pacers to look out for in the World Cup will be Mitchell Johnson, Pat Cummins and Josh Hazlewood. Keeping World Cup aside, I really like (Umesh) Yadav of India – he has the pace and the temperament," said Lee, who played 76 Tests and 221 ODIs for Australia.
Asked about what went wrong with the Indian pace attack during the Test series against Australia, Lee was frank in his assessment.
"I don't think they (Indian pacers) have been consistent enough. In the Test series, they would bowl good 'periods' but let the batsman off the hook. I also feel that they needed to win the pivotal moments. They needed to get the tail out that is where Australia won the Tests matches.
'There is an excitement about fast bowling'
Brett Lee. Photograph: Mark Metcalfe/Getty Images for the ICC
Lee, who has more than 700 international wickets across three formats, believes that the quicker the bowler assess the pitch the better will be his success rate.
"You have to size up the conditions every time you bowl. Yes, you can have your favourite ground. I loved bowling at the WACA (Perth). But one needs to understand that line and length changes are based on the speed of the pitch," said Lee.
"There is an excitement about fast bowling. Batsmen feel truly tested playing genuine pace bowling and the crowds enjoy the speed of it all. As a bowler, I enjoyed the challenge," he added.
'Tendulkar, Lara, Kallis toughest to bowl to'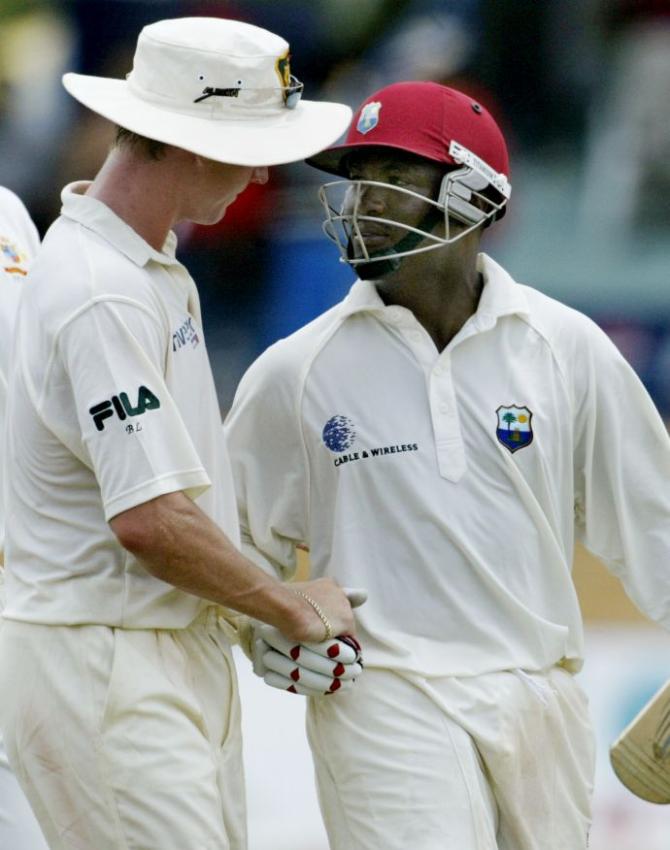 Brett Lee and Brian Lara. Photograph: Andy Clark/Reuters
Lee rates Sachin Tendulkar, Brian Lara and Jacques Kallis as the batsmen who posed serious challenge for him.
"Sachin, Lara and Kallis were the three best batsmen I have ever bowled to. When Sachin used to bat, it felt as if he had so much time to play his shots. Brian was a player, who could hit any delivery at any part of the ground, such was his talent.
"Jacques was also class apart. But the hardest hitter of cricket ball during my time was undoubtedly Chris Cairns," Lee said in effusive praise for his contemporaries.
For him, the most cherished battle was against Lara in a Test match against the West Indies in Georgetown, back in 2003.
"I remember bowling to Lara in the West Indies, one year (Guyana, 2003). I bowled a long spell and definitely one of my quickest. It was a fantastic battle of bat against ball. Brian got his hundred but he told me after the game that it was one of his toughest moments and that is why he (Lara) played Test cricket, for battles like that."