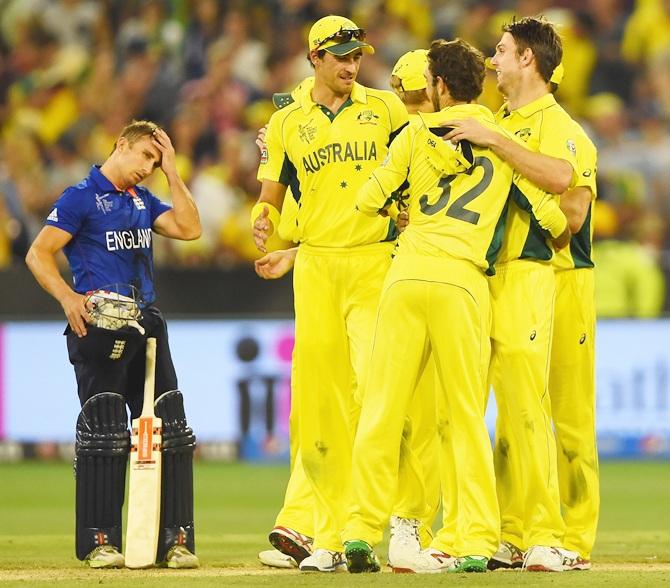 James Taylor of England waits for the umpires decison on the final wicket. Photograph: Ryan Pierse/Getty Images
Batsman James Taylor won admirers for playing a lone hand in England's crushing loss in their World Cup opener to co-hosts Australia on Saturday, but may have been denied a maiden century by an umpiring error on the last ball of the match.
Catch the Cricket World Cup here
PHOTOS: Finch, Marsh give Australia rousing start
Take a look at World Cup's HAT-TRICK men
Taylor was on 98 in a final-wicket stand with tail-ender James Anderson when he was given out lbw by umpire Aleem Dar off the bowling of Josh Hazlewood at the Melbourne Cricket Ground.
Anderson bolted through for a single as Australia appealed the lbw and Glenn Maxwell threw down the stumps in a chaotic finish.
Taylor had the lbw decision over-turned but a review of the run-out showed Anderson short of his ground.
After some conferring by the umpires, the run-out was confirmed and Australia celebrated a 111-run win over their arch-rivals.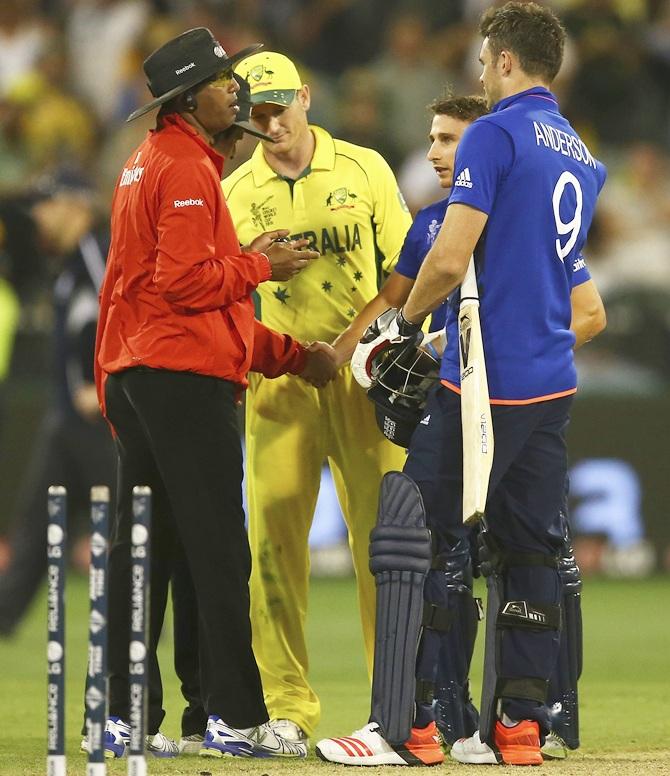 James Taylor and James Anderson of England speak to umpire Kumar Dharmasena after their final wicket fell. Photograph: Ryan Pierse/Getty Images
Taylor smiled wryly as he shook hands with his opponents out in the middle, but the ICC later confirmed that the wicket should never have been given.
"Article 3.6a of appendix six of the decision review system... states that the ball should have been deemed dead when the batsman was given out lbw.
"No further runs or dismissals were possible.
"The PCT (Playing Control Team) spoke to the England team management and acknowledges that the game ended incorrectly and an error was made."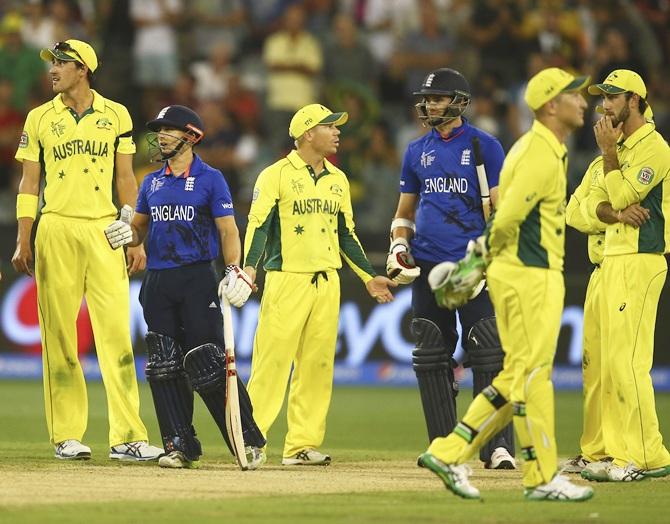 James Taylor of England looks on as Australia celebrate at the end of the 2015 ICC Cricket World Cup match between England and Australia at Melbourne Cricket Ground. Photograph: Shaun Botterill/Getty Images
Though Taylor may have felt disappointed, he was earlier fortunate to be dropped on 20 by man-of-the-match Aaron Finch, who spilled a regulation chance near the boundary.
England captain Eoin Morgan praised the 25-year-old's resilience, having stood up to the Australian attack after four of the team's top five batsmen failed to surpass 10 runs.
"Typical James Taylor. He got himself in, scored in different areas and managed to take advantage of being in," Morgan said.
"Again, these are qualities we're looking for. Guys who can not only get 60, 40, guys who can go on and potentially win a game."
Taylor was also shunted down the batting order to sixth, making way for Gary Ballance who replaced Ravi Bopara and scored 10 at number three.
The move raised eyebrows but Morgan said Taylor was better suited in the middle order.
"James Taylor probably batted closer to his natural position in the batting lineup than he's ever done before. Batting three is a bit strange for him," Morgan said, defending the shakeup.
"And Gary has had a fantastic 12 months of test match cricket batting at three and has looked in magnificent touch since he's been here."