'If the BCCI's coffers are inundated with funds today, much of the credit must go to Jagmohan Dalmiya,' says Haresh Pandya.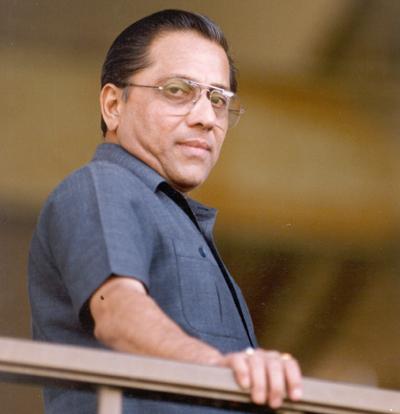 Image: BCCI President Jagmohan Dalmiya
The king of cricket administration is back at the helm of the Board of Control for Cricket in India.
Shunted out of power by the very same body nearly ten years ago on charges of misappropriation of funds in the 1996 World Cup in the subcontinent, Jagmohan Dalmiya must surely be chuckling!
A fighter to the core, he first challenged the BCCI decision in the Bombay high court, then the Supreme Court, and was subsequently exonerated, as the Board was unable to prove allegations of financial irregularities against him.
Two years ago, when the spot-fixing scandal in the Indian Premier League broke, with erstwhile BCCI supremo Narayanaswami Srinivasan deep in controversy and the Supreme Court keeping a close watch on a chain of events that followed, the Board turned to Dalmiya and appointed him its interim president.
This time he returns to power just as spectacularly as he exited after a distinguished innings in national and global cricket administration which saw him head not only the BCCI, but also the International Cricket Council.
There was a time when Dalmiya was considered the most powerful individual in world cricket. It was said there was nothing he could not do or achieve.
'When Dalmiya is with you, he is all for you. But when he goes against you, watch out,' one observer warned.
The general view is that the man is a gritty street-fighter with plenty of rough edges who tells it like it is. He can be curt, loud and often rude. He has no time for idle chat or gossip.
A fiercely ambitious man, he is known to get whatever he covets. Well, almost!
He was the first Asian to be appointed ICC president, a no mean feat considering how England, Australia and the West Indies used to dominate ICC affairs.
A shrewd businessman, he cashed in on the dazzling popularity cricket enjoys on the subcontinent. If the BCCI's coffers are inundated with funds today, much of the credit must go to Dalmiya.
In tandem with Inderjit Singh Bindra, Dalmiya brought the World Cup to the subcontinent in 1996 when most of the cricketing world did everything to deny India, Pakistan and Sri Lanka the honour of staging the tournament.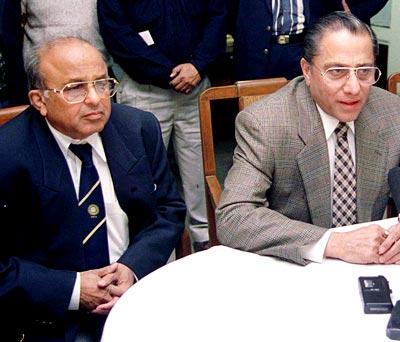 Image: BCCI President Jagmohan Dalmiya, during his first term, with then BCCI general secretary Jayant Lele.
He hurried the game into commercialism with spiralling sponsorship and television rights, and proliferation of one-day tournaments, as part of his vision to spread cricket to every nook and cranny of the globe, far beyond the non-Test playing countries.
All this may have brought many ills into the gentleman's game, including mediocre cricket and the menace of match-fixing, but who cares when money is the name of the game.
More than once Bindra accused his former friend of turning a Nelson's eye to match-fixing and all those involved in it in some way or the other.
But no cricket administrator can hold a candle to Dalmiya when it comes to steamrolling opponents and winning over doubters.
'Dalmiya ran his election (when contesting for the ICC president's job) as if it was an American presidential race, energetically wooing the associates. Despite twice winning the vote of the ICC members and defeating Malcolm Gray, he found England and Australia reluctant to accept him. In the end, Dalmiya was accepted, but he has never forgotten the way he was treated,' remarked the England-based cricket writer Mihir Bose.
'Dalmiya can be faulted on many fronts, but even his worst critics will concede that he is a man of great energy and enthusiasm for the game, and prone to err, if he does err, on the side of doing too much rather than too little,' Bose added.
He was at his best (or worst, according to his detractors) during the first half of the 2000s. Be it the Mike Denness issue, the Virender Sehwag episode, the match-fixing scandal, the television rights controversy, the doubts over India's tour to Pakistan... he always had the last laugh.
What tremendous power he wielded could be understood from one incident. Most English players were reluctant to tour India in 2001. During an ICC meeting in Kuala Lumpur, Dalmiya engineered a complete turnaround from Lord MacLaurin, the then chairman of the England and Wales Cricket Board.
MacLaurin had gone to Malaysia determined to raise serious questions over whether it was safe for the England team to travel to India, but he sung a different tune when the meeting ended. So much so that he caught his players and administrators by surprise when he announced that the tour would proceed as scheduled.
Cricket writer Kamran Abbasi once suggested that George Bush and Tony Blair should ask Dalmiya for a seminar on building a coalition!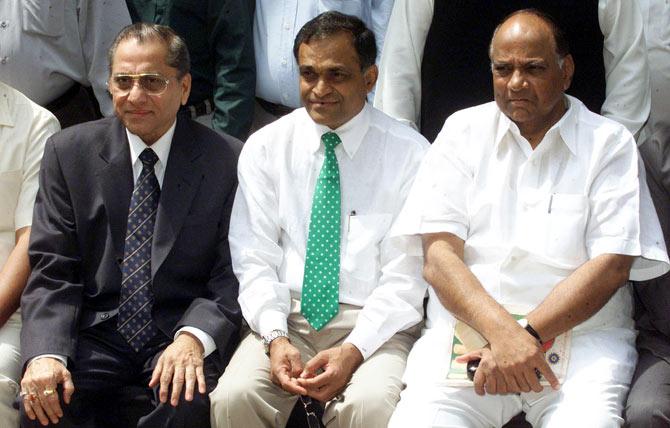 Image: Left to right: Jagmohan Dalmiya, Niranjan Shah and Sharad Pawar. Photograph: Reuters
Dalmiya, who hails from one of Kolkata's affluent families, has a lifelong passion for cricket. He played as a batsman (Highest score: 200) and wicket-keeper for Kolkata's Rajasthan Cricket Club and also represented his university.
'Cricket is his life,' his wife Chandralekha once noted. His obsession with cricket is something she learned to live with even before the couple tied the knot.
'I have known him since I was three years old,' she added. 'His love for cricket has remained unchanged.'
It is this love, this passion, this obsession for the game that has made Dalmiya strive hard to give Indian cricket the status it enjoys in the world today.
Whatever his image in the Western media, whatever his detractors may say, he has repeatedly proved his worth and shown what he is capable of.
Future historians will have to place this visionary on par with Kerry Packer for bringing in many revolutionary changes in the game. More importantly, improving the health of cricket and its practitioners in financial terms.
ALSO SEE: