The Men in Blue have finally managed to beat the Proteas in a World Cup game.
Uttam Ghosh/Rediff.com looks at the lighter side on what should be Team India's next target in the ongoing tournament, now that the two toughest assignments have been taken care of.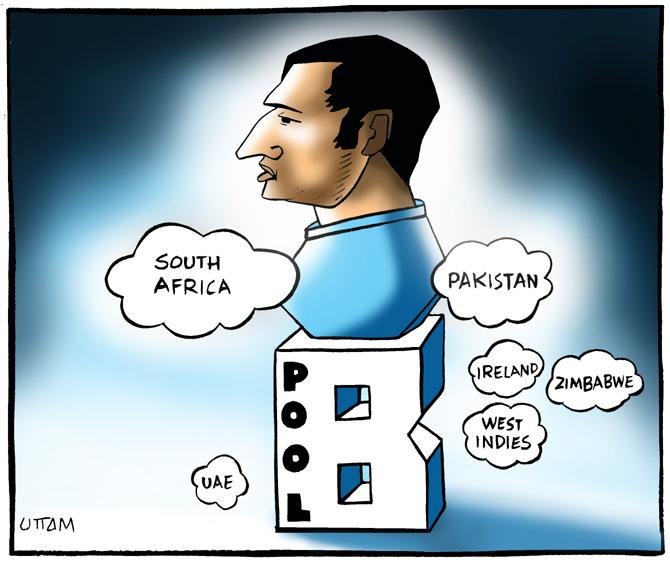 Two matches. Two wins.
And a couple of records to boot.
While Team India's comprehensive win over Pakistan in the opener at Adelaide helped raise their unbeaten run against the arch rivals at the World Cup to six matches, their equally comprehensive win (by 130 runs) over South Africa at the Melbourne Cricket Ground was their first in four meetings against the Proteas in the quadrennial event.
The result at the MCG was definitely about ending a jinx that stretched to more than 23 years.
More importantly, it also clears the path for MS Dhoni and Co.
The top spot in Pool B, and consequently a comfortable route ahead in the knockout phase, is India's for the taking now.
The defending champions take on United Arab Emirates at Perth next. One can safely say a sure fire win is on the cards.
That will be followed by matches against the West Indies, Ireland and Zimbabwe. Again, in all these three matches, Team India will start as favorites to win.
And should they not commit hara kiri, - complacency can prove to be costly, Ireland's win over the West Indies, for that matter the latter being Pakistan being cases in point - they should win each one of them.
On a positive note though, the Men in Blue seem to have got their act together in the nick of time.
The holders were fortunate to find themselves in an easier pool.
They have made the most of that fortune by comprehensively winning both their opening matches, against their two biggest rivals in the pool.
Now with their two seemingly tough assignments going in their favor, it is up to Dhoni and Co to build on this advantage and consolidate on the top spot in the pool.