Uttam Ghosh/Rediff.com looks on the lighter side of things after India beat Pakistan in Adelaide for their sixth straight win over their arch rivals in a World Cup clash.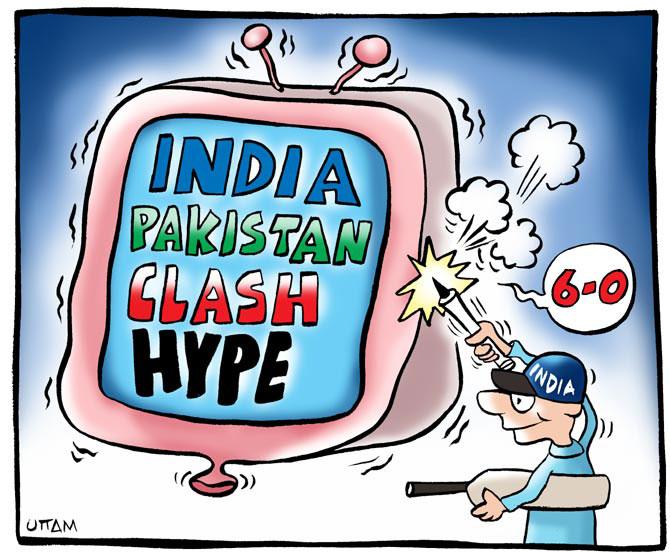 Illustration: Uttam Ghosh
So much hype. So little substance.
Star Sports, the official broadcast partner of the ICC World Cup, hyped up the India - Pakistan clash as if there's nothing comparable on the planet. The channel advertised a group encounter as a final.
The former players, who have little else to do than talk rubbish on live television, toed the line.
While the Indian veterans liked our team's chances, their Pakistan counterparts felt this was their team's best chance to end the win-less run against their arch-rivals.
The fans of both the sides, emotional as they are, fell for the trap.
What every one conveniently forgot was the gulf that has developed between the two teams in recent years.
- Get all the action from the World Cup, here
Yes, Team India has struggled overseas in recent years. But also true is the fact that Indian cricket has improved in recent years. The Men in Blue remain a far better side compared to their neighbors. They definitely have the bigger names in their playing eleven.
On the contrary, Pakistan is not the same side it used to be. Their cricket has suffered considerably in recent years owing to a variety of factors. The only 'star' so to speak is Shahid Afridi, and even he is on the decline.
As such, the rivalry between the sides is no longer as intense as it is used to be.
And, truth be told, Pakistan never stood a chance against India.
Even those going overboard with the hype must have been aware of this reality, but chose to portray things otherwise - partly because of the financial benefits accrued and partly because a sport as limited as cricket has very few selling propositions.
So it went on expected lines.
The match was a disappointment to the core. Chasing 301 to win, Pakistan (224 all out) never even made an attempt. Or, shall we say, they were not allowed to?
In the final analysis, the India - Pakistan head-to-head in the World Cup looks more like a tennis score than something related to cricket.
6-0 it is.! Yeah, India have served Pakistan a bagel in the World Cup.