'Why is this team being tested so late? You are testing the fitness of players a day before the warm-ups begin and you are leaving things too late'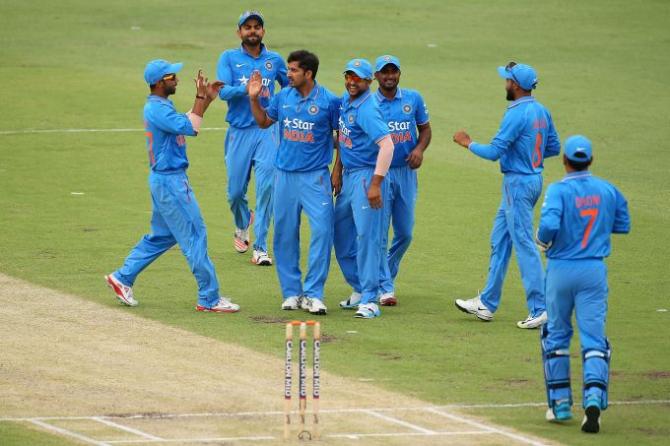 Indian players celebrate after picking up a wicket. Photograph: Paul Kane/Getty Images
With a little over a week to go for the cricket World Cup, spin legend Bishan Singh Bedi feels defending champions India are addressing their injury concerns too late and still to identify their core team.
Injured players Rohit Sharma, Bhuvneshwar Kumar, Ravindra Jadeja and Ishant Sharma will undergo a fitness test on February 7, a day before the Men in Blue play their first warm-up game against Australia and Bedi believes the team management has left things too late.
"Having been in Australia for two-and-a-half-months they have not really touched base with the nucleus of the team. Five or six players should form the crux of the team, who remain a certainty in every match. One or two changes can happen on the pretext of changing a combination or resting a player, but by and large six or seven players should be constant throughout and that hasn't happened so far," Bedi said.
"I feel pretty strongly that why is this team being tested so late. You are testing the fitness of players a day before the warm-ups begin and you are leaving things too late. This should have happened very early," he added.
The former Indian captain asserted that his "logical complain" pertains to the late fitness test of some of the players.
"Even if changes have to happen on medical grounds then it is too late. There is hardly any time left for players to be sent back and replacements to be flown in," he argued.
'Every team wants to beat India, even Afghanistan, because India are the holders of the trophy'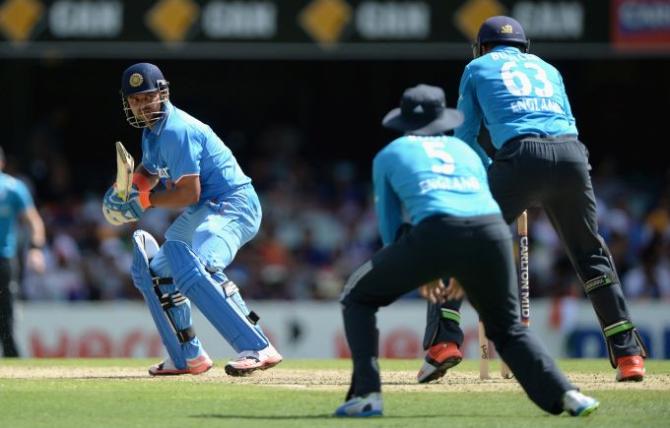 Suresh Raina of India is stumped by Jos Buttler of England during the One Day International match between England and India. Photograph: Gareth Copley/Getty Images
Admitting that it will be difficult to bounce back from a below-par performance in the Tests and the recently-concluded tri-series in Australia, Bedi suggested that the only way out for the players is to raise their self-esteem, which according to him is at an all-time low.
"They have to individually raise their self-esteem. How they do it it's entirely up to them? Self-esteem is a very individual effort. Self-esteem is how good you feel about yourself in your own eyes. Not in the eyes of the public, or the media or the coach or captain.
"That will only happen if you have done something good and that hasn't happened so far. Self-esteem is very low and I am concerned about that. To raise ones self-esteem is to cross a big psychological barrier," he opined.
Bedi, who was part of the famous Indian spin quartet of the 1970s, said that India should not be stressing too much on their much-hyped opener against Pakistan, instead the team should be looking at the larger picture.
"Pakistan have also seen little success in the recent past. Unhone kaunsa kaddoo mein teer maara hai (Even they have not done anything worthwhile). But we should not look at Pakistan like that. Our canvas should increase. We should look at the bigger picture. The big picture should be the World Cup itself.
"Don't forget India is defending the title. So every team wants to beat India, even Afghanistan, because India are the holders of the trophy. So the onus is on India; they cannot turn around and say that they have nothing to lose.
"Now that they have won the World Cup, they only have to hang on there. What's more to get, so they can only come down from here else hold on to their glory."
'Very difficult to predict the final four or winners in this edition'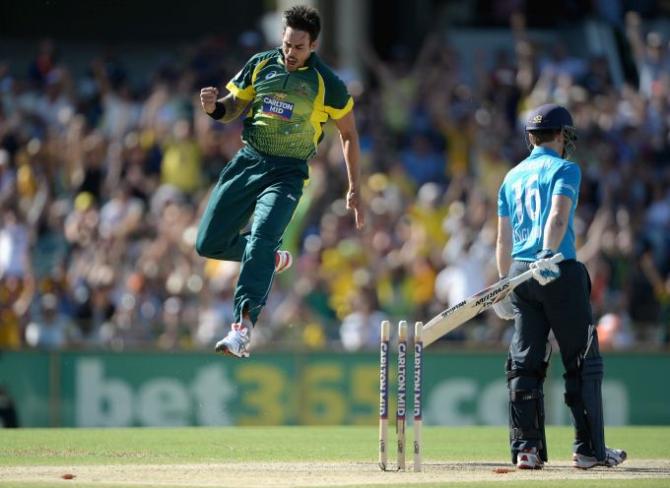 Mitchell Johnson of Australia celebrates bowling out England captain Eoin Morgan during the final match of the Carlton Mid One Day International series. Photograph: Gareth Copley/Getty Images
Bedi, who captained India in 22 Tests during a 13-year, from 1966 to 79, said the World Cup is very "open" and difficult to predict a winner.
"Very difficult to predict the final four or winners in this edition, as it is a very open World Cup. This is the most exciting part of this World Cup, it is very open. At least five or six teams are in the hunt.
"Australia, South Africa, New Zealand, India, England -- they all are in the fray. Even Sri Lanka and Pakistan cannot be ruled out. Especially teams who have not won the coveted prize will of course be more hungry, like South Africa, England and New Zealand," he said.
- 1975 to 2011: Men and Moments that mattered in the final
Terming India's 1983 Prudential World Cup win as the turning point of Indian cricket, Bedi said the Sachin Tendulkar era was also responsible for taking things forward.
"I think 1983 was the turning point although it happened in a very flukish manner. But whatever happens in somebody's destiny, it happens in this manner. So, yes, that was the turning point and subsequently it was hugely capitalised by Sourav Ganguly, Rahul Dravid, VVS Laxman and Sachin Tendulkar. They were very instrumental in taking Indian cricket forward."
Getting poetic about how things have changed since his participation in the first two World Cup's in 1975 and 79, Bedi said that the game has witnessed a sea change.
"Importance of playing in a World Cup has changed from 1975 to now. Woh toh ibtada thi, ab toh inteha hai (that was the beginning, now it is the extreme). But now I wish them luck while sitting here. Honour of responsibility lies with the boys because they have to do it on the field. On the field they are on their own."