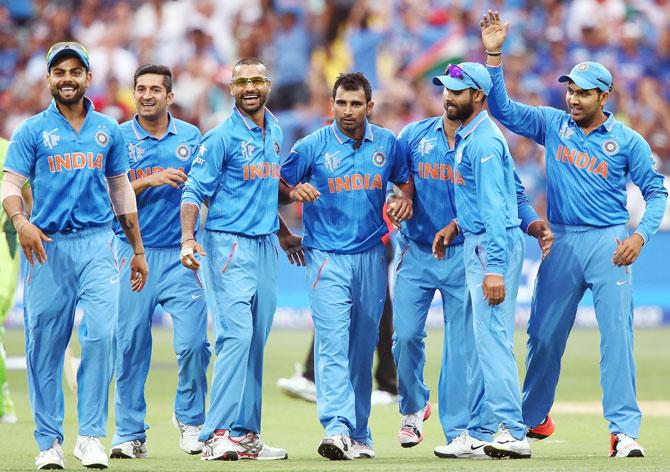 Mohammed Shami of India is congratulated by teammates after getting a wicket. Photograph: Morne de Klerk/Getty Images
Australia opener Aaron Finch has exuded confidence of successfully tackling the Indian pace attack in the semi-finals of the cricket World Cup in Sydney on Thursday.
India's pace trio of Mohammed Shami, Mohit Sharma and Umesh Yadav have taken 42 out of the 70 wickets amongst themselves and can cause potential threat to the home team.
"They've been bowling well. Shami is up there with the leading wicket-takers of the tournament -- Yadav, Mohit Sharma, they've been bowling well as a group. With our side, we are confident that we can negate that," Finch said during a media interaction at the SCG.
Finch admitted that India have some quality spinners in Ravichandran Ashwin and Ravindra Jadeja but they would have their gameplan in place to counter them.
"Wickets are generally pretty true here. Whatever happens I suppose if we stick to our game plans and play well it goes a long way towards winning the game. It's about being aggressive without being over the top."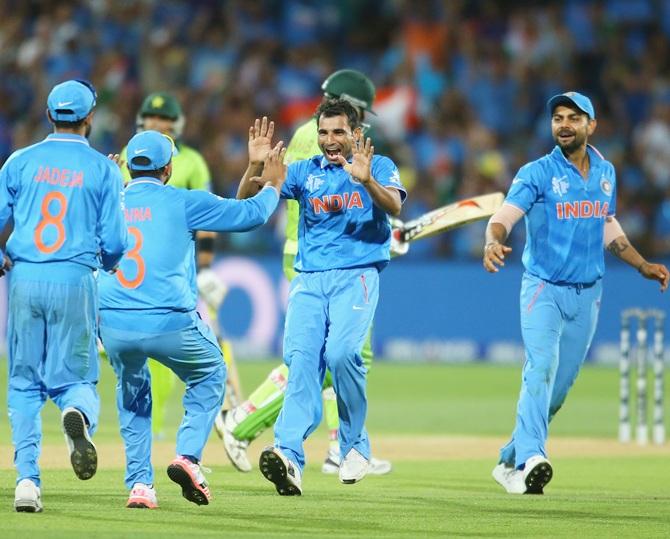 India's Mohammed Shami celebrates with teammates after dismissing Pakistan's Wahab Riaz. Photograph: Scott Barbour/Getty Images
Asked if there will be any special plans in store for Ashwin, Finch replied, "Not yet. We will sit down as a batting group this afternoon and talk about their bowlers with a bit more depth. Ashwin's a quality bowler. As long as you have your own individual plans, it's important to stick to them. He's bowled well throughout the tournament. He's bowled in some difficult phases of the game and done well."
He did admit that staying in Australia for four and half months have enabled the Indian bowlers to figure out the right length that they needed to hit.
"India's plan doesn't look to have changed too much. I suppose they've just spent a lot more time in the country. When you're looking to be aggressive with the new ball, having been here for four and a half months, they have probably adapted their lengths a little bit.
"They've got skillful bowlers. Shami is bowling well. He's swinging the ball which is a huge factor I suppose for them at the start of the innings. There's no rocket science – they're bowling well, they're batting well. They're going to be tough to beat."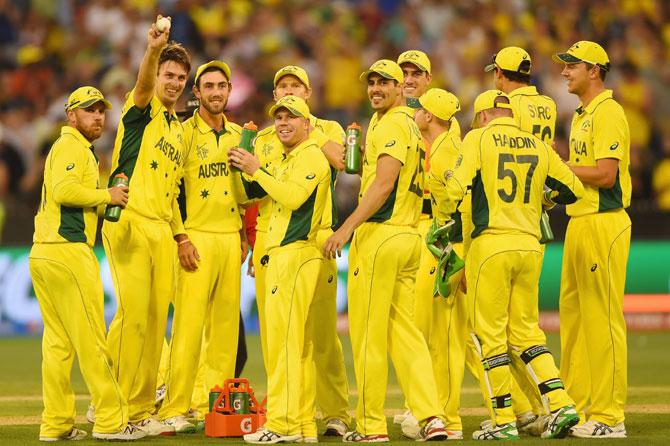 Australian team celebrates the fall of a wicket. Photograph: Shaun Botterill/Getty Images
The Indian batsmen have accelerated well in most of the matches in the last 15 overs and Finch attributes it to at least one among the top-order scoring consistently.
"They've had one top-order batsman batting deep in the innings. Rohit Sharma batted deep in the last game. That makes a huge difference because you've never got two new batsmen at the crease.
"That's the important thing for all teams, not just India. Our job is to take early wickets and put as much pressure on them as we can," Finch said.
While the discussions on the SCG strip has been about the amount turn that might be on offer for Indians, Finch said that lot can change over next two days.
"I haven't really had too much of a look at it. Last time, I played here it looked like the wicket would spin quite a bit. But it didn't and it played really true. Still two days out and it's hard to tell. The wicket can change quite a bit in two days, especially here in Sydney," Finch said.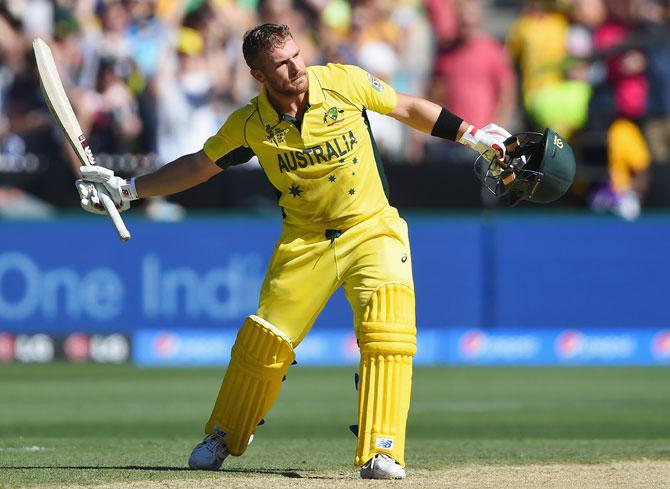 Aaron Finch of Australia celebrates after reaching his century against England. Photograph: Shaun Botterill/Getty Images
Finch also didn't pay too much heed to former captain Rickey Ponting being critical about the opener's form.
"Whenever you don't get runs, it does build up. I feel like I've been batting nicely. Just to go back to back to a couple of check points and make sure that I'm on top of my game, feeling good and hitting the ball nicely.
"That's all I can ask. Whatever happens on Thursday will happen. I'm not someone who over-analyzes it a hell of a lot. In terms of what Ricky said, I hadn't heard that but he's got his own opinions," Finch was curt and put across his point firmly. Finch admitted that it would be the biggest game of his career.
"It's going to be huge. It's obviously the biggest game that I've ever played. It's huge. You can't put it in any other way. It's going to be exciting. It's a huge opportunity to show our skills as a team.
"We've played some great cricket over the last two years and there's no reason we're not going to go into this game confident. I think we've got every right to be," he said.