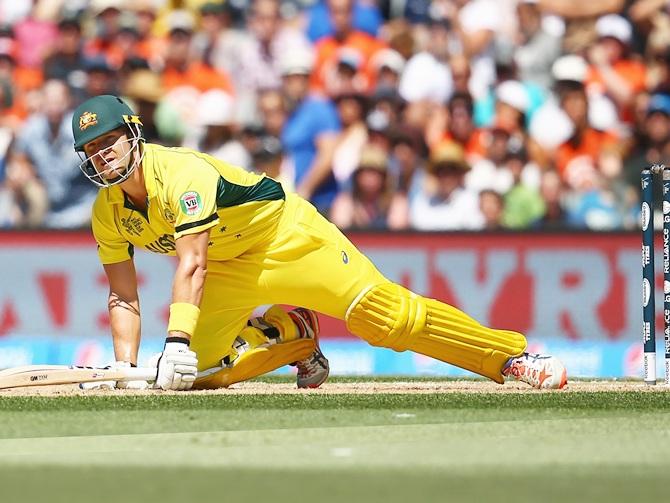 Shane Watson of Australia looks up after falling while batting. Photograph: Mark Kolbe/Getty Images
Australians might have been stunned by the collapse of their much-vaunted batting line-up in the face of brilliant New Zealand bowling at the weekend but the fall of one particular wicket was no surprise to anyone.
- The World Cup, as never before on Rediff.com
- VOTE: Who will win the 2015 World Cup?
Shane Watson, batting at number three, had scrapped his way to 23 runs off 30 balls in three-quarters of an hour when he took an almighty heave at a Daniel Vettori delivery and picked out Tim Southee fielding on the legside boundary.
The big Queenslander was certainly not to blame for the skittling that followed but exasperation at his ability to throw away a solid start to an innings was soon surging through the Twittersphere on a wave of bile.
Watson used to take flak for his inability to convert half centuries to centuries but recently his problem has been progressing from scores in the 20s and 30s, when a batsman is considered to have played himself 'in'.
The 33-year-old all-rounder divides his compatriots like no other player and calls for him to be dropped from a side expected, by Australians at least, to win a fifth World Cup next month have reached fever pitch.
Australia's selectors, however, have remained steadfastly loyal to Watson -- when he has not been suffering from one of the many soft tissue injuries that have blighted his career.
In the dark days after the 2010-11 Ashes humbling, that loyalty may have been down to a lack of choice, but Mitch Marsh and James Faulkner are now genuine threats to Watson's position as Australia's premier all-rounder, in the 50-over format at least.
'Pampered, self-involved'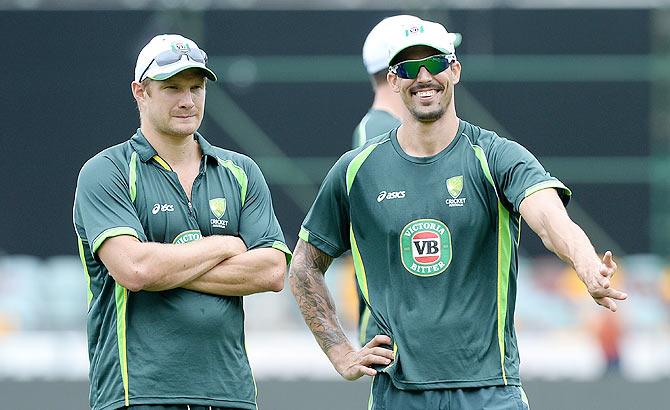 Shane Watson and Mitchell Johnson share a laugh during an Australian training session. Photograph: Bradley Kanaris/Getty Images
It is no blind loyalty, however, and his career figures since his one-day international debut in 2002 stand up to the toughest of scrutiny.
With the bat, despite his predilection for being dismissed lbw, he has averaged 50 in three World Cup campaigns and his overall one-day average hovers around the 40 mark.
It was Watson's record for the fastest 150 in one-day internationals that AB de Villiers bettered with his 162 from 66 balls against West Indies on Friday.
Watson's right-arm medium pace has taken 164 wickets in 182 matches at 31.29 and he has shown over the years an ability to winkle out a batsmen in the middle overs to break-up promising partnerships.
"I think they should keep him," Brian Lara said on Sunday when asked about Watson's position in the side.
"His past performances suggest that at some point in time he is going to come good."
The barrel-chested righthander won the Allan Border medallist as Australia's best cricketer in 2010 and 2011 -- only Watson, Ricky Ponting and Michael Clarke have won the award more than once.
That Watson scored 41, 16 and 82 in his three innings before his golden duck against England in the tournament opener could suggest the antipathy towards him in some quarters might not be just about his skills as a cricketer.
Watson banked a cool A$4.5 million ($3.51 million) last year as Australia's best paid cricketer, according to business magazine BRW, and will perhaps be forever tainted by his role 'homework-gate' scandal on the India tour of 2013.
"He is a handsome player of abundant talent," Gideon Haigh, the current doyen of Australian cricket writers, wrote of him at the time.
"He is also wealthy, pampered, immature and self-involved.
Are you watching the World Cup? Please share your videos, photos and comments here