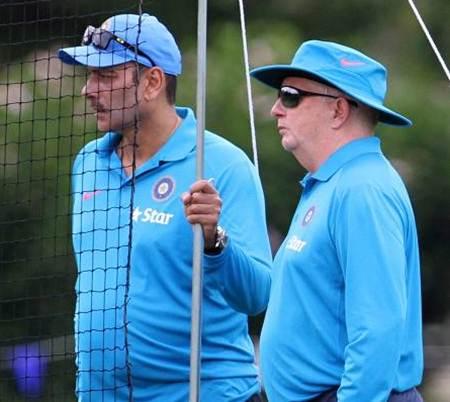 Ravi Shastri, India's Team Director, strongly refuted talk that head coach Duncan Fletcher is being sidelined at the World Cup.
The former Indian captain was upset on learning about media reports that a support staff meeting was held without Fletcher being present.
- Catch all the action from the World Cup, here
"Absolutely wrong news; this is bad journalism! We were surprised that such stories can be carried. We do not want any such false stories. We do not want any controversy during the World Cup. After the World Cup started, whatever meetings we have had with the support staff had been held in the presence of Duncan (Fletcher)," a visibly irritated Shastri declared.
As the Indian team trained at Junction Oval, St Kilda, on Wednesday, Fletcher appeared to be in charge of the session as he took control of the proceedings. As if to prove a point, he got the entire squad into a huddle and delivered a talk.
Shastri who was far away from the huddle, turned around and asked: "A huddle is going on in the middle and I am out. Does that mean I am out of the team? No, that is his (Duncan's) job. We know our responsibilities. We have nicely demarcated our roles.
"This World Cup is very important for us. We are staying together and are united. We do not want any controversies. We know for sure that we are working for Team India. People will try to disturb us like this, but that will not destroy our spirit," he insisted.
- Also read: Shehzad faces axe after spat with fielding coach, journalist
- Apostrophe Content and Entertainment
Image: Ravi Shastri (left) and Duncan Fletcher
Photograph: Vipin Pawar/Solaris Images
Get Your Own New Team India Cricket Jersey at Rediff Today!