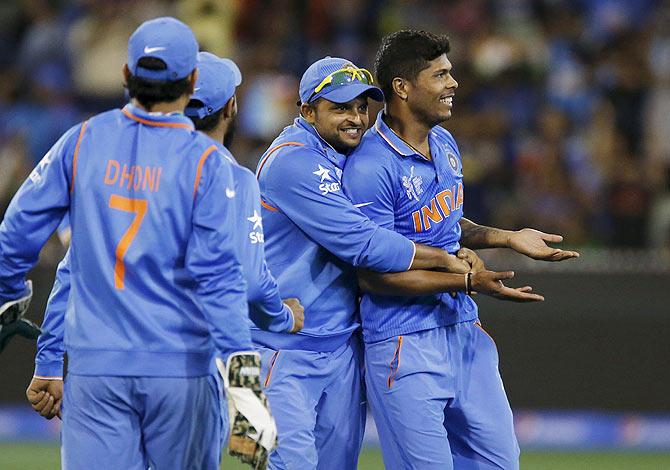 India's Suresh Raina (centre) celebrates with teammate Umesh Yadav after dismissing Bangladesh batsman Mushfiqur Rahim on Thursday. Photograph: Brandon Malone/Reuters
The same bowling which was India's weakest link coming into the World Cup has remarkably become their strongest suit as the reigning champions eased into the last four in impressive style.
- 'The bowling unit is combining well and has been very impressive'
- The Cricket World Cup like never before, only on Rediff.com
India's bowling looked toothless and jaded during their 2-0 test series loss in Australia as well as in the following ODI Tri-series, where they failed to win a single match.
With experienced Ishant Sharma ruled out before the tournament by injury, it looked like Mahendra Singh Dhoni's side would be reliant on batting to fire their World Cup defence.
Over the last month, however, Dhoni's bowlers have raised the bar significantly and, with the help of a sprinkling of run-outs, have dismissed the opposition in all seven matches on their way to the semi-finals.
"It was a concern," former India captain Rahul Dravid conceded on STAR Sports after India's 109-run win against Bangladesh in the quarter-final on Thursday.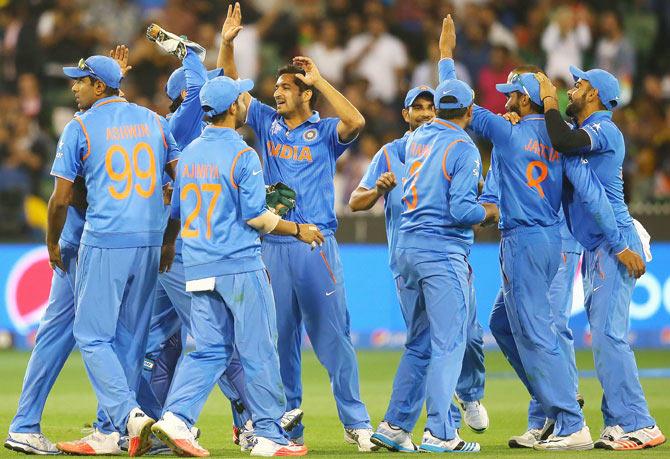 Indian players celebrate with Mohit Sharma after the fall of a Bangladesh wicket. Photograph: Quinn Rooney/Getty Images
"Ishant Sharma was in the original team, he had injury issues. Bhuvneshwar Kumar was thought to be one of India's leading one-day bowlers in the lead-up to the World Cup but there were question marks about his (fitness).
"Who are the guys who are going to deliver for us at the death? Are we going to be able to take wickets up front? The middle overs were a concern.
"Is Ravichandran Ashwin able to bowl in overseas conditions? All those questions have been answered."
- 'It has been good but we need to do a lot of small things right'
After bundling out Bangladesh for 193, India overtook South Africa's record of taking all 10 opposition wickets in six consecutive matches.
The team have also not conceded a single score of 300 or above in their seven matches, Zimbabwe's 287 being the highest total against them.
What has also been highly pleasing for the Indians is that their three fast bowlers have regularly clocked speeds over 140 kmph and used the short ball brilliantly to peg batsmen on their back foot.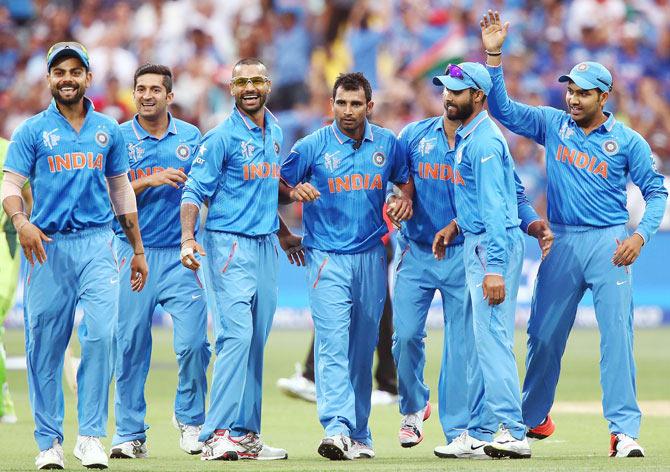 Mohammed Shami of India is congratulated by teammates after getting a wicket. Photograph: Morne de Klerk/Getty Images
"Bharat Arun (bowling coach)is working really hard with the fast bowlers here," said opening batsman Rohit Sharma, the man-of-the-match in the quarter-final.
"They are here, they want to prove something, which is why you can see the energy right from ball one.
"It's not the 140 they are bowling but the kind of energy they are bowling with and the discipline they are showing in the last seven matches that we have played. It's really good."
The results have been obvious. Mohammed Shami led the ranks of highest wicket-takers with 17 from six matches on Thursday, with his fast bowling colleague Umesh Yadav not too far behind with 14.
Dhoni attributed the change in fortunes to their ability to bowl consistently at a particular line and length and said they now believed in building pressure rather than trying for too much variety.
"They are bowling at good pace, all of them are fit, and if they can keep hitting that one area, I think it will be good because that's something where we have been lacking."